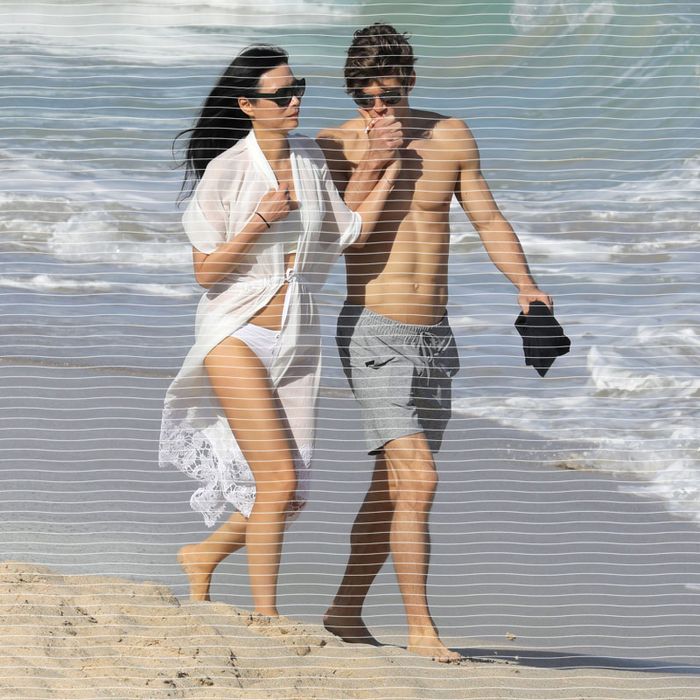 Wendi Deng and 21-year-old Hungarian model Bertold Zahoran.
Photo: Splash News

A series investigating the effects of gravity on the female form.
I began dating younger men by accident. Fifteen years ago, I was running an ad agency, and we were asked to pitch for an online dating site. To prepare, all of us on the team had to create a profile. The rest of my team were married, living with someone, or dating, so they all made up fake personas. I was single, and thought, "Well, I have to do this anyway, so why don't I do it for real?" I was honest about everything, including my age. I got an avalanche of responses, and to my surprise, the majority of them were from younger men. I thought, "That works for me!" and I've been very happily dating younger men ever since.
I'm 56. I have never wanted to be married, I've never wanted children, and I don't want to be in a relationship in the conventional sense. I believe everyone should be free to design the relationship model that works for them — and for me that's dating younger men.
I meet them on cougar dating sites. I respond to maybe one percent of all the approaches I get. I have one criterion first and foremost: He has to be a nice person. As a result, my so-called casual relationships go on a lot longer than most people's so-called committed ones. I date younger men off and on over periods of 2, 3, 4, 5 — or even 15 years. They may go on to date women their own age, or to move to different places, but we stay friends. We'll meet platonically for drinks or dinner. And then every so often, their relationships end, and they return to me.
Yes, the sex is fantastic. When lots of stamina (and blissfully short recovery periods) meets confidence and experience, it's a terrific combination. Some women tell me they'd feel too insecure about their bodies to sleep with someone young, but when you operate on the criterion I do — that they have to be nice — you meet younger men who appreciate everything about older women. In fact, because I don't give a damn what anybody thinks and because I think I look great naked, I'm secure enough to focus instead on making my partners feel good about themselves. I tell them they're beautiful. I remember one man I dated — 20 years old, gorgeous, body of a Greek god — sitting on the side of the bed one morning as I complimented him, saying to me shyly, "You make me feel really sexy."
People looking for love could benefit from operating on my principles of approach to sexual relationships. "Nice person" isn't always the most important thing on people's soul-mate checklists — but it should be. I meet people from very different walks of life: men who are the first in their family to have gone to college; who have ambitions they're making happen any way they can. Yes, the sex is great, and the six-pack abs are nice, but what I also get out of my approach to dating is meeting men I admire and respect.
Older women have always been attracted to younger men and younger men have always been attracted to older women. Unfortunately, the usual double standard applies: older man, younger woman — no one bats an eyelid. Older woman, younger man — somehow deemed socially unacceptable. I've dated younger men who were terrified their friends and family would find out, but I've also dated younger men who see nothing wrong with it, and have been happy to be out with me (and matter-of-factly correct any mistaken impressions that I'm with my son). I'm always pleased to see celebrities like Madonna, Tilda Swinton, Joan Collins, Demi Moore, and Wendi Deng being open about relationships and marriages with younger men. The more of us who can be loud and proud about our unconventional relationships, the more we'll break down society's prejudices.