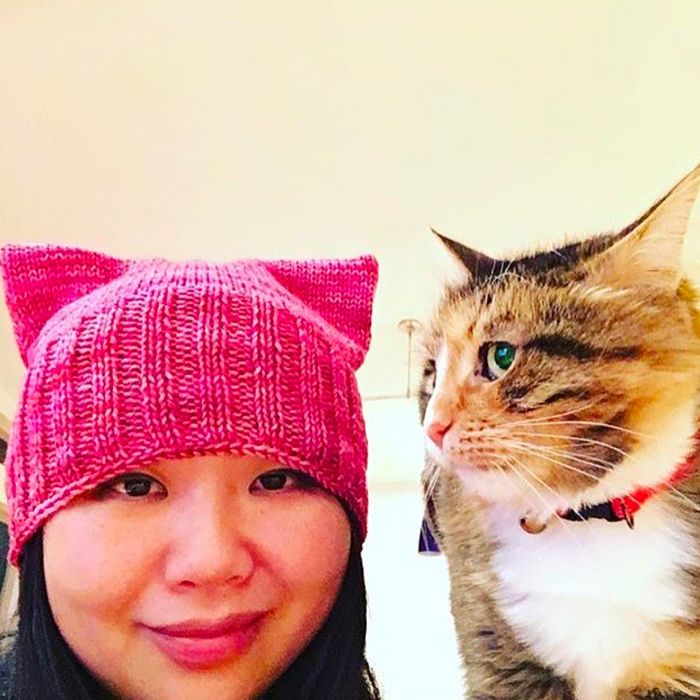 Thousands of women have downloaded the knitting pattern for this hat.
Photo: @p_ssyhatproject/Instagram
The day after Donald Trump's inauguration, an estimated 200,000 women will march on Washington, D.C., to stand up for equal rights. And at least a couple thousand will be sporting pink knit "pussy power hats." The Pussyhat Project, which launched in late November, has thousands of followers on social media, and its organizers told the Huffington Post they believe 30,000 to 100,000 cat-eared hats have already been knit.
"For me, a lot of the magic lies in [saying], 'Hey women of the country, you might not think you're politically active, but you're already community organizing in your knitting groups and women's groups, you just don't call it that," said Krista Suh, one of the project's organizers. "The Pussyhat Project calls it that, which is where a lot of the power comes from."
After the election, Suh and her co-organizer, Jayna Zweiman, designed the hat pattern with the owner of their local knitting shop. They see the project as a way women across the country can participate in the protest, even if they won't physically be in Washington. "Everyone can participate," Zweiman said. "We're hearing from people who are saying, 'I just sprained my ankle and I'm sitting here watching Netflix and it's the best thing ever.'"
Now just throw on your "Nasty Woman" T-shirt and you're ready to go.