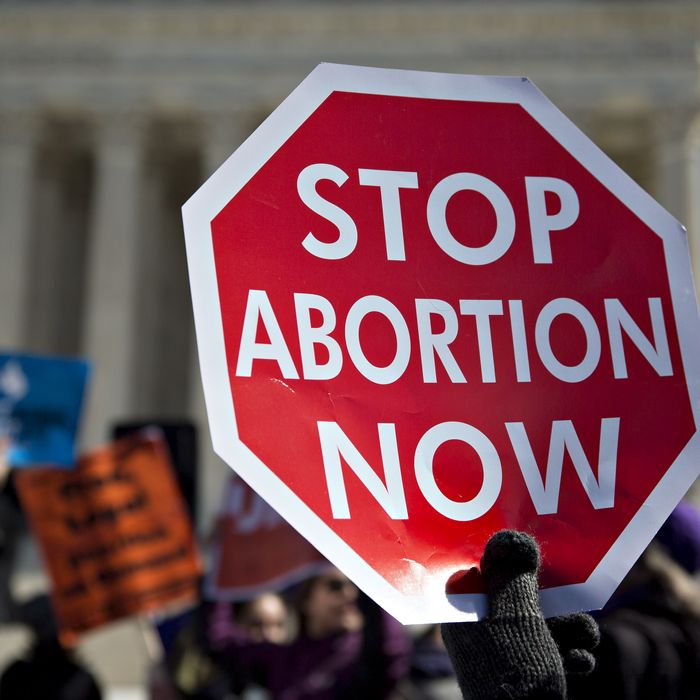 Photo: Andrew Harrer/Bloomberg via Getty Images
On January 21, the day after Donald Trump's inauguration, an estimated 200,000 people will join the Women's March on Washington, which bills its purpose as "to affirm our shared humanity and pronounce our bold message of resistance and self-determination." "Reproductive Freedom" is among their listed principles, which they define in part as "open access to safe, legal, affordable abortion." Planned Parenthood was an early partner, as was NARAL and the National Institute for Reproductive Health. And, as The Atlantic reports, some pro-lifers were drawn to the march.
Per The Atlantic, the Texas-based anti-choice group New Wave Feminists — tagline: "Badass. Prolife. Feminists." — was granted partnership status on Friday, though, as of Monday, they no longer appear on the Women's March site's list of partners. The Cut reached out to a spokesperson at the Women's March regarding this development and received the following statement back:
The Women's March's platform is pro-choice and that has been our stance from day one. We want to assure all of our partners, as well as participants, that we are pro-choice as clearly stated in our Unity Principles. We look forward to marching on behalf of individuals who share the view that women deserve the right to make their own reproductive decisions.

The anti-choice organization in question is not a partner of the Women's March on Washington. We apologize for this error.
Destiny Herndon-De La Rosa, New Wave Feminists' president, told The Atlantic, "I was very concerned about the fact that in 2017, our presidential candidate was such a diehard misogynist … I get that he applied this pro-life label, but I don't know very many people who genuinely believe he's pro-life."

Indeed, Trump ran on a vehemently anti-abortion platform; both the defunding of Planned Parenthood and federal attacks on Roe v. Wade are very real concerns right now. (Herndon-De La Rosa has, for her part, compared Planned Parenthood to Nazi doctor Josef Mengele.)
When The Atlantic interviewed Bob Bland, who is co-chairing the Women's March, about the issue, she curiously invoked intersectional feminism, saying, "Intersectional feminism is the future of feminism and of this movement. We must not just talk about feminism as one issue, like access to reproductive care."

Following the publication of The Atlantic's article, there was a backlash against the Women's March, with many saying that feminism and anti-choice politics are incompatible.
The Cut will update this post if any new information becomes available.