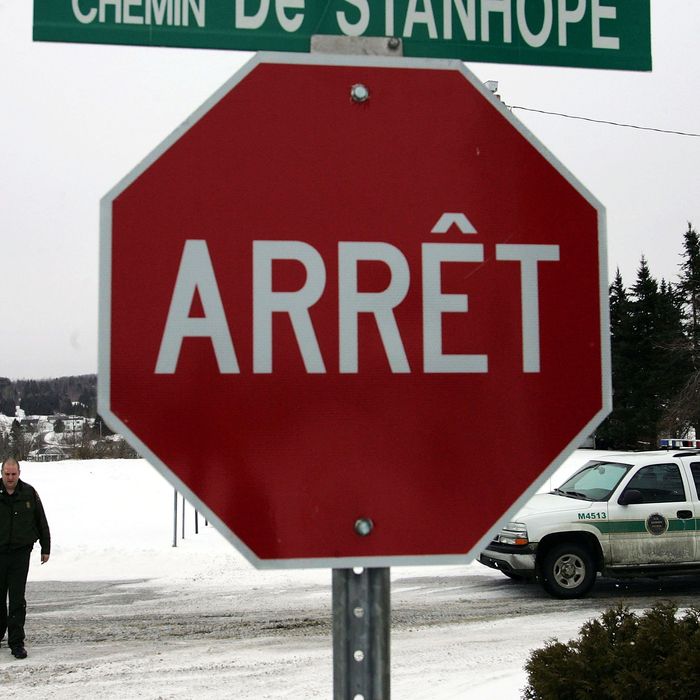 Photo: Joe Raedle/Getty Images
As an estimated 200,000 people traveled to Washington, D.C., this week for the Women's March on Saturday, U.S. border agents reportedly denied members of at least three groups of would-be protesters coming from Canada and sent them home. Each group was refused U.S. entry on Thursday, after sharing their plans to attend the Women's March.
In one group, six Canadians and two French people were asked to pull over after saying they were headed to the Women's March. Border agents spent two hours investigating, according to The Guardian, searching their cars, examining their phones, and taking fingerprints and photos before sending everyone home.
In another group, a British man and a Canadian were refused after three hours of questioning, fingerprinting, and photographs. The border agent reportedly called the Women's March a "potentially violent rally."
In a third group, a Canadian traveling with two Americans told a border agent he was traveling to the inauguration and the Women's March. "The first thing [the border agent] asked us point blank is, 'Are you anti- or pro-Trump?'" he said. "It felt like, if we had been pro-Trump, we would have absolutely been allowed entry." His American friends were allowed entry, while he was not.
In a statement to The Guardian, the U.S. Customs and Border Protection refused to discuss the incidents because of privacy reasons. "We recognize that there is an important balance to strike between securing our borders while facilitating the high volume of legitimate trade and travel that crosses our borders every day," it read, "and we strive to achieve that balance and show the world that the United States is a welcoming nation."
On Thursday, the same day of the three reported refusals, the U.S. Consulate in Montreal posted a warning on its website cautioning American citizens to avoid protests. After several planned protests in Montreal, Toronto, and Ottawa on Friday, 34 Canadian cities will host sister marches with the Women's March on Saturday, according to the march's website. About 600 Canadian protesters, most of them women, traveled in charter buses from Toronto, Montreal, Ottawa, and Windsor Friday night, crossed the U.S. border, and arrived in Washington, D.C., on Saturday morning.