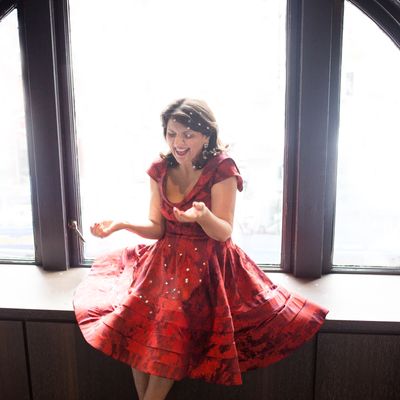 Susan Miller.
Photo: Sunny Shokrae
I'm at the 3 West Club in Midtown Manhattan on Saturday morning waiting for astrologer Susan Miller's "Year Ahead 2017" event to start when a sharply dressed, gregarious gray-haired man in his 60s strikes up a conversation with me. He's a Wells Fargo VP who woke up at 4 a.m. to take the train in from New Jersey, and confides that he plots out all the upcoming Mercury retrogrades in his calendar and regularly consults Miller's words when making business decisions. Plus, he tells me matter-of-factly, all of the biggest market crashes have occurred during Mercury retrograde. (I check when I get home; it's true of 1929 and 1987, but not 2008.)
I would say that he's not a typical astrology fan, but, then again, Susan Miller isn't your typical astrologer. The "reigning queen of astrology," as she's been called, avoids the flowery, surreal writing typically associated with the craft in favor of long, meticulously detailed predictions that unpack exactly what the universe has to offer — a tactic that has earned her 12.9 million readers at her website, Astrology Zone, each year. She writes columns in magazines around the world, has appeared on Pharrell Williams's podcast, and is the fashion world's go-to astrologer. I've always been skeptical about astrology, but I still find myself reading my Susan Miller horoscope for fun at the start of every month, reminded to do so when I see friends tweeting about it.
Today, for $99, plus an optional $80 lunch, about 100 fans have come to her for guidance about the upcoming year: Miller will review upcoming eclipses and retrogrades, planetary impacts, and — most appealing of all —answer personal questions. The future is always uncertain, a feeling that's only been exacerbated by the current political situation, but as I hear over and over from fans: Susan really does see what's to come.
Miller arrives before the program starts, prompting attendees to take turns greeting her; I even see one present her with a gift. She's a petite and perfectly coiffed woman in her 60s (a guess, as she famously keeps her age a secret) and wears a black dress with red and pink embroidery paired with ballet flats — and a flashy crystal necklace. When she asks me to move over a seat — Vogue Germany is coming — she also asks me what outlet I'm from. Upon hearing New York Magazine, she tells me we were responsible for the "meanest" article ever written about her — this 2013 profile. In the next breath she says that she once talked to Jon Bon Jovi about how reporters always get things wrong.
At 10 a.m. Miller takes to the stage and jumps right in, giving the audience a bit of positive forecasting early on: October 26 will be the luckiest day of the year. Notebooks are provided, and the audience dutifully takes notes throughout. I happen to catch a glance of my seatmate's and, written in impeccable handwriting over and over alongside the bottom half of her page, is: "I want a job now that pays me $400,000."
As she runs through how the planets will impact each zodiac sign, Miller asks audience members to raise their hands: "Where are my little Leos?" or "Where are my little Capricorns?" Without prompting, she shares Donald Trump's prospects. According to Miller, because he's a Gemini born in the middle of June, Saturn was in opposition to his sign during the inauguration, making it an especially difficult time for him. This year, she says, will be "the toughest year" of Trump's life — especially October 10 through December 19 — but "he'll learn."
Miller's in-person presence is a perfect reflection of her prose. On the page, she is notoriously prolific — her predictions amount to 30,000 to 48,000 words each month. She can also speak without pause and from memory about every planet and sign in the zodiac, but — and everyone who reads her regularly can attest to this — she can't help but interject personal stories whenever she can. And so she regales us with tales about everything from telling Emma Roberts to buy flood insurance to having breakfast with Spike Jonze (she made him wait five months because she's been so busy). We hear a lot about one of her daughters, who works for James Corden in Los Angeles, and we learn even more about Miller herself; topics touched on include her recent trip to China, her numerous health issues, and how much she loves Twitter. After one audience member introduces himself, but before he has the chance to ask his question, she interrupts to show off LED-light signs that some of her Chinese fans have made for her.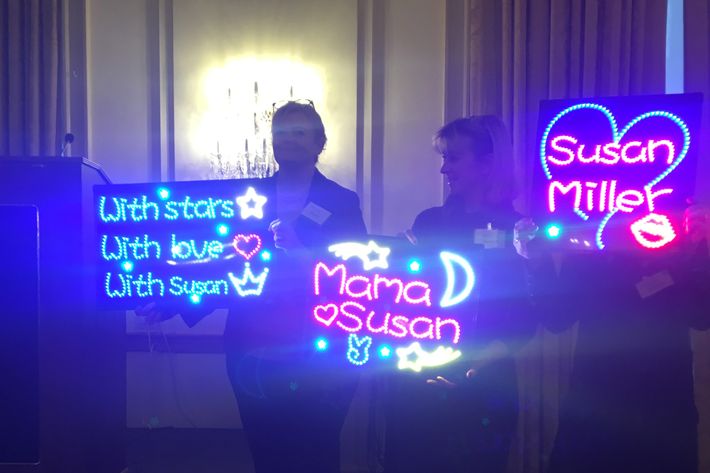 When the group breaks for lunch, I sit at a table with six other women. We introduce ourselves with our names and, of course, our zodiac signs. When Miller joins us for dessert, a college professor recounts how, at a previous Year Ahead, Miller predicted that she wouldn't sell her house until October 4. She was frustrated because it was January and the house had already been on the market for so long. "I wanted to hate you," she admits, but lo and behold, she sold it on October 5. When she shares this, the whole table — myself included — audibly responds with a collective noise of amazement. "It's all math," Miller asserts.
After lunch, a young, bashful Sagittarius who's considering her career options stands up and asks Miller if it would be financially lucrative to write a book about a personal story. "Financially lucrative" and "book" are not words I typically think of together, but Miller assures her that Sagittariuses are the "blockbuster writers" of the zodiac. The woman is pleased — much like the Wells Fargo VP was earlier when he asked, "What are Pisces blind to right now?" and her answer included: "You're gonna get a big chunk of money." This is typical Miller: To hear her tell it, everything the stars hold is positive; whenever they show something particularly difficult, it's just a challenge that will lead to necessary and ultimately good changes.
Politics come up again and again. As we're reviewing the upcoming eclipses, Miller says they'll be especially good for those with fire and air signs — like Trump. When I mention that Mike Pence is also a Gemini, there are murmurs throughout the room. (I understand: As a Gemini myself, I can say with all politics aside — the prospect of two Geminis in charge sounds like total chaos.) But, she says, the stars don't show Trump going anywhere — and she "believes in the system." Miller elaborates during a phone call the next day: "He has tough aspects from Saturn, but he's got beautiful ones from Jupiter, giver of gifts and luck. He's got a good hand, despite Saturn … Next year, he won't have Jupiter, he won't have Saturn, things normalize, they get less extreme — the help gets less bountiful and the criticism gets less intense." Lest this all seem too Trump-focused, Miller also says that Hillary Clinton chose not to leave Bill because she's a Scorpio, and Angela Merkel, a Cancer, will be remembered for her "big heart."
Over the phone the next day, I ask if she typically sees so many political questions at these events. "[There were] more than usual …" she says, adding that with a readership as broad as hers, she feels the need to remain diplomatic. "I really don't like to get into politics. Half the people in the audience might have been for the other side and I want to respect them."
The program wraps up at 4 p.m, when attendees are invited to wait in line for an autograph and a chance to ask Miller a one-on-one question. As I wait, I think about some uneasiness I felt throughout the day. Sure, I enjoy reading my horoscope alone, but something about being in such a big, formal room surrounded by passionate believers, reminded me of organized religion and motivational speaking — two things I tend to avoid.
When I finally reach Miller after an hour in line, I tell her my birthday and my sign, and she lights up. "Oh my god, you got it all," she says. "You got love, you got celestial favor … my god, this is a banner year." And she says it with such force and conviction, that I leave knowing exactly why it is that Susan Miller is the best in the game.