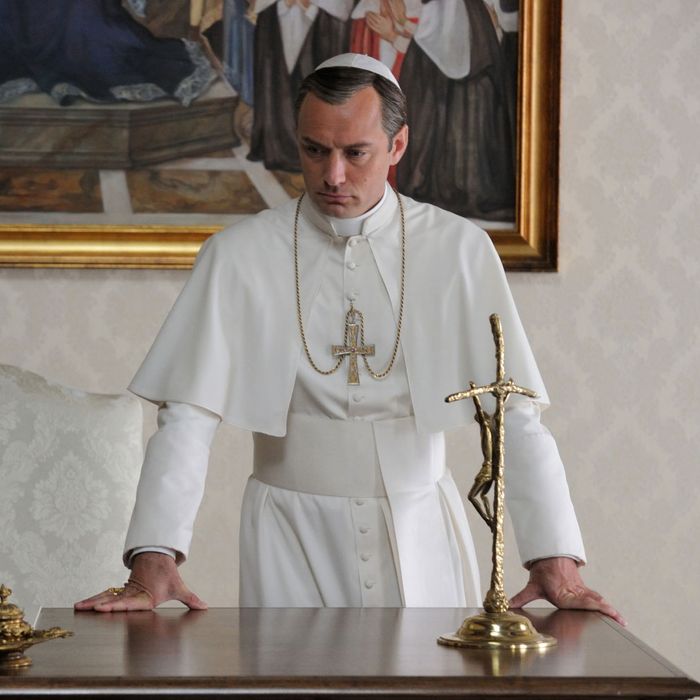 Photo: Gianni Florito/HBO
It's hard to choose which part of HBO's The Young Pope I dislike most, so in a column called Young Nope, I share the worst thing from that week's episode.
Before it's even possible to point out what my least favorite thing about the premiere episode (solomente episode numero uno, mama mia!!) of The Young Pope is, let's quickly assess the facts:
At 581,251 square feet, the production's Sistine Chapel was built to the size of the actual Sistine Chapel. It took five weeks for 25 painters and 40 constructors to build the replica of the Sistine Chapel.
Okay. For the television series The Young Pope, producers built a true-to-life replica of the Sistine Chapel. As they say, Rome wasn't built in a day — unless you need a true-to-life replica of the Sistine Chapel for a television series about a pope who smokes cigarettes and drinks Cherry Coke Zero.
Anyway, that isn't even close to being my least favorite thing. The show's opening scene features the young pope crawling out from under a pyramid of babies. A pyramid of babies! It may have been a dream, but that's the kind of thing we're dealing with here. Also the pope's name is, if you can believe it, Lenny.
Until next week, this has been Young Nope.