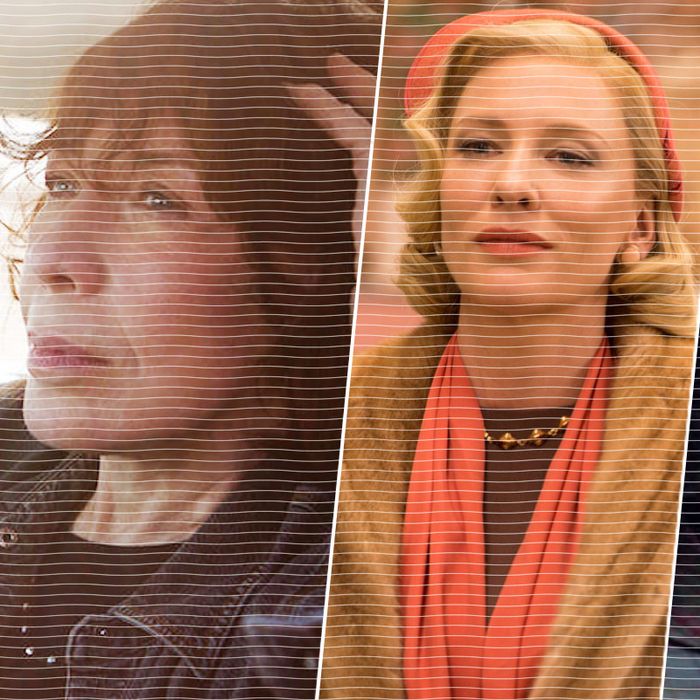 Photo: Twentieth Century Fox, Sundance Institute, The Weinstein Company

A series investigating the effects of gravity on the female form.
It's a truism as old as celluloid itself: As women get older, their opportunities in Hollywood decline. A recent study showed that over 80 percent of leading roles for actors over 40 go to men, while middle-aged women in Hollywood pass their "Last Fuckable Day" and transition from being cast as love interests (of much older actors) to being cast as mothers (of actors around their age). "When you're in your teens or 20s, there is an abundance of ingenue parts which are exciting to play," Liv Tyler told More magazine two years ago, at age 38. "But at [my age], you're usually the wife or the girlfriend — a sort of second-class citizen."
Thankfully, there are a few filmmakers, largely in the independent-film world, who are committed to depicting the lives of women outside those categories. In honor of the Cut's aging package, I have put together a (totally subjective) selection of good films that prioritize the inner lives of women who aren't just ingenues. I kept it to the last few years and tried to pick stories that had a woman over 40 as the evident protagonist. These aren't just films with a female lead, but films that emphasize female interiority, and explore various facets of women's lives — work, art, family, love, sex, identity, health, and the search for self — without reducing their characters to maternal stereotypes.
Carol (2015), an evocative queer love story from another era.
Todd Haynes's male-gaze-shirking period piece about the romance between two women — sophisticated, enigmatic Carol (Cate Blanchett) and peculiar, vulnerable Therese (Rooney Mara) — was one of last year's most glaring Oscars snubs. The stories of queer women have so often been elided, but Haynes beautifully captures the tragedy of not being able to love who you love, while viscerally depicting in image and gesture, color and sound, just how completely desire can reshape the world around us.

Available to stream with Showtime subscription. Available to buy on Amazon and Google Play.

Hidden Figures (2017), the story of the black women who helped win the space race.
As this list demonstrates, there are still very few leading roles for women of color in Hollywood — but hopefully the critical and box-office success of Hidden Figures will help change that (plus, it's already boosting girls into science and technology fields). This historical biopic about the black women of NASA stars Taraji P. Henson as Katherine Johnson, a mathematician whose calculations helped put the first American astronaut into space, while Octavia Spencer and Janelle Monáe play her equally trailblazing colleagues. Watching them banter about civil rights and Euclidean geometry while cruising Virginia in a sea-green convertible, you'll never want to see another film that fails the Bechdel test again.
Showing in theaters.

Bridget Jones's Baby (2016), a pregnancy comedy that's actually funny.
The long-awaited follow-up to Bridget Jones's Diary (ignoring the forgettable 2004 sequel), Bridget Jones's Baby was an unexpected treat when it hit theaters last summer. After unexpectedly getting pregnant (no longer "the last barren husk in London"), Bridget finds herself torn between two men, old flame Mark Darcy (Colin Firth, who will make you cry) and shiny new American Jack Quant (Patrick Dempsey), either of whom could be the father of her child. It's refreshing to see a sequel that deals with not just dating, but the totality of a middle-aged woman's life — friendship, work, motherhood, getting super turnt at Glastonbury — while still making us feel warm and fuzzy in all the ways a good rom-com should.
Available to rent or buy on Amazon, iTunes, and Vudu.

Equity (2016), the first female-driven Wall Street movie.
Another film about three women in a male-dominated industry, Equity stars Breaking Bad's Anna Gunn as Naomi, a steely investment banker working on a major tech IPO, with Sarah Megan Thomas as her ambitious assistant and Alysia Reiner as an attorney investigating Naomi's firm for securities fraud (Thomas and Reiner also served as producers). Equity makes no apologies for its heroine's path, and refuses to turn her life decisions into a morality play or to have her find enlightenment through marriage and kids. Made and funded by women, the film is an unusually realistic depiction of Wall Street and the women who work there, which manages to explore the industry's fraught gender politics without ever feeling didactic or preachy.
Available to rent or buy on Amazon, Google Play, and Vudu. Available to buy on iTunes.

45 Years (2015), a relationship drama with no easy answers.
Charlotte Rampling is an actress who can do a whole lot of emotional heavy-lifting with the smallest of gestures, and she is at the height of her gifts in 45 Years, a harrowing domestic drama about a married woman whose life is overturned when she is confronted with the depth of her husband's (Tom Courtenay's) feelings for a past lover. Set over six days in the couple's lives, Andrew Haigh delivers one of cinema's best excavations of the shifting dynamics of a long-term marriage, revealing how an emotional revelation can be as destructive as an avalanche within the world two people have built together.
Available to stream with Showtime subscription. Available to rent or buy on Vudu. Available to buy on Amazon and Google Play

Elle (2016), an unpredictable revenge narrative.
Paul Verhoeven's Elle, about a woman taking revenge on her rapist, has been the subject of much debate over its feminist credentials. Is it, to quote A.O. Scott: "a feminist tale of rape and revenge, or an exercise in chic, cynical misogyny?" Regardless of what you take away from Verhoeven's subversive satire, you will certainly be talking about Isabelle Huppert's performance as Michèle, whose enigmatic antiheroine defies expectations up to the very last frame.
Showing in theaters.

Welcome to Me (2014), a timely exploration of mental illness and reality television.
Kristen Wiig is at her best when she inhabits the weird register somewhere between hilarious and heartbreaking, and she hits the sweet spot in 2015's delightfully original indie Welcome to Me. As Alice Klieg, a bipolar Oprah buff who wins the lottery and decides to spend her winnings on a vanity talk show — where she rides in in a swan boat, neuters dogs onscreen, and reenacts fundamental traumas from her adolescence ("Someone's Been Tampering With My Makeup Bag") — is at once an incisive portrait of mental illness and one of the best satires of reality-TV culture since The Truman Show.
Available to rent or buy on Amazon, Google Play, and iTunes.

Clouds of Sils Maria (2014), a portrait of an actress.
This evocative All About Eve-esque drama from French auteur Olivier Assayas is better experienced than described, but I'll give it a go. Juliette Binoche stars as Maria Enders, a revered French movie star who made her career in a film called Majola Snake, where she played a young starlet seducing and manipulating an older actress. With much consternation, she agrees to reprise the play in the role of the older woman, with up-and-coming American tabloid darling Jo-Ann Ellis (Chloë Grace Moretz) as her antagonist. She retreats to the Alps to rehearse with her assistant Valentine (a great Kristen Stewart, whose own Hollywood trajectory has many parallels with Jo-Ann's) — a brutal, intensely personal process where art begins to imitate life in strange and compelling ways. The result is a gorgeous meditation on aging, art, performance, storytelling, female friendship, and desire, set in the swirling clouds of the French alps.
Available to stream with Showtime subscription. Available to buy on Amazon, iTunes, Google Play, and Vudu.
Still Alice (2015), a devastating depiction of a debilitating illness.
Julianne Moore won a well-deserved Academy Award for her performance as Alice Howland, a linguistics professor gradually losing her mind to a fast-progressing case of early-onset Alzheimer's disease. Based on a true story, the film is a fascinating psychological and philosophical exploration of illness and identity — at what point is she no longer still Alice? — depicting how the disease gradually eats away at her memory, her linguistic faculties, her intellect and sense of self, as she fights fruitlessly to cling on to the person she once was. Kristen Stewart — a consistently invaluable scene partner these past few years — plays her youngest daughter.
Available to stream with Starz subscription. Available to buy on Amazon, iTunes, and Google Play.

Grandma (2015), a story about a grandmother who prefers tattoo needles to knitting needles.
One of 2015's most unconventional quest narratives, Paul Weitz's Grandma stars Lily Tomlin as Elle Reid— an ornery, broke, hard-living lesbian poet reeling from the loss of her partner — who embarks on a journey to raise $600 for her granddaughter's (Julia Garner's) abortion. Tomlin's tattooed, denim-jacket-clad iconoclast is a welcome reminder that age and personality aren't mutually exclusive. More leading roles for Lily Tomlin, please.
Available to stream with Starz subscription. Available to rent or buy on Vudu. Available to buy on Amazon, Google Play, and iTunes.