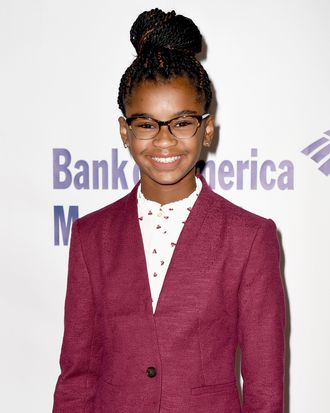 Photo: Gustavo Caballero/Getty Images for Foundation for Letters
A year ago, Marley Dias, who was then only 11 years old, decided to start her own book drive to collect books where black girls were the main character. The news of her #1000BlackGirlBooks spread worldwide, and as a result, Dias has collected 8,000 books to date.
Today, Scholastic announced that Dias would be writing a book of her own. From their release:
In her forthcoming nonfiction book for ages 10 and up, Marley Dias, the powerhouse girl-wonder who started the #1000blackgirlbooks campaign, shows kids how to make their own dreams come true. In this accessible "keep-it-real" guide, Marley tells how she's turned her passion into a literacy crusade that has captured the attention of the media, policymakers, and young people throughout the world.
The book will also offer tips on "paying it forward" and "activism, social justice, volunteerism, equity and inclusion," and is slated for release in spring of next year.