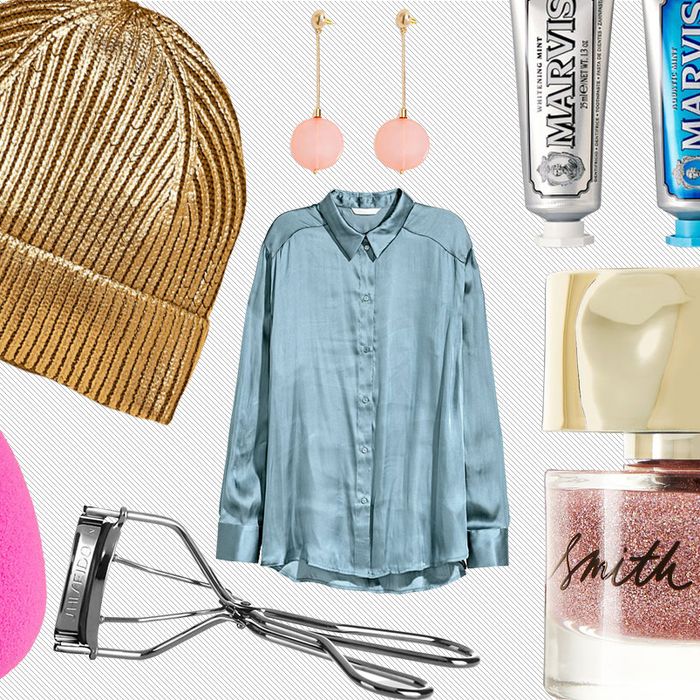 You can claim that your love may not cost a thing, but it doesn't mean you can't give or receive a thoughtful present. Don't be limited this Valentine's Day by the Andrew Jackson in your cavernous wallet — the best gifts can often cost $20 or less. Here are 20 fun ideas that smell fantastic, feel great, and look good. Read through for a pick personally anointed by Susan Miller, a tool that beats any makeup brush, and a pretty pair of earrings that you'll want to wear all spring.
Where are my little Leos? Where are my Scorpios at? These soaps are personalized by astrology sign, and while they unfortunately don't come with a reading or the number of her personal cell, they are blessed by astrology queen Susan Miller.

There's only so much free Creme de Corps you can scam from the Equinox locker room.

You just need one perfect eye shadow and this warm brown shade, made in Japan, is soft, rich, and blends with a single swipe.
Sheet masking is the most fun you can have while remaining totally immobile (second to napping).

Better than any drugstore eyelash curler and it has a wide, rounded base that makes it ideal for stubbornly straight lashes.

#TooSweet #Nomz #Swedishgummiesdoitbetter

It smells like a Mounds Bar and it's pure — the cleanest and least-processed coconut oil–derived cream possible.

If you have one, it's probably really gnarly from overuse so it's time to replace it. If you don't have one yet — what are you waiting for? It's cheaper, smaller, and blends makeup better than any brush.

A hand-cream favorite with over 1,500 four-star reviews on Sephora that is lightly perfumed to smell like almond cookies. Mmm.

Pictures are deceiving — these earrings are dramatic and long. Wear them when you hate everything in your closet and you're in dire need of a pick-me-up.
Underwear that is not only pretty but also comfortable enough to wear beyond special occasions.
Use this pretty tray to store rings or delicate earrings.
Keep the top two buttons undone, add a lacy black bra and you basically have mastered the Carine Roitfeld look.
Despite its $16 price tag, this silver clutch looks way more expensive. Tuck it under your arm for a night out and then switch to the cross-body strap when you decide to have just one more drink.
Gochujang (a sweet Korean pepper paste) is delicious. Sriracha is practically a desk-lunch staple. Together? The genius combination is somehow even better. Get this and your meals will never be the same.
If you're going to wear a hat to get through the next few gray weeks, it might as well be a shiny, happy one.
Styling tip: Loop this around your neck to make a suit feel less stuffy and more Gucci-approved.
Still into the choker trend but want something a bit softer? This pom-pom style is kawaii and inexpensive.
If you buy something through our links, New York may earn an affiliate commission.