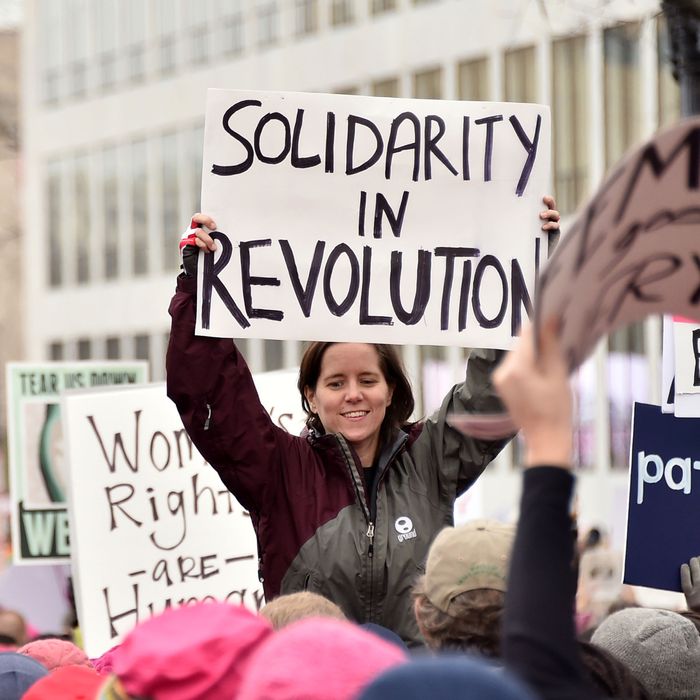 Photo: Mike Coppola/Getty Images
The Women's March was the largest protest in U.S. history, and reached seven continents. Already, it's an undeniable expression of a resistance that's gaining victories against Trumpism.
As a mass, historical outpouring, it's also ripe for social science. As such, three University of Maryland sociologists — Dana R. Fisher, Dawn M. Dow, Rashawn Ray — went out to collect data, publishing a selection of it over at the Society Pages. In total, their research team surveyed 527 respondents. Three sets of stats stand out:
• The marchers were overwhelmingly Hillary supporters. More than 90 percent voted for Clinton, 2 percent did so for a third-party candidate, and just one respondent voted Trump.
• Political fires were lit. A girthy 56 percent of respondents said it was their first protest in half a decade. Overall, it was the first-ever picketing for a third of people.
• People marched for lots of reasons. While 60 percent said women's rights was a motivation for their demonstrating, climate justice, racial justice, LGBTQ rights, and reproductive rights were almost all tied for second place, at between 36 and 32 percent of respondents.
That diversity — or one might more properly say, intersectionality — of issues is part of what makes the Women's March stand out. While protests are historically about one issue, this was, quite fittingly, a demonstration of plurality.
"The Women's March was different in that its protesters were seemingly engaged in intersectional activism — a version of activism that is sensitive to how race, class, gender and sexuality complicate inequality," the authors write. "Perhaps the Women's March is distinct in this way because protesters were not just motivated by concrete issues, but they were also motivated by a desire to protect and reassert a vision of America that embraces diversity and inclusion as a strength rather than a threat."
What's powerful about that diversity, say the people that study protests, is that it makes the resistance movement as inclusive as possibile, and could potentially bind people into activist-y social networks — as massive, shared experiences have had a way of cementing social bonds for thousands of years.