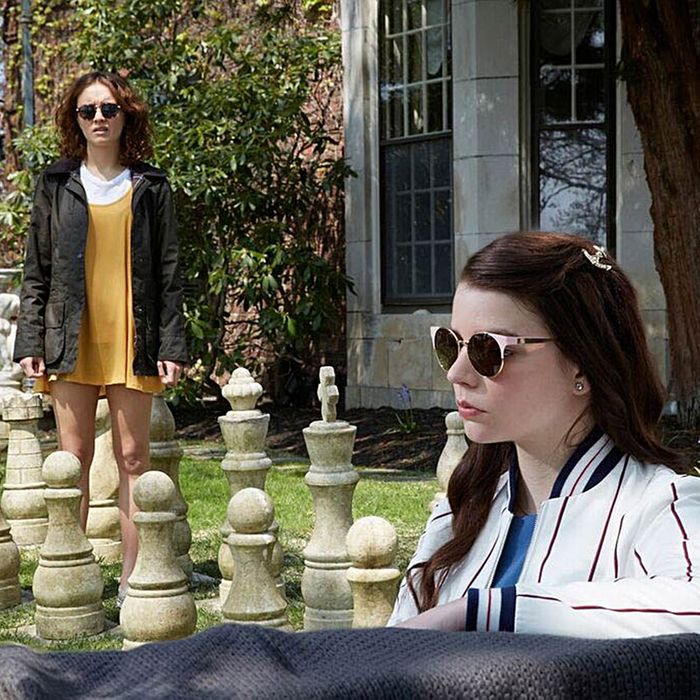 A scene from Thoroughbred.
Photo: Claire Folger/Courtesy of Sundance Institute
Sundance is known for its embarrassment of riches when it comes to encouraging voices outside the mainstream — whether it's through their various funds and grants or through programming films by women and people of color. It may be a wintry wonderland for folks looking to party with the stars, but it's also a treasure trove for female film nerds looking for the next big thing. Here are five femme-centric films from the festival to keep an eye on in the next year.
Landline
Jenny Slate and co-writer/director Gillian Robespierre returned to Sundance with this dramedy set in the '90s. Slate's character, Dana, cheats on her fiancé and moves back home, only to find her father is cheating on her mother. Dana and her cantankerous little sister, Ali, bond over their determination to out their dad's mistress. Meanwhile, Dana's life is falling apart; her job sucks, the guy she was hooking up with is a putz, and her new eyebrow piercing is infected. (It is the '90s, after all.) There are no easy answers here, yet somehow that makes it even more satisfying.
Thoroughbred
Olivia Cooke and Anya Taylor-Joy co-star in this slick thriller about female friendship. Calling to mind Dangerous Creatures and Heathers, Thoroughbred is a great showcase for up-and-coming actresses Cooke, who wowed viewers in Me and Earl and the Dying Girl, and Taylor, who stunned in last Sundance's spooky smash The Witch. Thoroughbred also features one of Anton Yelchin's last performances onscreen before his untimely death last year.
Deidra & Laney Rob a Train
This strangely sweet and funny film is about sisters desperate enough to rob trains to pay the bills while their mom is in jail. Ashleigh Murray stars as Deidra, the ultra-responsible oldest sister whose side hustle helping other high-schoolers with their homework isn't going to make her mom's bail in time — or, for that matter, her own college-application fees. Rachel Crow co-stars as her younger sister, Laney, an outsider who is constantly made fun of. It's weirdly lighthearted despite the heavy subtext and perfectly cast with appearances by Sasheer Zamata, Tim Blake Nelson, and Missi Pyle.
Band Aid
Zoe Lister-Jones wrote, directed, and stars in this intimate flick about a miserable couple who decide to channel their angst into songs about their marriage. Adam Pally co-stars as Ben, a stoner artist whose regrets could fill an album, and he's the perfect foil to Lister-Jones's character, Anna, a writer who took on a "temporary" gig as an Uber driver after a book deal went south. The catalyst behind their current misery is telegraphed from about a mile away, but that doesn't make it any less moving. Plus, their songs are also really good in and of themselves.
The Big Sick
This Sundance smash was co-written by real-life couple Emily V. Gordon and Kumail Nanjiani and directed by indie stalwart Michael Showalter. Based on Gordon and Nanjiani's very-real life experiences together, The Big Sick stars Zoe Kazan as Emily, a sort of stand-in for Gordon, and Nanjiani as a fictionalized version of himself as they tackle cross-cultural differences and a life-threatening illness that results in Emily being put in a medically induced coma. It's the kind of movie where you don't mind knowing exactly how it ends when you go to see it .