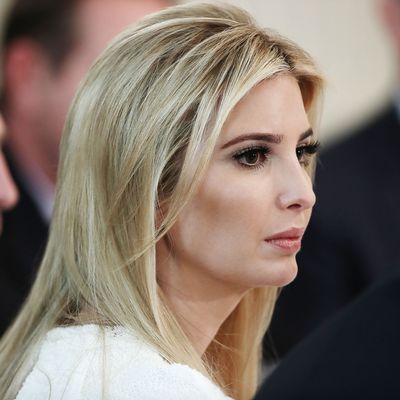 Ivanka Trump is very popular in China.
Photo: Win McNamee/Getty Images
Ivanka Trump's recent visit to the Chinese embassy in Washington not only turned her 5-year-old daughter into a viral sensation — it was seen by many as furthering the Chinese-American relationship that's been battered by her dad. In fact, the First Daughter is so popular in China that companies are rushing to take her name for themselves; more than 250 trademark applications are pending on the word "Ivanka," including one for a company that sells sanitary pads, the Washington Post reports.
The variety of products Chinese business owners want to name after the First Daughter is pretty incredible — everything from anti-wrinkle cream to diet pills to spa services to cosmetic surgery. The cosmetic-surgery company Foshan Yiwanka Medical Management ("yiwanka" is how the characters 依万卡, which spell Ivanka's name, are pronounced) was smart enough to register its name just before the election. "No doubt young women here want Ivanka's big eyes, her pretty nose and lips and her flawless figure," its HR manager said.
Li Jun, the founder of Foshan Bainuo Sanitary Products, told the Post he wants to name a line of sanitary pads after Ivanka. "I first saw her giving a speech on television to support her father's election," he said. "I was captivated by her incomparable disposition and air, even the way she tucked her hair behind her ear. Her speech was full of elegance and charisma … I believe she is a very positive role model for all women."
He said that even though his application might be rejected, "I have to try. I can't let go of such a good name from this influential woman for our sanitary napkins."