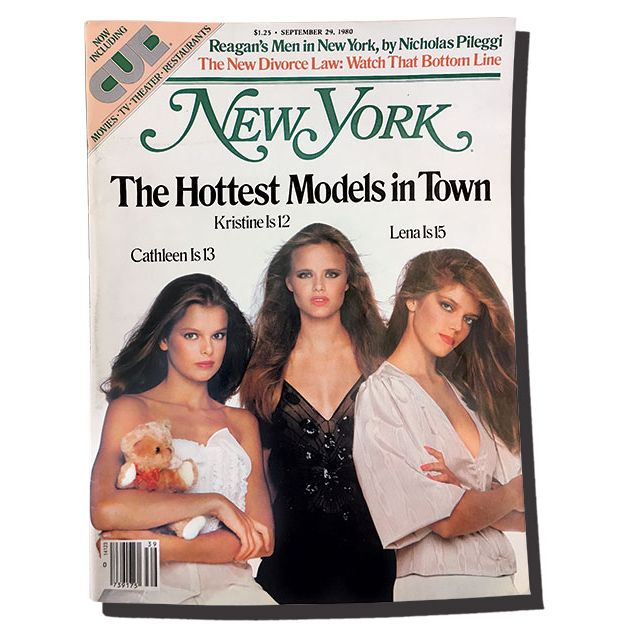 The September 29, 1980, issue of New York magazine.
During the disco era, you could scarcely open a glossy magazine without finding a story about fashion models. Coverage of the too-fast-too-rich-too-thin life came with appealing pictures attached, and maybe some titillating tales of sex and cocaine and men with their shirts open to the fifth button. In 1980, New York ran a cover story about a trend that skated right up to the edge of creepydom, if not over it: Elite Models and other agencies had begun signing barely pubescent young women. "Pretty Babies," the story was headlined, after the title of Louis Malle's controversial movie starring a 12-year-old Brooke Shields (she, too, ended up on a New York cover). The three young women are right at the intersection of little-girlishness and womanhood, fully made up with hints of cleavage but inescapably of junior-high age.
The story, though, isn't a pervy one. "Pretty Babies," by Mel Juffe and Anthony Haden-Guest, contains a heavy dose of hand-wringing. Marita O'Connor, an editor at Mademoiselle, notes that "some of these girls are just children. I don't really approve of bringing them into this crazy business at that age," and asserts that she's avoided hiring them: "I don't think it's necessary." A few modeling agencies' representatives are similarly skeeved out; "We seem to be moving into a Lolita syndrome" is how Wilhelmina's Bill Weinberg puts it. Even Elite's John Casablancas admits that he's heard magazine editors say, "She's beautiful, but, my God, she's only 12."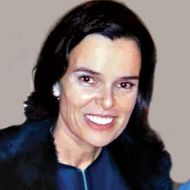 Cathleen Ess, the girl at left on the cover above, was 13. Today her married name is Cathleen Lamar, and she does not have a bad word to say about life in the glamour trenches. "The modeling years were fantastic. I wouldn't have traded them for the world," she says. "I had the time of my life; I traveled the world. It's a tricky, dangerous business, but for me it worked out. At the end of the day, it exposed me to so much."
During her modeling career, Lamar's mother and father granted her a degree of freedom that seems breathtaking. She graduated from high school early in order to spend three summers in one of Elite's model apartments in Paris; she lived in Milan on her own at 17. She was also studious enough to get into Columbia. "I got accepted with the idea that I'd continue modeling and then realized that the idea of modeling and the Ivy League don't really jibe." (It paid the first year's tuition and expenses, though.) "I graduated with a B.A. in political science but went on to work in the fashion business — moved to London, worked as an assistant buyer at Harrods, moved back to New York and worked at Norma Kamali, then Adrienne Vittadini." She got married, had three sons, and runs a high-end admissions-counseling business called Get the College Edge — "after proving my formula, with three boys at MIT, Cornell, and MIT!" She lives in Florida and Westchester, going back and forth as business demands.
There was, of course, a certain amount of bad stuff going on in the modeling world. A 60 Minutes report in 1988 focused on Jean-Luc Brunel, at whose agencies models had reportedly been drugged and raped by predatory agents. Young models today work under laws like those governing child actors, with regular breaks and earnings put in trust. Lamar says the misbehavior she saw at the fringes of her circle was more garden-variety: "I was exposed to a lot of stories about girls who maybe chose the wrong path because they think it's their ticket to sleep with the booker, or to sleep with the head of the agency. Did it work out for them? Not in most of the cases I saw." And, she is quick to add, exceptionally pretty girls who are not models often end up in the same traps.
She herself avoided the precipice. "Obviously there were times where they wanted a little less clothing than I was comfortable with, and when the coke was passed around. The dangers and allure of that older-playboy crowd, flying you to Monte Carlo, skiing in the Alps … But I'm a strong person." Her family's guilelessness may even have helped her out. "About modeling, my mother was just kind of oblivious. When I was 19, I remember [the agency] said, Cathleen, you have to drop five pounds, and I got home and told them, and they said, 'Why? You look fine.' They were not caught up in the game. They did think it was fantastic that I was flying to Japan, flying to Mauritius. Financially, it was obviously very beneficial, but they didn't see it as a long-term career, ever." And then, she volunteers, without being asked: "Would I let my daughter model? Uhhh. I think that's why God gave me three boys. "
*This article appears in the February 6, 2017, issue of New York Magazine.