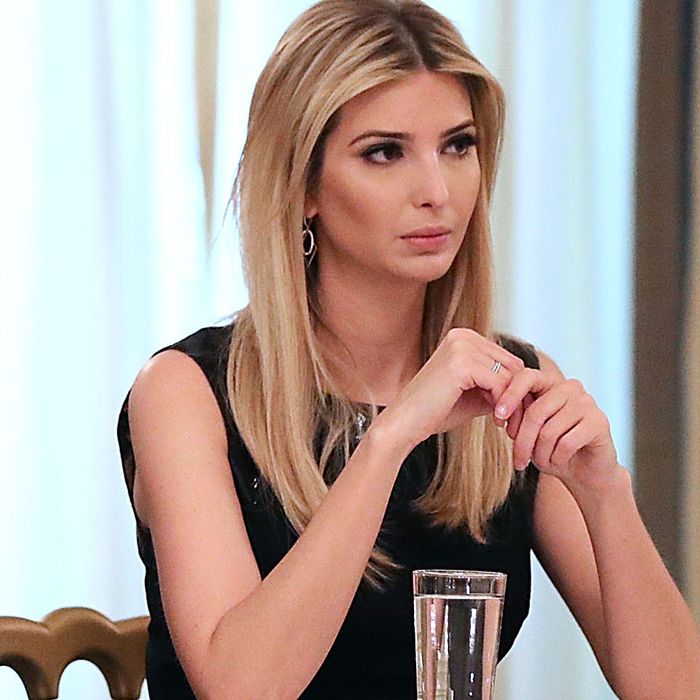 Ivanka's dad's policies have affected her clients.
Photo: Chip Somodevilla/Getty Images
By now Ivanka Trump is settled into her new Washington, D.C., home down the street from the Obamas, so it makes sense she'd be on the lookout for a nearby gym to keep up with her squat routine. And according to a Facebook post from its owner, Anne Mahlum, the First Daughter gave one of D.C.'s Solidcore locations a try. But Mahlum, whose views evidently run counter to Ivanka's dad's, wasn't totally enthused about her visit.
"What you do when you find out Ivanka Trump just took [Solidcore], but used an alias to sign up for class? You reach out and ask for a meeting," Mahlum wrote on her Facebook wall. She went on, "While I don't know her and I always seek to understand … I do know her father is threatening the rights of many of my beloved clients and coaches and as a business owner, I take my responsibility to protect and fight for my people very seriously."
Angry commenters fired back at Mahlum, accusing her of outing Ivanka and speaking out of turn. But she stood her ground and followed up with a second statement saying her clients and employees "have already been adversely effected, directly or indirectly, by the President's decisions," and that she feels it's a "key priority" to protect the community at [Solidcore] that "respects everyone's age, race, religion, sexual orientation, or otherwise." She reiterated that she'd welcome a dialogue with Ivanka: "I hope she takes me up on my offer."