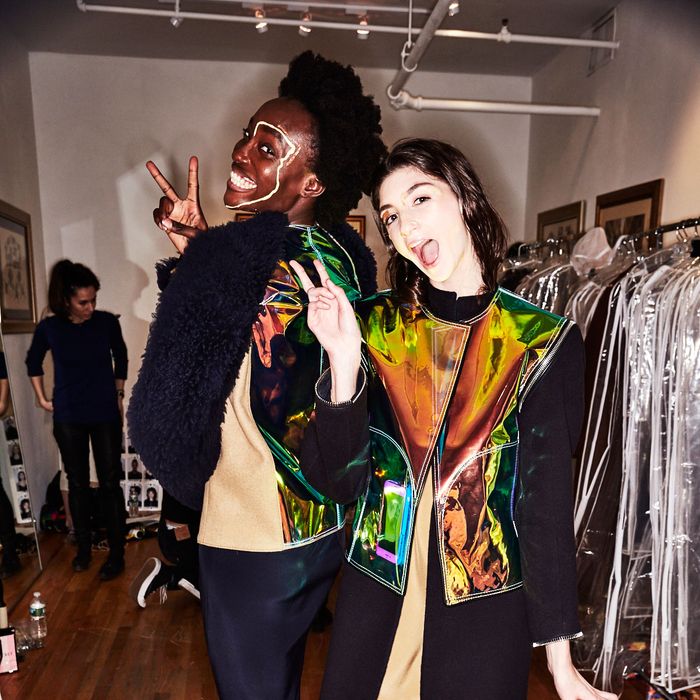 AB Screenwear fall 2017.
Photo: Sonny Vandevelde/Sonny Photos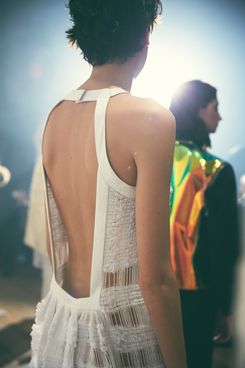 When she was in fashion school at Parsons, the only relationship Olya Petrova Jackson had was with her phone. Well, that's not precisely true. She was, she recalls, "a hard-core studio kind of person" who spent her days and nights experimenting with fashion design. She was also falling in love, long distance, with her now-husband, and the screen of her iPhone stood in for the intimacy of many face-to-face conversations. The experience made Petrova Jackson determined to find a way to make this often-cold technology feel more tactile and intimate. After so many brands have swung (and often missed) at the wearable-tech trend, her adaptation feels fresh. "I think I come from a less technical place with technology. I'm really interested in code, but my understanding of technology is very physical," she says. While juggling day jobs at Ralph Lauren and Maiyet, she decided to start working on her own technology-oriented designs at night.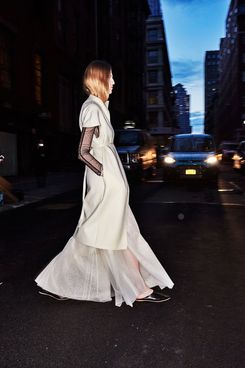 Petrova Jackson's line, Ab[Screenwear], features pieces like a jacket made of shiny dichroic polyurethane that reflects a whole spectrum of colors, its pockets so thin you can tap away at your phone or tablet through them. Or a pair of mittens, fuzzy on one side, touchscreen-friendly on the other. For other pieces, the material is cut into tiny strips that are then woven by Tereza Barabash, an artist based in Lviv, Ukraine, with whom the designer has been collaborating — another fruitful long-distance relationship.

Petrova debuted the line at New York Fashion Week yesterday, inside the Postmasters Gallery in Chinatown, with models stretching amid a thick indoor mist. She hopes "screenwear," a name of her invention, will become a genre unto itself. "There's sportswear and womenswear, menswear," she points out. With Ab[Screenwear], "I wanted to start this futurist speculation about what it would feel like if our body could incorporate screens in very organic ways, like an extension of the skin." Tech giants, take note.