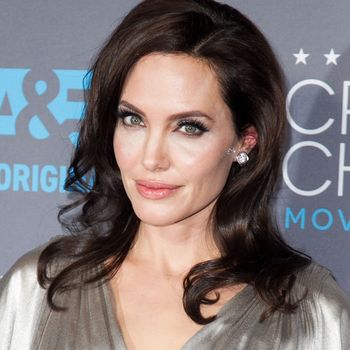 Angelina Jolie.
Photo: John Salangsang/BFAnyc.com
On Sunday, Angelina Jolie gave her first interview following her divorce from Brad Pitt. While the interview with BBC's World News centers mostly around Jolie's upcoming film, First They Killed My Father, and her work with Cambodia, the actress also spoke of her "difficult time" since divorcing Pitt. When asked about the subject, Jolie grew visibly upset and and said she doesn't want to say much except that "it was a very difficult time."
Jolie continued speaking in vague terms about the separation and an incident that reportedly occurred on a private plane, which ultimately led to the divorce. "We are a family and we will always be a family, and we will get through this time and hopefully be a stronger family for it," she told the BBC. When asked how she was coping with the aftermath, Jolie said that many find themselves in similar situations and she reiterated that her family has been going "through a difficult time." Her goal, she said, is to get through it all. "I am coping with finding a way through to make sure that this somehow makes us stronger and closer," she said.

Asked where she sees herself in five years, Jolie said she hopes she's visiting her teenage children as they are off doing interesting things around the world. Notably, Jolie added that she hopes her children develop a worldview that is broader than that of Hollywood.

"Everything I do, I hope, is that I represent something and I represent the right things to my children and give the right sense of what they're capable of and … the world as it should be seen. Not through the prism of Hollywood or through a certain kind of life, but really take them into the world where they have a really good sense and become grounded people."
The interview marks the first time Jolie has publicly spoken about the divorce, which has played out in the tabloids and gripped much of Hollywood.

See the full interview here.