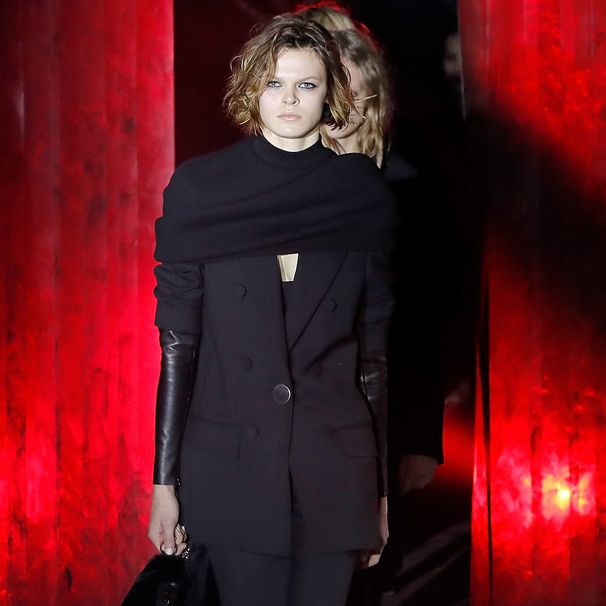 Photo: Getty Images, Veronique Hyland
The big question at tonight's Alexander Wang show: After-party, or no after-party? The designer brought McDonald's trucks and 7-Eleven Slurpees to his post-show bash last season, but this time the invitations were clear: "Standing room only. No after-party." Just before the show, when our beauty director spotted the words NO AFTER PARTY on models' tights backstage, we thought Wang must be up to something. Celebrities and editors made a long trek to Hamilton Heights to find out – and entered an abandoned theater full of Peroni kegs. Were we already at the after-party?
Oh yes: Drinks were served immediately.
Red spotlights flashed across the runway in the magnificent, crumbling RKO Hamilton Theater while hip-hop lyrics played and guests waited. We spotted Zoë Kravitz cuddling her boyfriend Karl Glusman in the main pit with the fashion plebes, Brooklyn Beckham elsewhere in a pink hoodie, Sofia Richie, Luka Sabbat, Fetty Wap, and Teyana Taylor. Also there: Suzy Menkes bobbing her head to the rap music, and Stefano Tonchi busting out dance moves.
Kendall Jenner and Bella Hadid were on the model lineup.
Kylie Jenner whooshed past our style director with a large crew in tow just after the start. With pulsating techno music as the soundtrack, a black-on-black-on-black look opened the show and set the tone for nearly the entire collection, aside from some gray and silver: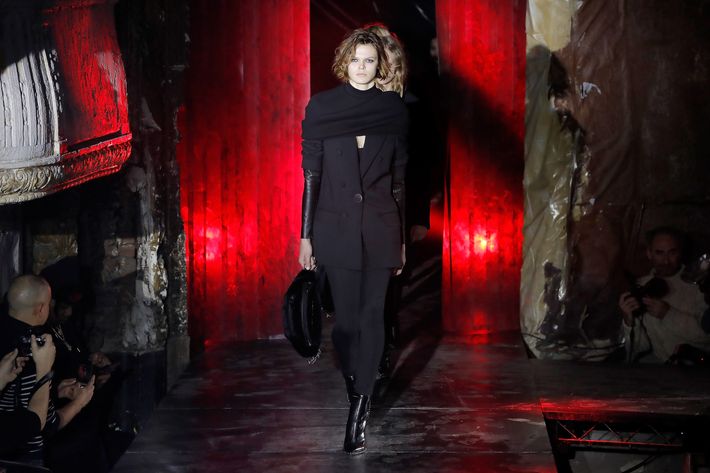 But the black came in various textures: Kendall Jenner in black leather pants, black jackets, and black cutout dresses – one of which mirrored Wang's red-hot-American-summer bikini vibes from last season.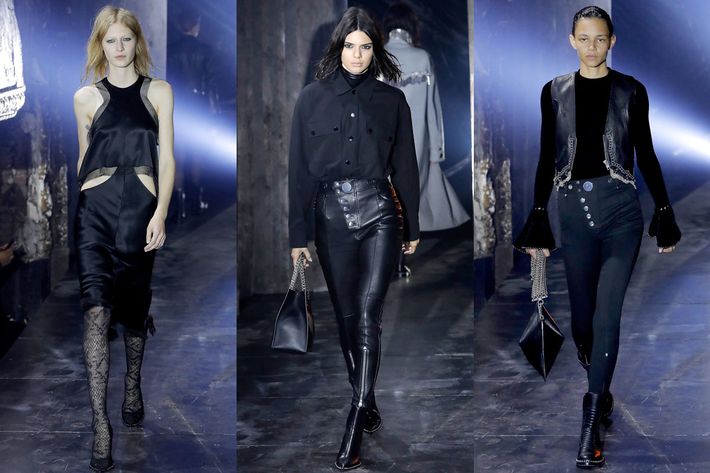 Bella Hadid wore tiny leather shorts and a white shirt bearing the words NIGHT OF TREASON.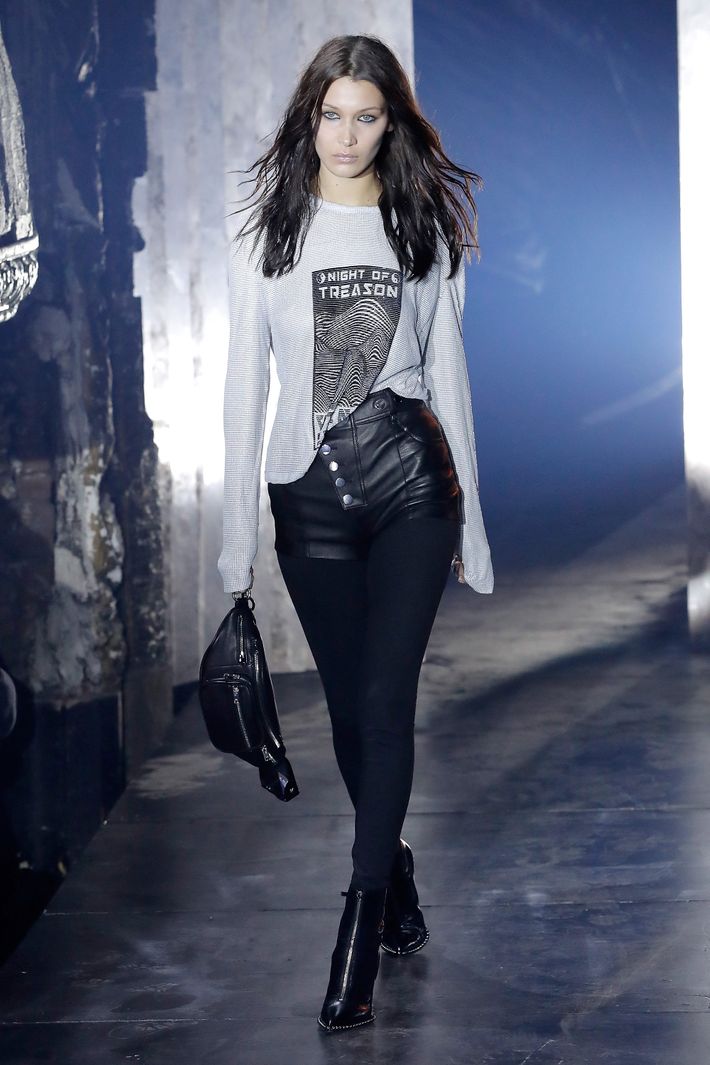 The NO AFTER PARTY tights made an appearance, along with rhinestone purses and leather handbags.
There were gray plaid coats and lots of silver fringe – on cowboy shirts and a punk disco-ball dress.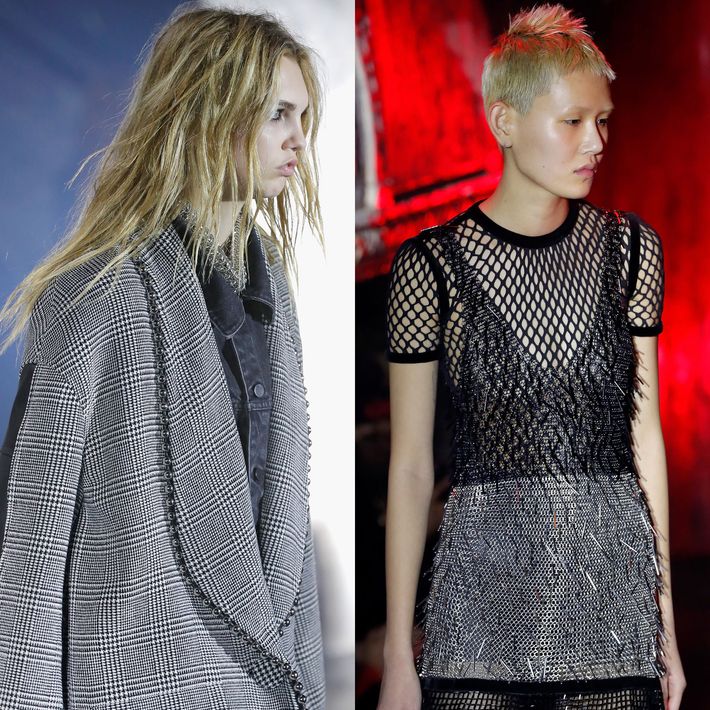 Among sheer, rhinestone-encrusted cutout dresses, a heavy silver statement necklace topped off dresses and black turtlenecks.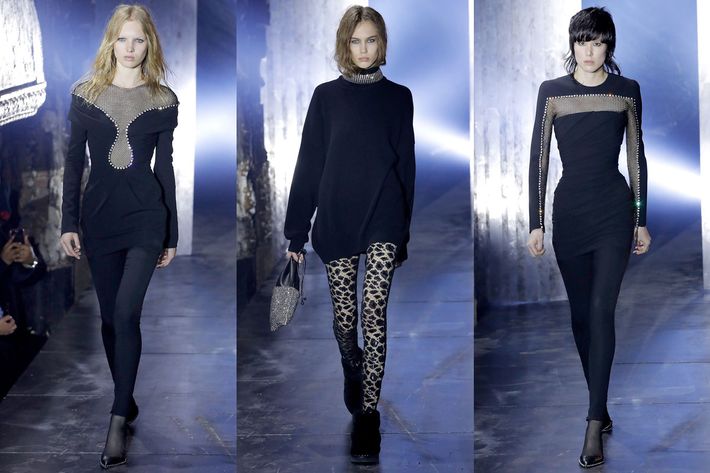 As red and white lights flashed for the final walk, models lapped the runway and stepped off through the party. Wang ran out in all-black looking thrilled with his big plan: No after-party, because the show was the party. Everyone immediately hopped on the 1 train and headed home.