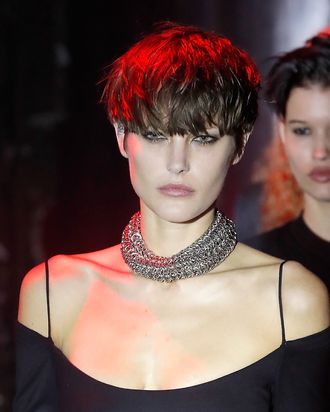 Cat McNeil at Alexander Wang with her new haircut.
Photo: 2016 Getty Images
Bowl cuts might be the best or the worst. On Jim Carrey, they were the worst. On Nick Carter and boy bands, they were a mix of both. Alexander Wang thinks they're the best, with the model squad at his kegger fashion week party/show receiving a mix of '90s tomboyish pixies, mushroom cuts, and supermodel-inspired chops. None of their haircuts would be found on The Bachelor, which is what made them so great — they weren't "dusting" or trims you might get at Supercuts, but true haircut transformations (an annual Wang tradition). No, Kendall Jenner's bob wasn't one of them.
It's about "individual beauties and girls that take their own risks," said Redken's Creative Director Guido Palau, of the cuts' inspiration. The best and perhaps most drastic transformation was Catherine McNeil, who went from long hair (long hair forums would call it about BSL — bra strap length) to a Linda Evangelista–inspired cut. "It's bold and boyish," explained Palau. "It's inspiring to think about taking control of your own beauty. Evangelista was inspiring to people because she took chances with her beauty."
Around five or six other models also got tomboyish cuts including Irina Kravchenko's softly rounded mushroom cut, newcomer (and Wang exclusive) Sohyun Jung with a piece-y pixie that looked CK One Jenny Shimizu-esque, and another newcomer EZ getting a bleached yellow blonde buzzcut. Chloe Sevigny in Kids and "homemade, cuts that looked like your mother, brother, or boyfriend could do" were words Palau mentioned. Other non-haircut models such as Jenner, Hadid, and Anna Ewers got "slept-in" distressed wavy textures, with dry volume at the crown. Palau used Redken's Wax Blast to encourage the piecey-ness of the hair and one-inch curling irons to bend, and not sausage curl, the hair into waves.
Matching the recurring "party all night" look, makeup artist Diane Kendal for NARS Cosmetics created a smudgy black eyeliner look for the models. Some models got no makeup, bleached brows, or a heavy ring of eyeliner, smudged into the upper and bottom lash line, using a mixture of black eyeliners (NARS Via Veneto Larger Than Life Long-Wear, NARS Minorque Kohl Eyeliner, NARS Black Moon Eye Pencil, NARS Carpates Eyeliner Stylo). Lips were the models' own natural lip colors, with a coat of Rosebud Lip Salve. There may or may not have technically been an after-party, per the models' tights (available via capsule collection), but the Wang girl is always down to party. See more backstage photos from Wang and other shows below.