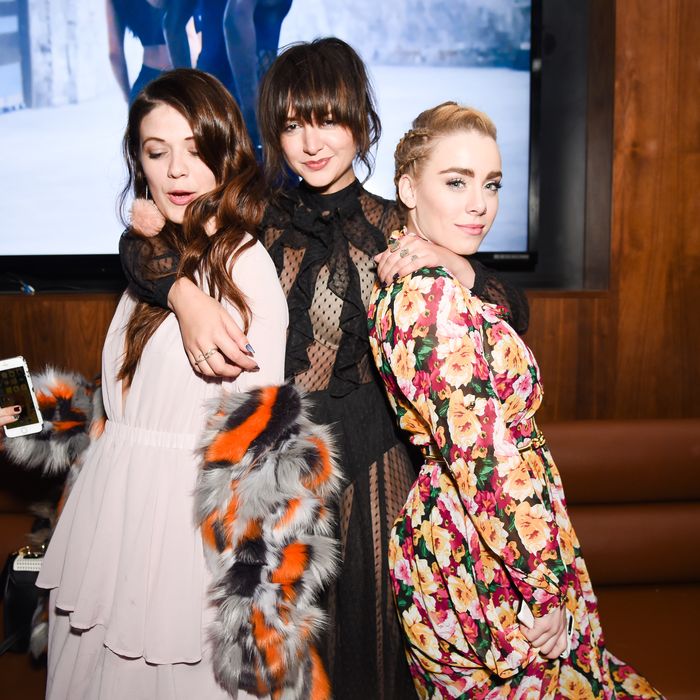 Guests at Jonathan Simkhai's after-party.
Photo: Griffin Lipson/BFA.com/Griffin Lipson/BFA.com
Last night's Alexander Wang show was heavy on a theme: "no after-party." The invitation read "no after-party," the models' tights read "no after-party," Alexander Wang's sweatshirt read "no after-party." It was almost as if there was no after-party.
The rumor, however, was that there was an after-party (of course, when is there really no after-party?) and we, New York City's premiere party reviewers, were invi — oh, hm? What? Ah. No, we were not invited. We were invited to the Jonathan Simkhai after-party, however, and we went to that one.
AMBIANCE
Allie: We will go any place that has our names on the list, and last night, that place was the Kola House in the Meatpacking District. The Kola House is a nightclub, and it looks exactly like one: disco lights, DJ booth, VIP tables with buckets of ice and bottles of Effen vodka. For the Jonathan Simkhai after-party, the venue projected a video onto the right wall featuring beautiful women dancing in an alleyway, dressed in Simkhai's new athleisure capsule collection. This dazzling one-minute show played on a loop throughout the entire night. When I arrived slightly late to meet Kelly at the party, she had already memorized it. "Oh, I like this part," she said, quietly, at one point.
Kelly: In the approximately seven minutes that elapsed while I waited, alone, for Allie to arrive at the party, I spent: one (1) hour staring at my reflection in the bathroom mirror, fourteen (14) hours walking around the perimeter of the party, and one-point-five (1.5) days watching the looped one-minute video of athleisure-clad dancing women. "Time is not measured by clocks but by moments," says this inspirational vinyl wall-adhesive decal, and I promise you it is right.
The part to which I was referring — when a woman stretched and then attitude-walked into a very cool dance — was really good.
CELEBRITY SIGHTINGS
Allie: When we watched Kendall Jenner, Kylie Jenner, Bella Hadid, Zoë Kravitz, Ansel Elgort, Teyana Taylor, and Sofia Richie all party at the Alexander Wang show and then walk backstage to party at the "no after party" to which we were not invited, I got nervous. Would there be any celebrities left to party at the Jonathan Simkhai after-party?
It seems my anxiety was warranted. We did not spot a single celebrity at the Jonathan Simkhai after-party. This did not stop me from studying the faces of everyone around us for even a hint of Instagram fame.
Kelly: At one point Allie said, "I feel like you know it's bad when I don't know who it is." Chilling, and correct. At one point a photographer took pictures of us.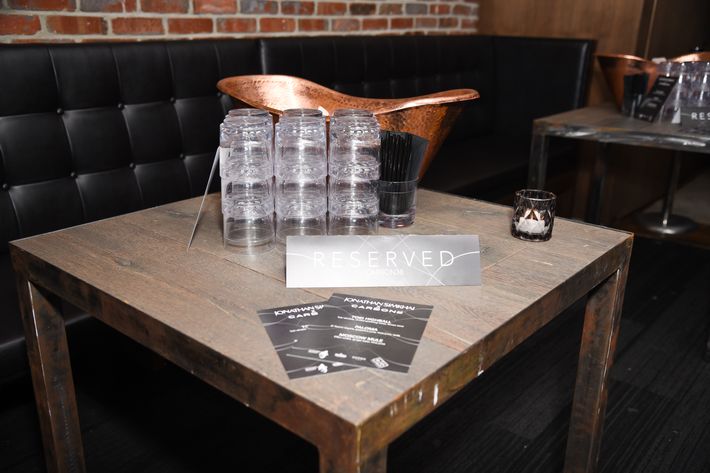 VIP EXPERIENCE
Kelly: While Allie and I were standing around, desperate to spot a celebrity, she put forth a daring suggestion: we make ourselves the celebrities. "Should we go sit in the VIP section and see if they kick us out?" she asked. Yes, yes, yes, Allie, yes.
We hopped the velvet rope and sat down in the, at that point, empty VIP section. No one came to bother us. I started a timer on my phone to see how long we could sit there, but it proved unnecessary. It would become clear over the next hour, as the VIP section filled up with very animated "VIPs," that everyone would be too embarrassed to ask us to leave. (Though not too embarrassed to be visibly upset with us.)
Allie: At any party, it is nice to be a VIP, and also to sit down. We even procured two drinks from the exuberant VIPs partying and Snapchatting at the VIP table next to us. We were only charged with slightly exasperated looks from Kola House employees. There was also one tense moment when a waitress asked us if we were "with" the party next to us, and we said "no," but she just sighed and walked away.
MUSIC:
Kelly: I really hate to be rude, but it is my duty as a party reviewer to be honest. Our motto is, as you may know, "honestas ante feelings-of-DJes," which is a joke about Latin. The DJ was not good. It was like a lightly Jock Jams–themed six-years-ago college party.
Allie: The VIPs next to us loved it.
JONATHAN SIMKHAI AFTER-PARTY REVIEW: VIP Party.