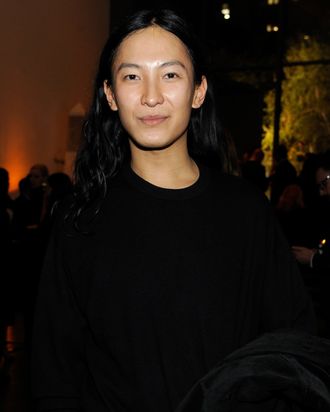 Alexander Wang.
Photo: Rabbani and Solimene Photography/Getty Images for WSJ. Magazine I
Alexander Wang's Instagram account is filled with hilarious memes on everything from drinking to partying to, well, mostly that (but there's other stuff too). The latest meme to populate his feed is neither an homage to alcohol nor a wry remark about dancing all night long. It is, instead, a meme about copying the work of someone else. You know, the one where it says you change things just enough that hopefully no one will notice? Per Wang's Instagram, it seems the designer has taken note of some striking similarities between the 2014 show he did with H&M and the 2017 Plein Sport collection by Philipp Plein.
Check it out below:

To say it appears Wang is making an accusation here would be to put it lightly. The side-by-side video shows a series of similarities between the two shows, ranging from the set designs inspired by race-car tracks to details like accessorizing with boxing gloves. Wang's meme also comes the day after Plein debuted his first collection in New York Fashion Week. The show hosted a medley of celebrities, including the president's daughter, Tiffany Trump. Her presence, along with the mishmash of the night's show-y elements, irked some top fashion designers. That didn't stop many celebrities like Kylie Jenner and Madonna from Instagraming the show. So perhaps it's no coincidence that Wang decided to share his thoughts on Plein.