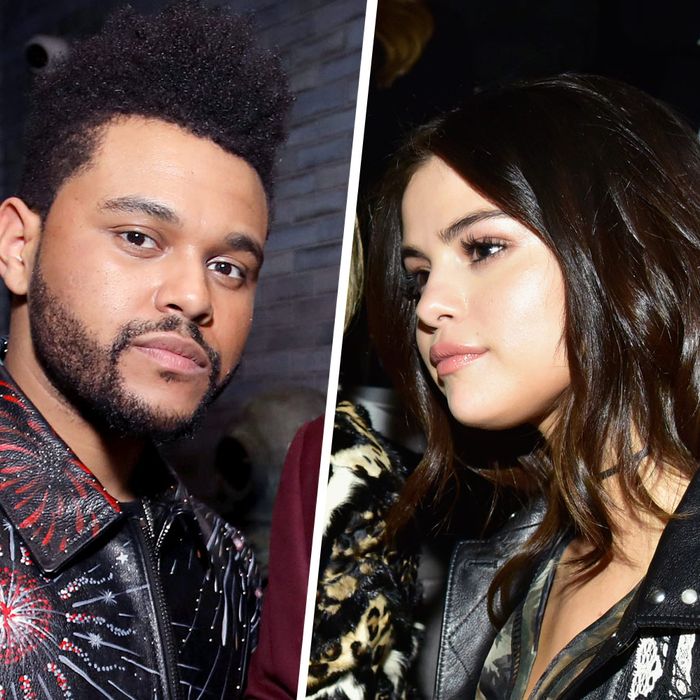 Selena Gomez and the Weeknd.
Photo: Getty Images
In the year of our Lord 2017, where do you go if you want to spot a famous person in the wild? Sure, you could try the Nice Guy or Soho House, but if you really want to be in sync with the cool kids, we suggest grabbing a fistful of change and hitting up your local Dave & Buster's. When you're not busy screaming at the crane game in frustration, here are some of the sights you might see:
• Selena Gomez and the Weeknd subtweeting Justin Bieber on a petty date night.
• The Weeknd celebrating his birthday with French Montana, Travis Scott, and Migos (on Selena's tab).
• Justin Bieber getting in a fight (although, to be fair, this is not exclusive to Dave & Buster's).
• Kim Kardashian burying the hatchet with Blac Chyna over a game of air hockey.
• Kardashians Kardashianing.
• Gigi Hadid wearing an ironic tee.
• Drake being extra.
• Amber Rose throwing a party for herself.
• Paris Hilton pretending to ride a motorcycle.
• Beyoncé beating everyone else at arcade games.
– Katie Holmes playing video games with Suri on Thanksgiving.
–Basketball player Nick Young having a total meltdown.
Truly a night of fun for the whole family.