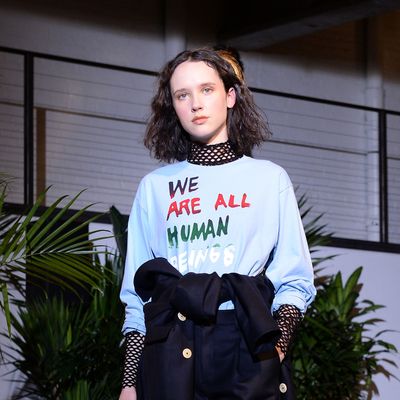 At Creatures of Comfort.
Photo: Andrew Toth/Getty Images
This season, designers are using the runway to take part in politics. New York Fashion Week has become a platform for brands to express their opinions on hot-button topics from Trump's presidency to the immigration ban. Whether speaking out personally or editorializing through clothes, here are all the ways fashion is being used as a political microphone.
Making All Sorts of Bold Statements

Ashish showed an entire line of boldly colored, sequined outfits emblazoned with political slogans like "Nasty Woman," "Stay Woke," "Love Sees No Colour," "Fall in Love and Be More Tender," and "More Glitter Less Twitter."
Supporting the Women's March
The co-chairs of the Women's March on Washington opened at Mara Hoffman. The show notes stated that the event was dedicated to "the women who are constantly creating in the name of change."
Embroidering Small Reminders
At The Row's presentation, one of the looks included a white shirt with the word hope sewn into the sleeve.
Putting the Spotlight on Refugees
The Gypsy Sport runway show was preceded by a speech from designer Rio Uribe about the plight of refugees living on the streets. He emphasized that people should engage with those on the streets rather than just ignoring their surroundings. The show also featured tents on the runway and music by a family who drums on the subway.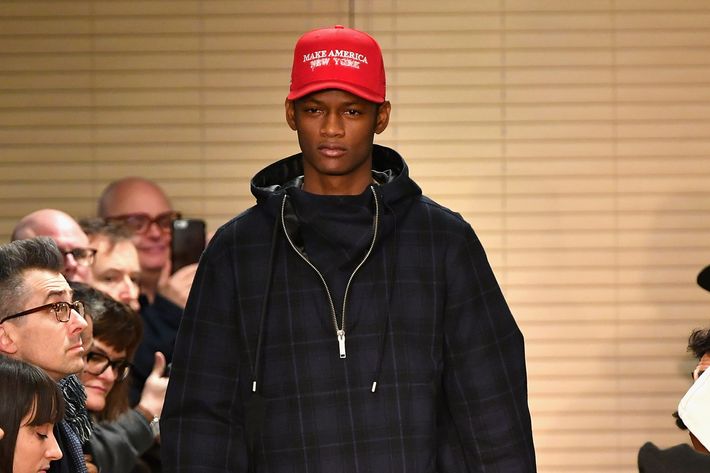 Reimagining Trump's Slogan
At the Public School show on Sunday morning, models came out wearing red hats that read "Make America New York," a knowing twist on President Trump's "Make America Great Again" mantra. Some looks also included the phrase "We Need Leaders," which the brand has been using for a few seasons.
Emphasizing That "People Are People"
Slogan shirts seem to be the main way designers are expressing their opinions, with the latest coming from Christian Siriano. The designer showed a black shirt with "People Are People" written in white paired with a floor-length pink silk skirt.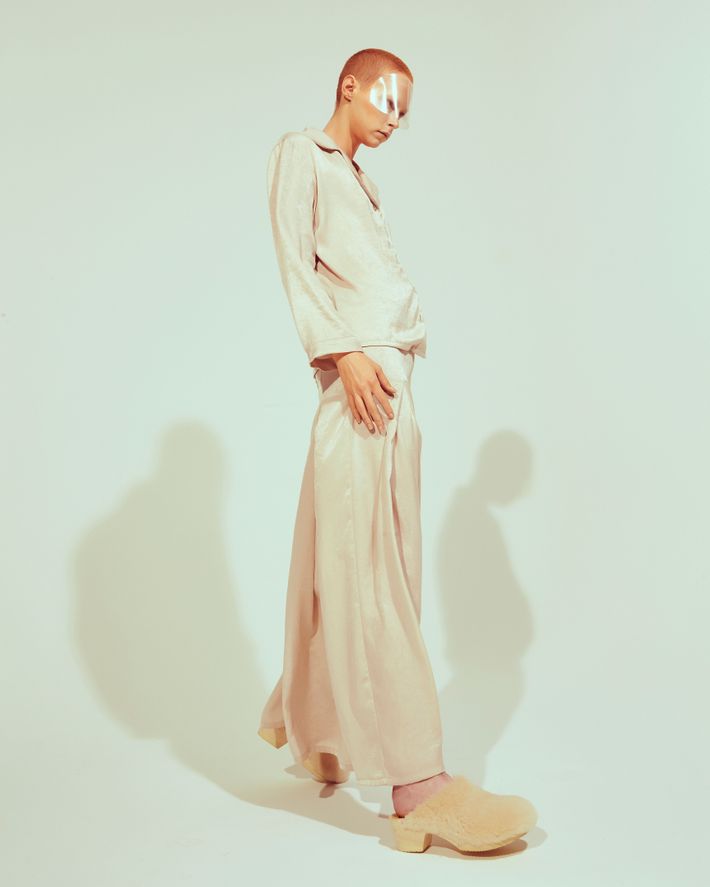 Prepping for Life on Mars
Collina Strada's line takes its cues from the current political climate and imagines a future that entails leaving Earth entirely. What would we look like? What would we wear in this brave new world? The theme is "Terraform Mars," with each model transformed into "cosmic-nauts" apocalyptically adorned with futuristic visors and glasses, and a bevy of untied braided hairstyles that spiral around the scalp like "rainbow cosmic waterfalls."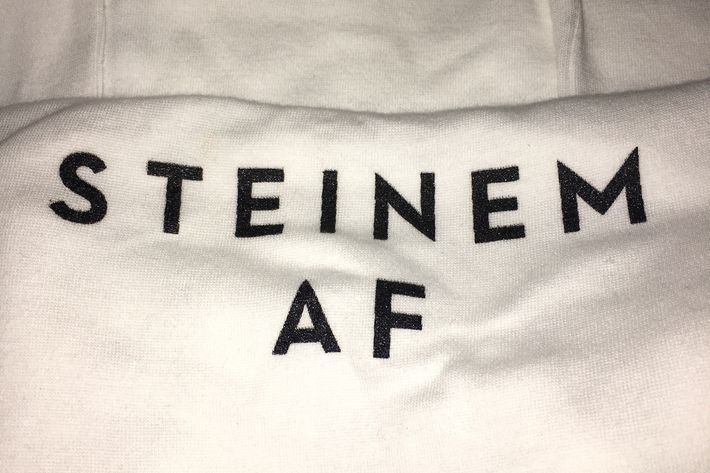 Making Gloria Steinem Shirts
Milly handed out shirts to show attendees that had "Steinem AF" printed on them, in tribute to the feminist icon. Jonathan Simkhai handed out similar shirts reading "Feminist AF" at his show.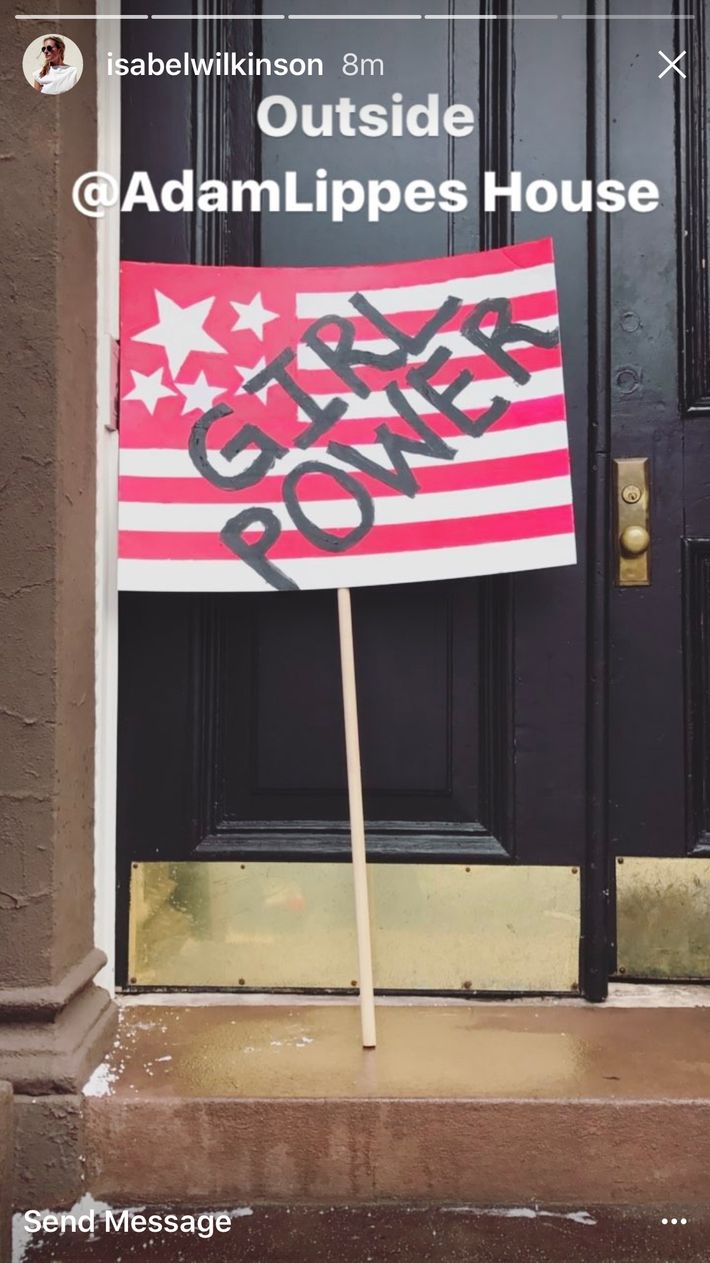 Presenting Protest Signs
A "Girl Power" sign was seen outside the Adam Lippes presentation Saturday morning.
Giving Out Planned Parenthood Buttons
Adam Selman gave out buttons in support of Planned Parenthood along with his show notes. Diane von Furstenberg was seen wearing one of them on Friday.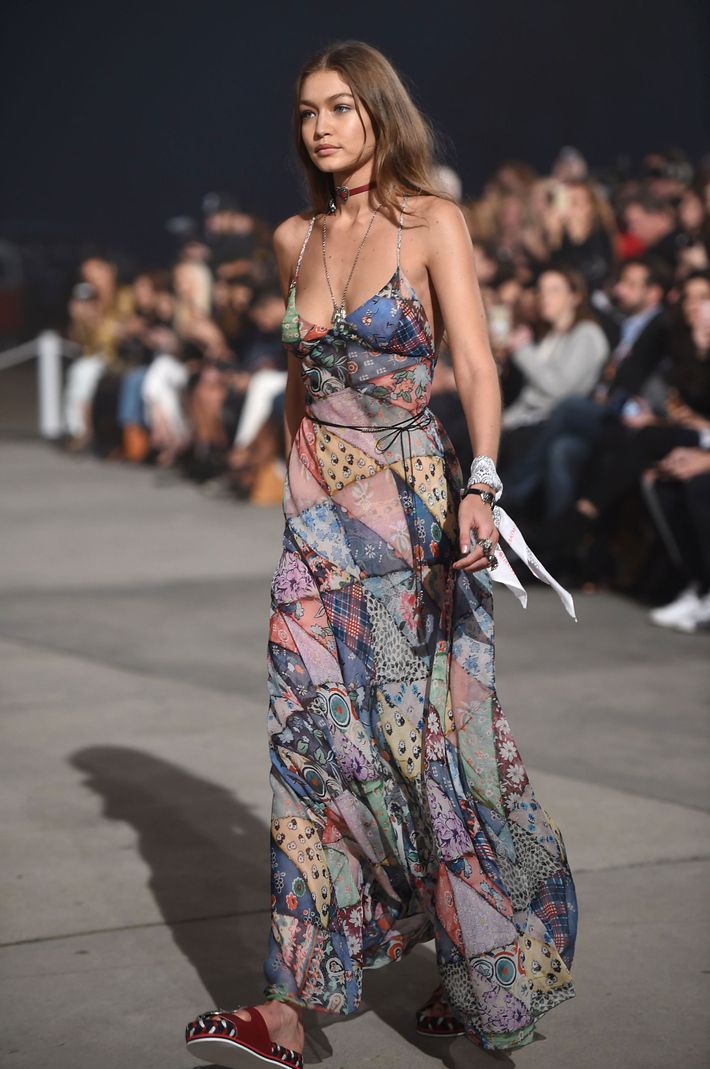 Wearing White Bandannas As Part of the #TiedTogether Movement
The Business of Fashion initiative is meant to make a statement of unity, solidarity, and inclusivity. The fashion crowd has taken to wearing white bandannas tied around their wrists, necks, or accessories as a show of support of humankind, regardless of race, religion, gender, and sexuality. The bandannas first made an appearance at the Tommy Hilfiger show in Los Angeles, and Calvin Klein sent them out to all attendees before their show on Friday. The white bandanna is sure to only become more ubiquitous throughout the week.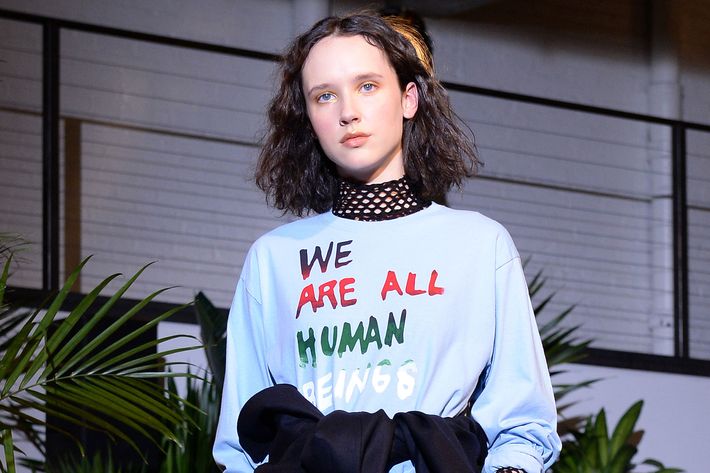 Creating "We Are All Human Beings" Shirts
At their show Thursday night, Creatures of Comfort sent out a model wearing a blue long-sleeved shirt with the phrase "We Are All Human Beings" front and center. The statement is similar to that of the white bandanna, expressing unity and solidarity across communities.
Writing Slogans on Underwear
At the lrs show, models wore underwear with the slogan "No Ban, No Wall" under open coats and thigh-high boots.
Playing a Political Soundtrack
Several brands voiced their opinions via the music for their shows. One song at Chromat repeated "F*ck Donald Trump." The soundtrack at Cushnie et Ochs had "The future is female" lyrics, along with other messages. Milly played "Fight the Power" by Public Enemy and "Human" by Sevdaliza.
Using Show Notes to Really Make a Statement
Also at Chromat: Guests' show notes explained the collection was inspired by life vests and flotation devices meant for "extended survival in rough, open water" because of a trend toward "othering" certain groups, insisting on the need for inclusivity and empowerment. Eckhaus Latta used their show notes to print a poem that included themes about police brutality and immigration.
This post will be updated throughout New York Fashion Week.