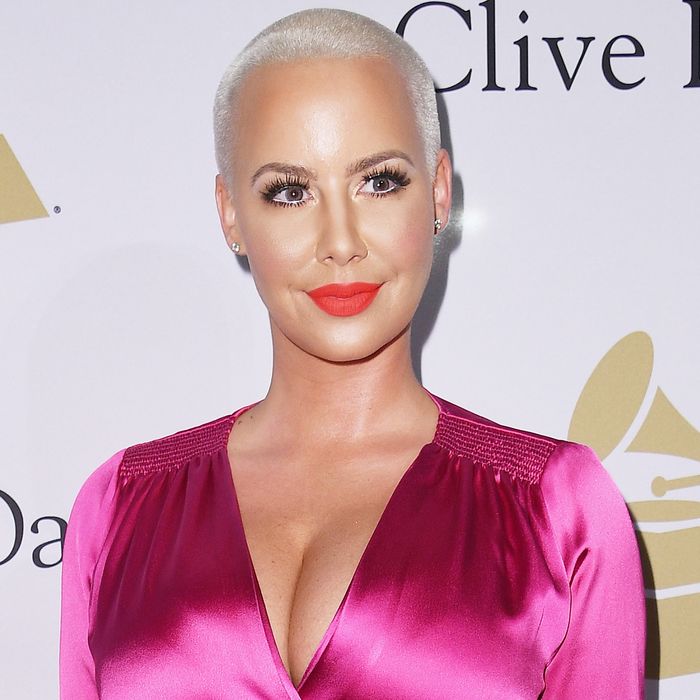 Amber Rose.
Photo: Kevork Djansezian/Getty Images
Amber Rose's latest business venture brings her full circle to the beginning of her career. Years after working as an exotic dancer during her teens and early 20s, Rose can now say she is the proud owner of the popular strip club Ace of Diamonds in Los Angeles.
She made the announcement on Wednesday night while accepting the Vanguard Award at the All Def Movie Awards for her work in establishing the Amber Rose Slut Walk, which aims to shift the paradigm on rape culture. Rose has never shied away from her past as a stripper and has often spoken about the social stigma associated with it. So it was little surprise when she segued into the topic during her speech. "I was a dancer, I was an exotic dancer. I was a stripper for a very long time," she said, according to E! News. "Best time of my life, by the way." Then she asked the audience, "Do y'all know Ace of Diamonds? Well, I bought it." Cue the cheers.

Ace of Diamonds in Los Angeles is a popular spot among celebrities and hip-hop artists (Rose once celebrated her divorce from Wiz Khalifa there). And while it's been years since Rose worked in such a club, her involvement was more than welcome. The co-owner and operator of Ace of Diamonds, Jason Robertson, told E! News that Rose will bring a new kind of sensibility to the nightclub. "She's brought in more of a structure where you have to respect what they're doing," he said. "With that, I can't say no to that. She understands it. She comes from it."