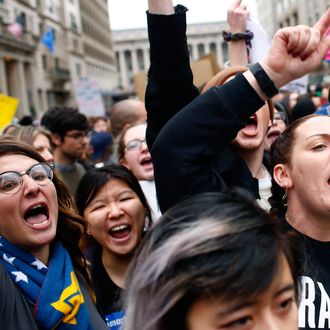 An unprecedented number of women are stepping up to run for office.
Photo: Getty Images
On Inauguration Weekend, an estimated 3.2 million people in hundreds of cities across the country took to the streets to protest the incoming president. More than 400,000 people marched in Washington, D.C., similar numbers turned out in New York and Los Angeles, and even in Houston, Phoenix, New Orleans, Santa Fe, and Reno, marchers numbered in the tens of thousands. It was, as organizers promised it would be, the most massive coordinated demonstration an incoming president has ever faced. But its real power will be measured not in crowd size but in the lasting impact it has on the political process. And one of the clearest results of the march — and of the election as a whole — is the wave of political participation among women at local, state, and national levels that's emerging in its wake.
The day after Women's Marches swept the country, 500 women gathered in an auditorium in Washington, D.C.'s Grand Hyatt Hotel. Each one had registered to complete EMILY's List's candidate training program, which would better equip them to run for public office. According to EMILY's List, a week before the training was scheduled to take place it had already sold out, and 500 more women were on the waiting list. EMILY's List president Stephanie Schriock said the organization holds these types of trainings often, but the "incredible energy" around this one is unique. "We spend a lot of time recruiting," she said. "[Now] we're seeing women calling us."
Like-minded organizations have reported similar spikes in interest. VoteRunLead reported that in the past two months, more than 2,300 women have signed up to take its online course, and the organization's January 7 seminar registered 1,200 women in less than 48 hours. Since Election Day, EMILY's List has had more than 4,000 people reach out to say they're interested in running — 1,660 since Inauguration Day. And according to a She Should Run spokesperson, in a normal month the organization sees "at best, and with significant effort, anywhere between a few dozen to a few hundred women" sign up. But in the three months since the election, co-founder and CEO Erin Loos Cutraro said 8,100 women have indicated their interest in running for office by registering for She Should Run's online incubator program, which teaches them how. What's more, Cutraro said things show no sign of slowing. "We had a staff meeting, and we were going over numbers," Cutraro said. "Our community manager said, 'But hold on — we got 100 more last night.'"
The United States' pathetic record on women in politics (women only hold about 20 percent of all national-level seats, and the local numbers are just as bad) is due in large part to the fact that women just don't run for office at the same rate as men. When they do run, they're elected and reelected at about the same rate as their male counterparts — as EMILY's List president Stephanie Schriock put it, "If we were in a country where women didn't feel there were obstacles in the way, we'd be in a country where there were an equal number of women and men running for office." But judging by the numbers, women are increasingly willing to face those obstacles. And that could mean the beginning of the end of gender disparity in American politics.
The explosion in interest is a surprising byproduct of an election in which America's first-ever major-party female candidate for president lost narrowly to a man who during the campaign seemed to confess to serial sexual assault. Hillary Clinton's supporters also watched her be picked apart with a type of scrutiny that's rarely applied to men. But when I talked to the women gathered at the Grand Hyatt, almost all of them cited the election as motivation. "Having Trump win has made me realize how complacent I was about a lot of things," said Bonnie Casillas, 23, who's from California and would like to run for governor — especially after learning all of the state's governors have been men. And although the policy area that most interests her is immigration (both her parents came to the United States from Mexico), she said another key reason she's running is to dismantle the stereotypes Clinton faced. "People aren't born thinking women are too hormonal to do something — that's a cultural thing," she said. "A lot of women are fed up with that." Casillas wants to prove them wrong.
Thirty-year-old Jamila Aswad also said she saw the election as a challenge to women's leadership. She's from D.C. by way of California, but before moving to Washington she spent some time in St. Louis. She's interested in running for office because she wants to see concrete change in red states like Missouri. "I'm tired of thinking, 'Where can I not live based on the policies?," said Aswad, who's a member of the African-American Policy Forum. "I want to make everywhere a place where I feel comfortable living." She's planning a stint abroad, but when she comes back Stateside, Missouri might get her attention. "There's a lot of need there," she said. "But once I'm back, where should I start?"
And Maritza Zermano, who's 53, said she'll run for office as soon as a local government seat opens up in her hometown of Mount Vernon, Washington, because she doesn't see herself represented in government — either as a woman or as a Latina. "For three years I was part of a committee that helped to elect Democrats, but there was no diversity," she said. "There was nobody I could identify [with]. That's not right."
That was another common thread among the women there for the candidate training: Every single one wanted to change something concrete. According to Cutraro, this is a common characteristic of women who seek office — running to get something specific done, versus simply to gain power.
The training EMILY's List offered was designed to give them a jumping-off point. Assisted by a series of slides, Wambu Kraal started her lecture by telling other women's stories. Senator Elizabeth Warren's political career, she said, began with a simple donation — an action more and more have taken following this year's election. She traced Warren's path from stay-at-home mom to lawyer to law professor to Congressional Oversight Panel member to senator, somehow making it sound accessible. Then, she addressed things like the confidence gap, an unwillingness to fundraise, sexism on the campaign trail, and other barriers that all too often make women think they're not a good fit for public office. Now is the time, she said, to break them down: "If you think there are too many barriers to running, who the heck is going to remove them?"
When these women do run, it'll likely be at a local level — Aswad wasn't ready to plunge into the Missouri House of Representatives race, but said she'd look into City Council or school-board positions. Before she considered running for governor, Castillas said she was thinking about running for a local position in her California hometown. As Wambu Kraal put it, "the state and local offices are going to be ground zero [to deal with] this nonsense."
Statistically, some of the 500 women who attended the training (or the 7,000 women involved in She Should Run, or the 2,300 who signed up to take VoteRunLead's online course) won't run for office at all. But that doesn't mean they'll fall off the radar — plenty will get behind female candidates, even if they don't run their own campaigns. In the end, what will keep them involved is the community they create around issues they care about. "It's not just about running," said Marianna Anaya, 27, who's on the board of Emerge New Mexico, another organization that aims to attract Democratic women. (Incidentally, she said applications to Emerge "skyrocketed" this year.) "Programs like this create a culture, so it's important that the culture remains and that it's cyclical."
Of course, it's still unclear whether the explosion of interest at ground level will yield results in, say, the 2018 election. Schriock is optimistic. "I see this as a new beginning," she said. "I think you're going to see a new generation of women leaders rise up and change this country." But even if Schriock's grand vision of the future fails to materialize, the women who run aren't going anywhere — they'll be right at the forefront of what seems likely to become a serious social movement. "The dominant culture has always framed us as submissive, but we're not," Anaya said. "Women are resilient."