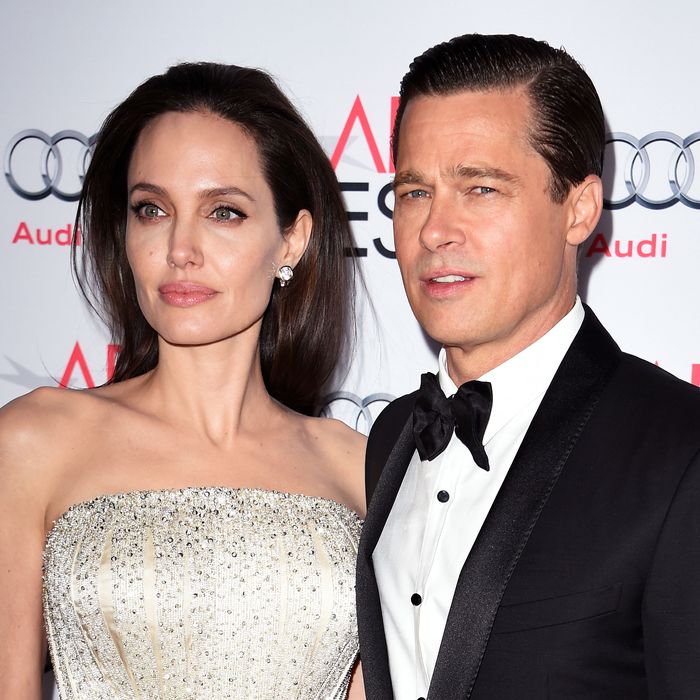 Angelina Jolie and Brad Pitt.
Photo: MARK RALSTON/AFP/Getty Images
Angelina Jolie is one of the few A-list celebrities who works without a publicist, and since filing for divorce from Brad Pitt in September, she has expertly managed the press. Jolie launched a calculated PR offensive against Pitt immediately after the announcement, securing temporary custody of the couple's six children in the process. Last week, however, "Page Six" reported that Jolie has been "scrambling to do damage control" in the wake of the divorce, and that she is "seeking an image overhaul" from any top Hollywood publicist who will help her. Then the gossip site doubled down on the idea that Jolie is out of her depth, publishing another report claiming that Hollywood has turned against her in favor of Pitt.
It took Jolie only a few days to prove this narrative — that she is overconfident in her ability to manage the press, and that her image has been irrevocably damaged — wrong. By picking the right interview outlets and staging the appropriate photo opportunities, Jolie illustrated during a press blitz this weekend that she is doing just fine without a publicist.
For her first public appearance since the divorce, Jolie traveled to Cambodia with her six children to promote her forthcoming Netflix film First They Killed My Father. Jolie directed the movie, which traces the murderous rule of the Khmer Rouge in Cambodia in the 1970s. All of Jolie's children posed for photos at the screening, and her oldest son Maddox, who she adopted from Cambodia, gave a short speech. According to the gossip blog Lainey Gossip, Jolie's daughter Shiloh told the audience "I love Cambodia" in Khmer. This was the perfect opportunity for Jolie to step back into the spotlight, with her children in tow, in a place that is meaningful to the family.
After the screening, Jolie sat down with the BBC for her first interview since the split and insisted that, despite what happened with Pitt, "We are a family and we will always be a family, and we will get through this time and hopefully be a stronger family for it." Then she gave a second interview to ABC. When George Stephanopoulos asked her if Pitt was still a part of the family, she responded, "Of course. Of course, we will always be a family. Always."
I'm not sure what a top publicist would have Jolie do differently. Since the divorce, Jolie and Pitt have gone back and forth in the tabloids, but Jolie's gracious treatment of Pitt in these interviews effectively stops all that. What is he going to say back? He is going to look silly if tabloids keep suggesting that Jolie is nothing without him. Jolie's placement of the interviews matters, too: She chose to speak with respected news networks instead of with publications such as People or The Hollywood Reporter, which shows maybe she doesn't care so much about the opinions of Hollywood insiders.
Jolie could still hire a publicist if she wanted, but her performance this week shows she's not scrambling at all.