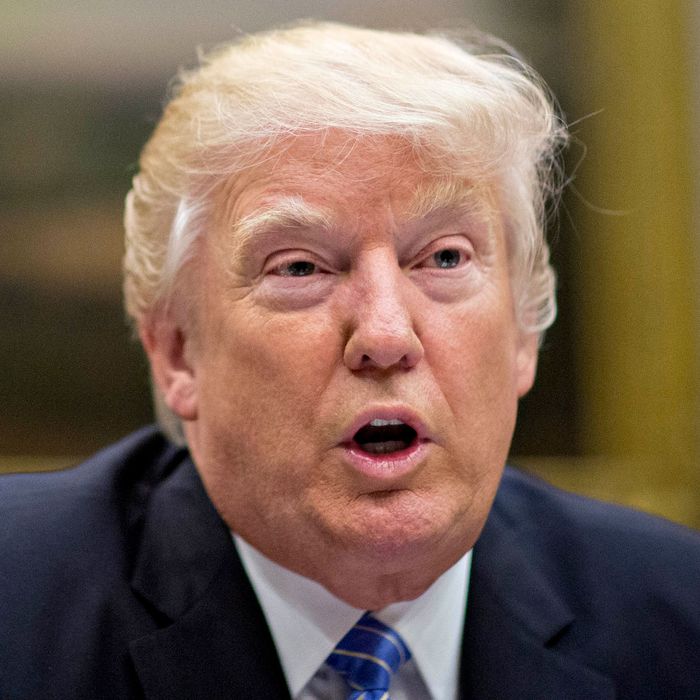 Donald Trump.
Photo: Pool/Getty Images
The Southern Poverty Law Center declared 2016 to be a "banner year of hate" in its recently released intelligence report, citing a 197 percent increase in anti-Muslim hate groups in the U.S. last year. During a Wednesday press call, SPLC senior fellow Mark Potok noted that President Donald Trump was the "most important factor" behind the spike, Talking Points Memo reports.
In 2015, there were 34 anti-Muslim groups in the country, but that number spiked to 101 last year. The increase, the report noted, wasn't unexpected, as anti-Muslim hate had been "expanding rapidly" over the past two years, partially because of radical extremist attacks, including the mass murder of 49 people at an Orlando gay nightclub in June. However, the report found that the increase could also be attributed to the "incendiary rhetoric" of Trump, including his campaign threats to ban Muslim immigration and mandate a registry of Muslims in the U.S.
The intelligence report also found an overall increase in hate groups across the U.S., though no others increased to the extreme degree of the anti-Muslim groups. The overall number of hate groups rose from 892 in 2015 to 917 last year. In an earlier report, the SPLC found that there had been 1,094 bias incidents in the first 34 days after the election, which was "clearly tied directly to Trump's victory." Of that number, there were 112 anti-Muslim incidents, specifically. The highest count of incidents, in general, was the day after the election, and the number of incidents diminished "steadily" afterward.