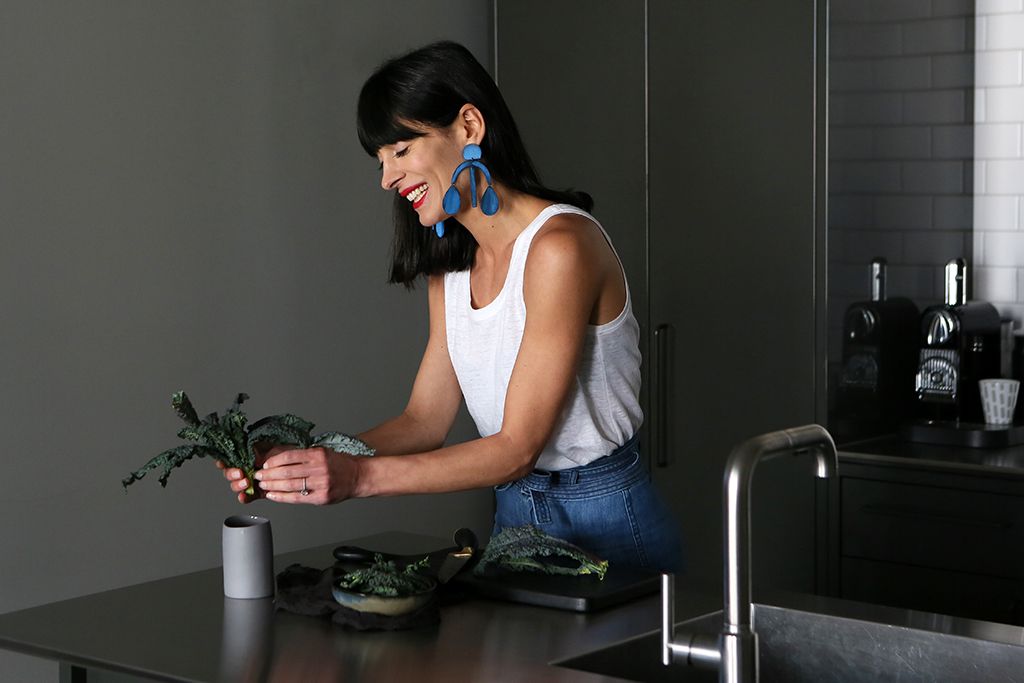 Athena Calderone is a professional domestic goddess. Her blog, EyeSwoon, has evolved into a site known for standard-setting work in interior design, home entertaining, food and tablescape styling, cooking, and generally making everything she touches impossibly beautiful. Besides running every aspect of her popular lifestyle destination, the fashionable founder has a debut cookbook landing in the fall. Plus, she's in the middle of renovating a new family home, a townhouse in Cobble Hill. (She, her husband, and teenage son also reside in an impeccable house in Amagansett.)
While her flawlessly styled life is served to us mortals through expertly crafted imagery and language, Calderone is the first to open up about her struggles to maintain order, stability, and sanity like the rest of us. Dressed in pieces from EILEEN FISHER's System collection, eight standout essentials tailored for effortless dressing, Calderone let the Cut in on how else she simplifies her world in order to live well.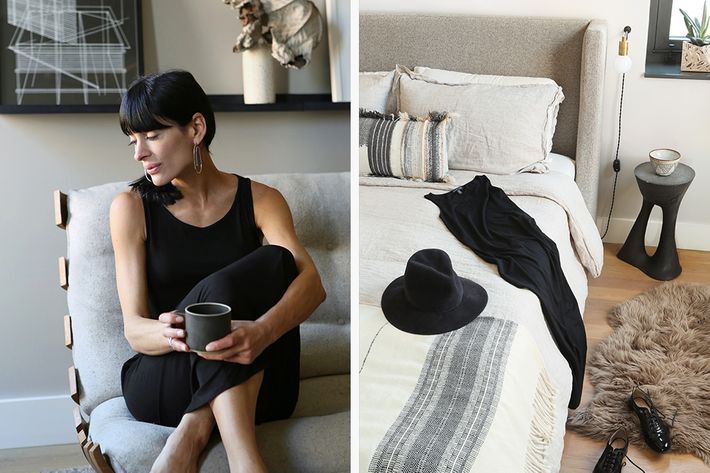 How do you balance the breadth of subject matter your site covers, the wide-ranging work that entails, and stay focused and productive?
Balance means something different every day. Often the morning is getting a post up, but then I'm also running to the farmers' market and shooting a recipe. I talk with my assistant, like, can we always shoot on Wednesdays and Fridays, but it's so hard to create a rhythm always. I don't know what I was thinking to do a gut renovation and a book at the same time. My New Year's resolution was waking up 30 minutes before I had to wake up my son and get breakfast rolling, and to take 20 minutes to meditate. And I practice yoga, so that helps with balance. I've been trying to turn off when I'm home with my family, so I've begun to turn my phone off after 6:30 p.m. Between EyeSwoon and being a mom and trying to take care of myself, it's not always easy. But we can't be so hard on ourselves. Balance eludes us all.
You're recognized for your great personal style. What is your philosophy for dressing expressively, but where you're not overthinking things?
I really lean on basics. Right now I'm obsessed with high-waisted jeans and sweaters because it's cold. One thing I love is this beautiful, silky, very simple cream cutoff blouse. I can wear it with jeans or a skirt, tuck it in, or, it was cropped at exactly the right place, so I can leave it untucked. I'm in a kitchen a lot, but then I also have to run to a meeting or a photoshoot, so I have my staples, my simple white t-shirts or a black sweater or a little crop that works well with a high-waisted pant. Lately I've been having a lot of fun with accessories, like large, '90s-style earrings have been coming back into play. My look, with my bangs and dark hair and often a red lip —that's a very strong visual statement, so my clothes sometimes can go a little quieter and then I'll have a fun bag or a jacket or earrings to make a bit of a statement.
You recently wrote a post revealing that, despite the image of your very curated life, getting dinner together can be a challenge. Are you conscious of not getting too complicated when cooking at home?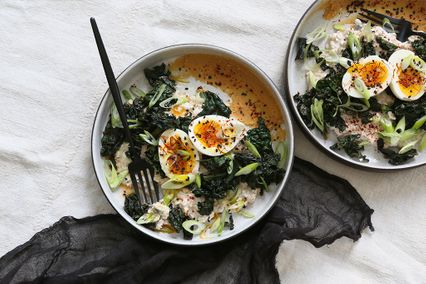 I have always been of the philosophy that less is more as far as quality ingredients. For that post, I picked up garlic, beets, pasta, and goat cheese and whipped it into a meal that was healthy and delicious. There are moments with my brand that are overly curated, but that's not real life. So I want to start a video series that's more about, here's what I really cook for my family, and I'm a little bit of a mess in the kitchen, and that's okay. We all need inspiration and that's what's amazing about social media, but also those ideas sometimes feel so unobtainable.
I also do love to make beautiful food — that stunning, whole fish stuffed with herbs and citrus. That's the concept of my cookbook, Cook Beautiful. It offers little tips to make your food more visually pleasing, or how a simple meal can be elevated visually. Like, how did I get those curls on my chocolate tarte instead of just a fine sieve? Or why did I serve my salad in a large, gold platter instead of a bowl?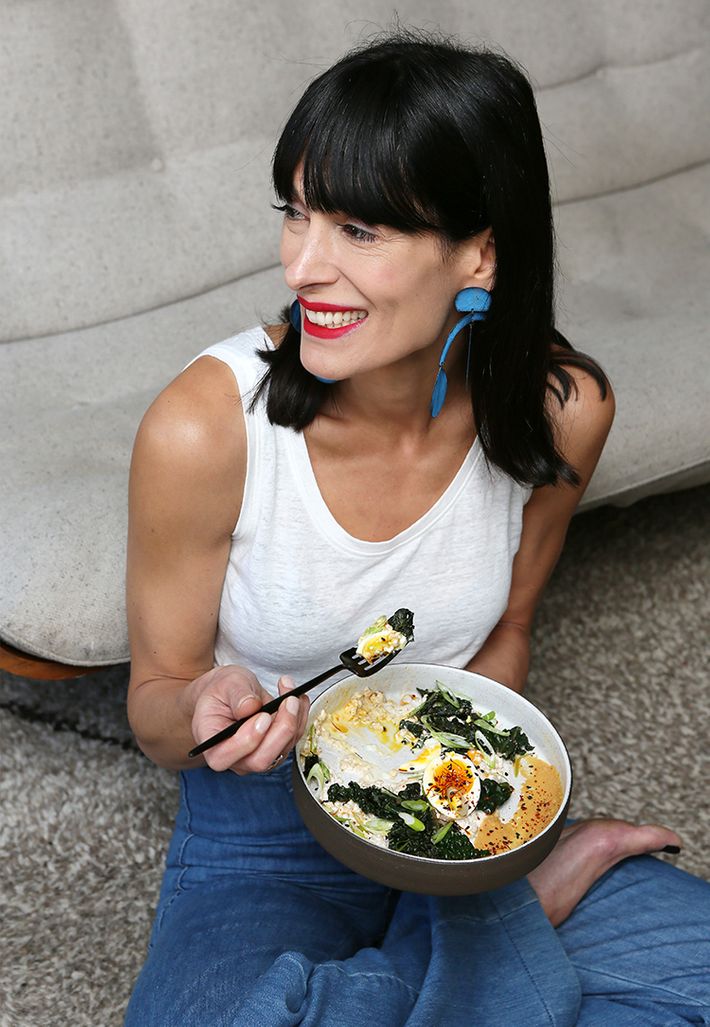 Do you have any low-maintenance routines that help make life easier?
Whenever I cook, I make more than what I have to. I'll buy two heads of cauliflower and roast both and use one for the recipe and then have the other one as a snack or pop-in. Roasted veggies, especially during the winter, can be your workhorse for the rest of the week. Whenever I make grains, I make extra, and the same with roasted beets. Then suddenly it's 3 p.m. and I haven't eaten lunch yet. And I can take the grains and cauliflower and beets and toss them with parsley or arugula and poach an egg and suddenly I have a delicious meal. Having grains and veggies pre-roasted in your fridge can really be helpful for your work week.
As a veteran at renovating homes, how do you approach these enormous, complex projects with confidence and peace of mind?
So many people don't renovate or buy in New York City because something isn't exactly right. You've got to just get in the game and make a choice. You can always sell or renovate later. I have a pretty strong vision for what I want. But as often as I do this, I still get nervous and think I'm making mistakes or that we've bitten off more than we can chew; that's part of the process. I've been going back and forth on, do I want wide, Danish flooring or herringbone? But the reality is either one is going to look beautiful.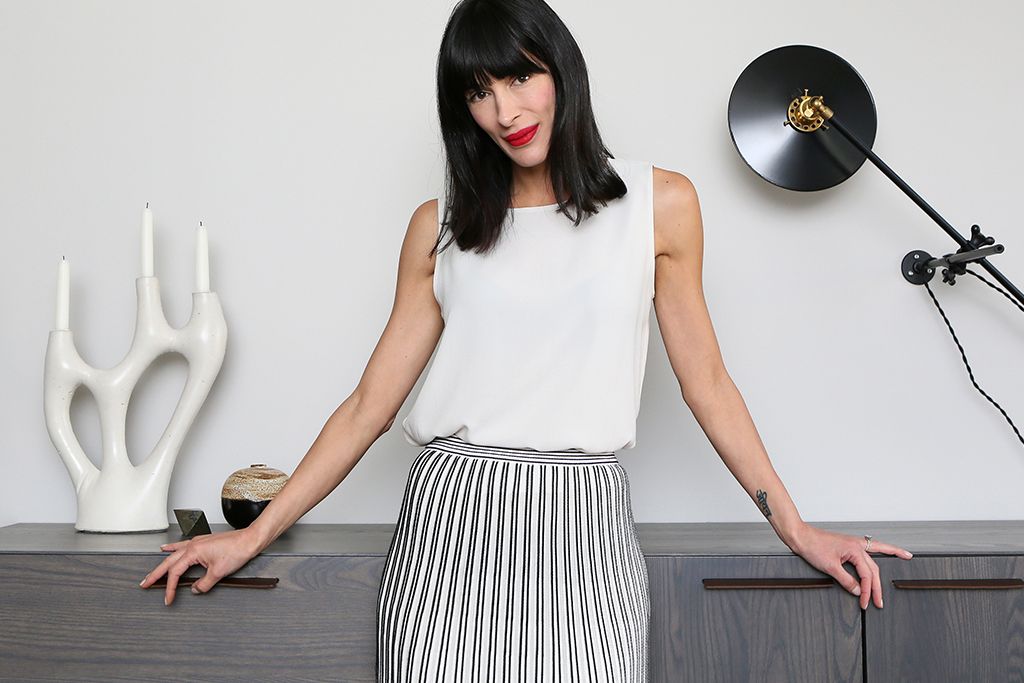 Your work involves constant consumption of images, various creative inspiration, and information. How do you sift through the clutter and edit in order to achieve such a refined design aesthetic?
When I make a choice, like with my new floors, I think: The Danish design trend is having such a moment, but by next year will that be done? When I feel really connected to something, it's lasting and timeless. Your home needs to be a refuge, it doesn't need to be what's hot. The homes I've designed and how my style's evolved, they all tell a story. Over time your eye gets refined, you collect the things that have meaning and memories, and that's where the richness comes in your life, rather than what everybody else is doing. It's an ever-evolving process.
When I designed the TV room in Amagansett, everything was vintage with patina and reclaimed wood. But now I'm really into pottery and these beautiful one-off pieces. I pulled away so much of that antique industrial stuff, but now it's paired in a more minimal way where you actually appreciate each piece a little more. I don't know if trends brought on that more minimal style, or maybe it's what I need in my life. The social media world feels so overwhelming sometimes that our home is where we strip that away so things can be more quiet.
Are your homes actually as immaculate in real life as they look?
We had a really big yard sale last year, and everything in my house has a place. But if you opened up my junk drawer or my closet, it's an absolute disaster. I'm a Tasmanian devil in the kitchen, not 'miss organization' as people think. It's real life.
This is paid content produced for an advertiser by New York Brand Studio. The editorial staff of The Cut did not play a role in its creation.