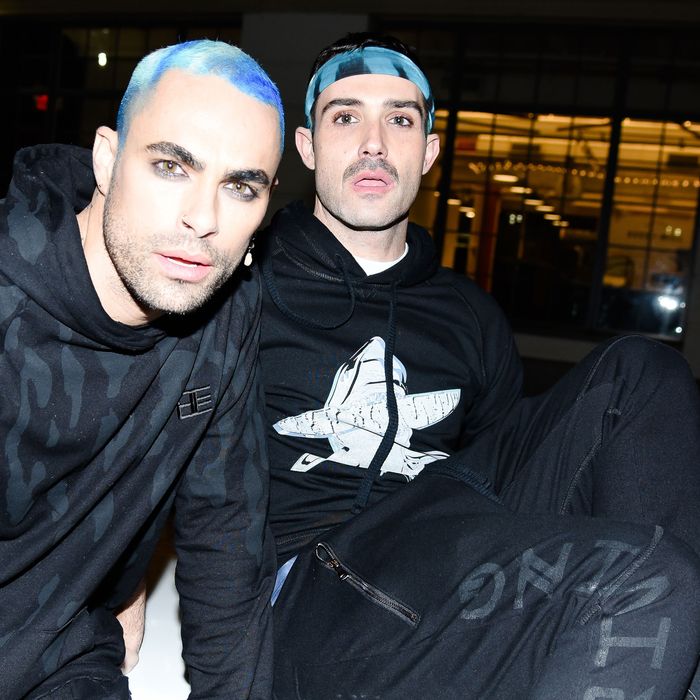 Baja East designers, John Targon and Scott Studenberg.
Photo: Griffin Lipson/BFA.com/Griffin Lipson/BFA.com
If you weren't acknowledging the political climate this New York Fashion Week, were you really there? Although Baja East's duo, John Targon and Scott Studenberg, have long been using their collections as a voice for various political causes, it seems like fashion is just catching up. So far, the biggest street-style moments of the season have taken their political activism a step further with statements like "Women's Rights Are Human Rights" to Planned Parenthood buttons being passed around during shows. While it's refreshing to see some of figures in the industry take a more civic-minded approach, the duo behind Baja East are not new to the game of "statement" fashion. After launching a "Be With Her" T-shirt and a "Be Proud" rainbow T-shirt — which benefited the ACLU and Equality Florida's Pulse Victims Fund respectively — this time Targon and Studenberg's message is quite literally appealing to the heart.
A four-piece capsule collection has now launched exclusively on the shopping app Spring: The "Be Mine" capsule collection includes three T-shirts and a dad hat emblazoned with the brand's logo. It has a subtle V-Day aesthetic that isn't cheesy, but the "thriving" message feels more relevant than ever. The capsule tops out at $95 for the tees and $65 for the classic dad hat — practically a street-style essential — but don't expect it to last long; Baja East's Minion collaboration sold out within a few days. Scroll below to check out all of the pieces from the collection now.

Photo: Courtesy of Baja East
Photo: Courtesy of Baja East
Photo: Courtesy of Baja East
Photo: Courtesy of Baja East
If you buy something through our links, New York may earn an affiliate commission.