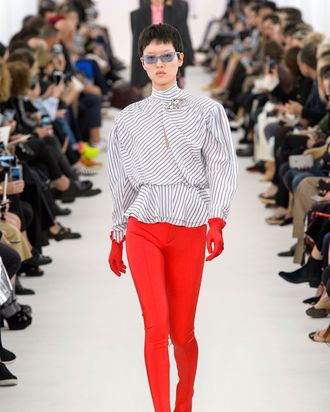 Balenciaga spring 2017
Photo: Alessandro Lucioni/Imaxtree
Yesterday, casting director James Scully, who has previously called out mistreatment and racism in the modeling world, posted on Instagram alleging that Balenciaga's casting agents, Maida Gregori Boina and Rami Fernandes — who he called "serial abusers" — made models wait in a dark stairwell for three hours during a casting for the brand's Paris Fashion Week show. Scully's post was widely picked up, and when we contacted Balenciaga for comment, they responded that they have discontinued their relationship with said casting agents, and have issued apologies to the models involved. Their full statement is as follows:
On Sunday, February 26th Balenciaga took notice of issues with the model castings carried out on that day. The House reacted immediately, making radical changes to the casting process, including discontinuing the relationship with the current casting agency.
Additionally, Balenciaga sent a written apology to the agencies of the models who were affected by this specific situation, asking them to share it with them.
Balenciaga condemns this incident and will continue to be deeply committed to ensure the most respectful working conditions for the models.
Scully, who is currently in Paris for fashion week and called himself "the most loved and hated man in this city right now," told the Cut that he felt compelled to speak out because "a lot of times, people don't know that this is going on," and decided to post on Instagram after several models confided in him. "I'm happy that they now have some forum to say, 'You know what, I got screwed.'"
The duo also casts for Hermès, which declined to comment, and Elie Saab. A Saab rep told us, "Elie Saab takes the health and well-being of models seriously. Elie Saab is and always has been a brand that respects and supports women."