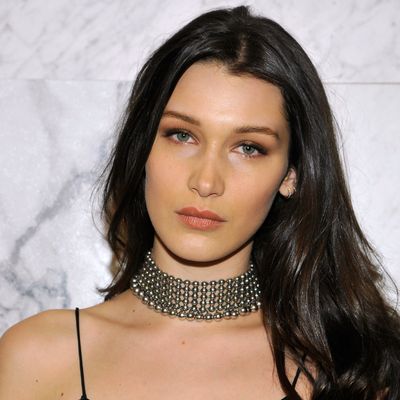 Bella Hadid.
Photo: John Sciulli/Getty Images for Joe's Jeans
In case we needed any other reminders that everyone is really feeling the '90s right now, Bella Hadid is happy help us take a trip down memory lane. Her latest photo shoot, featured in the March issue of V magazine, features Hadid in semi-nude poses that pay homage to the 1993 campaign for Calvin Klein Obsession featuring Kate Moss.
In Bella's portfolio for V, we see a simpler side of the in-demand model. Instead of seeing Bella dressed in luxury, designer pieces, we see the opposite: a pared-down Bella, at times topless and semi-nude. Mario Sorrenti, who photographed Moss in the original campaign, told Women's Wear Daily that he was interested in photographing Bella because he wanted to reveal another, gentler side of her. "Every time we shoot or see her, we always see her being very glamorous," he told WWD. "The photographs always focus on the fashion and less on the girl, and I think she's such a beautiful, sweet girl. I really felt like taking some pictures of her that kind of reveal a more sensitive and natural side of her." Two black-and-white images in particular reveal the clear inspirational ties to Kate Moss. In one photo, Bella poses topless with slicked-back hair and looks gently over her shoulder at the camera. In another, more subtle photo homage, Bella lays across a sofa, much like Moss did back in '93.
See the portfolio at V.