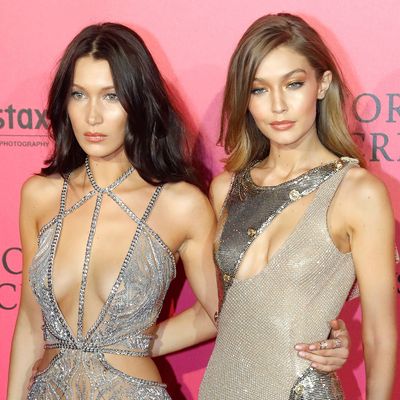 What else can we expect from two sisters/models?
Photo: PATRICK KOVARIK/AFP/Getty Images
Bella and Gigi Hadid have a number of things in common. Aside from the obvious genetic blessings that have been bestowed upon them both, the two are also of-the-moment models with a fan base that only keeps growing. They've walked the Victoria's Secret runway, are regularly photographed for their street style, and are either currently dating, or have dated, famous musicians. Underneath all of that, however, Bella and Gigi are just two sisters (albeit with a bigger wardrobe than most). And as such, they are prone to typical sisterly acts, like stealing clothes from one another. That's right: According to Bella, Gigi has mastered the art of covertly swiping items from Bella's closet, and vice versa.

In an interview with Elle, Bella was asked what the last thing she stole from Gigi was. To which she fesses up, "I literally just took a pair of striped Vans from Gigi." The two share the same shoe size, she added, which of course, "can be dangerous." But Gigi? Well, we'll let Bella explain:
This is what happens: She never tells me she's taking anything. But then I show up at her apartment and there's like a random t-shirt or a hoodie or something lying around, and it's mine. And Gigi did not ask me if she could take it! She's sneaking off with my stuff!
It's okay, Bella. Sisters everywhere feel your pain — now go swipe something back!