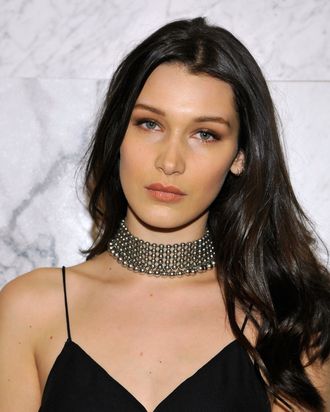 Bella Hadid.
Photo: John Sciulli/Getty Images for Joe's Jeans
Bella Hadid and the Weeknd (a.k.a. Abel Tesfaye) split in the fall, marking the end of the model's first big, public relationship. But in a new interview with Teen Vogue, Hadid reveals that it wasn't her first major heartbreak. Nay, her first big split took place a few years earlier — with a horse.
Before becoming a model, Hadid was a competitive equestrian and had a horse named Lego. "I rotated between a few horses that could jump higher or whatever. But Lego was my main, my ride or die," she told Teen Vogue. At age 16, however, Hadid was sidelined by Lyme disease and decided to sell her horse — which left her feeling "traumatized."
Per Teen Vogue:
"You can ask any equestrian: You develop a crazy, emotional connection with this animal. When you're riding a horse, they have full control over you, and they can literally kill you in a second, so you build a trust with them."
When Hadid split with the Weeknd in November after over a year of dating, she awkwardly had to walk past him on the catwalk of the Victoria's Secret fashion show weeks later (which is what happens after all my breakups, also). But the 20-year-old says she was able to handle it in stride, as it wasn't her first foray into being brokenhearted.
But Bella admits it wasn't as easy as it looked. "It was my first breakup — or second, next to the horse — and so public. As an outsider, you might think I handled it so well, but it's always in your heart, and you always feel it very heavily," she shares. "It'll be hard for a while. Love hurts, but you have to pull through."
We feel confident that the future holds more love for Hadid, be it human or equine.