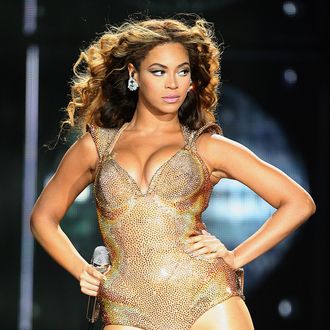 Beyoncé.
Photo: Jason LaVeris/FilmMagic/Getty
As we learned earlier today, Beyoncé Giselle Knowles-Carter is pregnant. The singer announced the news on Instagram, writing, "We have been blessed two times over." Initially, I thought she meant Blue Ivy, plus her upcoming sibling. Eventually, she clarified: "We are incredibly grateful that our family will be growing by two." Twins.
Having one baby at a time can be overwhelming, while having two can be, well, more overwhelming. But if anyone can handle the unique challenges of two babies (and one 5-year-old), it's Beyoncé. What are the specific considerations that come with being pregnant with — and then having — twins? Read on for a list that is by no means comprehensive.
Gain more weight. Doctors recommend women pregnant with multiples gain more weight than those pregnant with a single fetus. According to the Mayo Clinic, while specific recommendations vary, expectant mothers of twins should gain 37 to 54 pounds. (The recommendation for a single pregnancy is 25 to 35 pounds.)
Shorter pregnancy, smaller babies, bigger bills. Twin babies are more likely to be born early than their singleton counterparts. According to the American Pregnancy Association, the average length of a singleton pregnancy is 39 weeks; for twins, it's 36 weeks. This means most twins are born preterm, or before 37 weeks of gestation, resulting in babies that are smaller than their more fully cooked peers. While Beyoncé's twins are more likely to be on the small side at birth, according to an expert cited in the New York Times "most twins do fine in the long term." Twin births are also more expensive: One study found singleton births averaged $9,000, while twin births were nearly $38,000.
Fraternal or identical? Remember learning the difference between fraternal and identical twins? Here's what it is: Fraternal twins develop from two different fertilized eggs (called zygotes), while identical twins are the result of a split zygote. Identical twins share the exact same DNA, while fraternal twins share only some. Identical twins also share a placenta; fraternal twins usually have their own separate ones. If Beyoncé wants to know for sure which kind her twins are (without waiting to see how much or little they resemble one another), she can confirm with a DNA test right after the babies are born.
Both babies, both boobs. Once the babies arrive, Beyoncé will have to feed two of them. The Mayo Clinic recommends that breastfeeding mothers of twins start off feeding one baby at a time before establishing simultaneous feedings. Should she breastfeed, a simultaneous-feeding Beyoncé will master the following holds: double-clutch (or double-football hold), cradle-clutch combination, and double-cradle hold.
Double-fisting. And what about the bottle? Beyoncé, even if you're determined to stick with breastfeeding, we hope you pump and let (command) Jay Z take over some feedings. How is Jay going to bottle-feed two babies? Parents magazine recommends making bottles ahead of time, setting up nursing pillows to your advantage, feeding one at a time if you need to, and beginning with slow nipples (the kind with smaller openings that mean babies can't guzzle too quickly).
One baby can sleep near a toilet. Sleep: New parents are obsessed with it. Quite frankly, I have one baby, and I am exhausted. What on earth is Beyoncé going to do with two? (Presumably, she will have, uh, some help.) What to Expect says twins can share a crib (this seems very cute), should have strong bedtime routines, and that separated twins sometimes mean sleeping twins — "even if it means moving [one twin's] play yard or crib into the kitchen or bathroom." If Beyoncé moves her sleeping baby's crib into her bathroom in the interest of getting some sleep, then finally, she and I will have something in common.