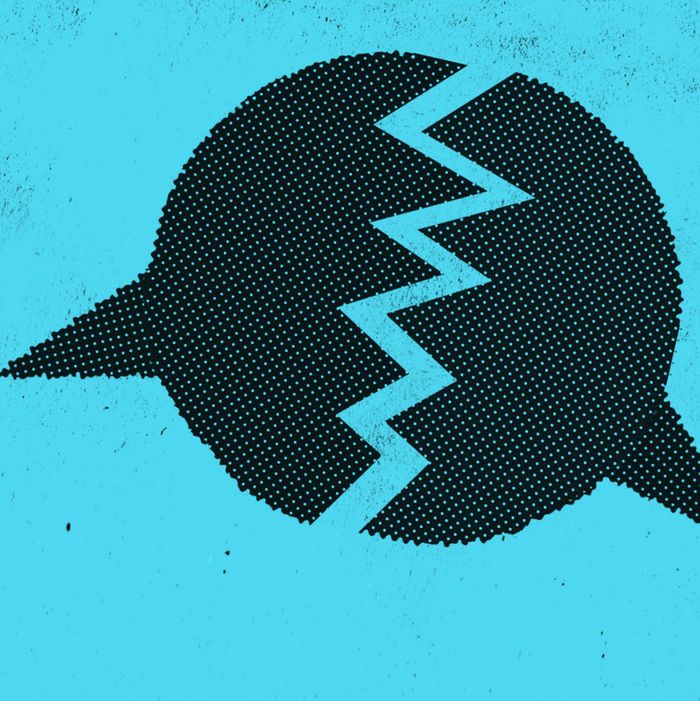 In Both Sides of a Breakup, the Cut talks to exes about how they got together and why they split up. Erica, 39, a jewelry designer and Jay, 41, an app developer, went from "boring" to "bawling my eyes out" in only three months. This is their story.
Erica: When I met Jay through a mutual friend, I thought he was really fucking boring. Sorry if that sounds mean but it's the honest truth. He talked about hockey for one hour straight on our first date, without asking me any questions. It was a blind date and it was Dullsville. I literally only went out with him again because he resembled that actor Patrick Wilson. They get mistaken for each other, that's how much they look alike. Who doesn't want to fuck Patrick Wilson?
Jay: She's going to tell you I was boring on our first date. She likes to tell people that. But that's just Erica. She can be kind of biting, kind of rude. She can be mean, even though she has a good heart. I think she honestly doesn't realize that words have implications. On our first date, I thought she was very pretty and very sweet. I liked that her dad was a cop. That set her apart from most New York girls whose dads are investment bankers.
Erica: I had my friends meet him right away. Date three. It was at some dive bar on trivia night. I needed them to tell me if he was as one-dimensional as I thought. By now, he'd expanded his conversation topics to a burger club he founded and also his favorite New York City basketball courts — which at least made him a little urban-sounding. My friends found him to be grounded and "normal." They were into it.
Jay: I quickly learned that despite the daughter-of-a-cop thing, she thinks she's very cosmopolitan, very worldly. We're both from middle-class East Coast families. My parents are teachers. She was definitely trying to reach a life better than our parents'. I get it, too, I do. But she strived for being "high class" more than I do. It was okay, though. Speaking of my parents, she met them after like five dates because they were in town and my mom is a tremendous Italian cook, and Erica basically invited herself over for a Sunday supper.
Erica: I loved his family, which of course made me like him more. But what really did it, was after date four, we started having sex. It was so shocking because this, like, totally blah guy was absolutely unbelievable at sex. For one, he had a great dick. I'll just say it like it is. He has a big, strong, always raring-to-go penis. And it became my crack! Seriously, he was a great lover without knowing or trying. My body loved his body.
Jay: We had good sex. I wouldn't say it was the best of my life, but it was good.
Erica: Long story short: As lame as I thought he was at first, once we started having sex, I was way more into him. The sex did it. And sure, he got less boring as I got to know him better. I think he was just nervous in the beginning and babbled about stupid stuff. After only six weeks, I was kind of obsessed with him, wanting to hang out all the time, not being able to sleep without my phone — waiting for him to text, worried about what to wear on our next date.
Jay: I guess I knew she was into me and it felt good. I liked her too. But I'm way more even-keeled than Erica. All this was happening as I was launching an app — and that had to take priority. We were having fun, sure, but I sensed it was turning into something more serious than I wanted. She was moving fast.
Erica: Almost three months in, I "sort of" got pregnant. I was a week late on my period, and then I got a POSITIVE pregnancy test. Now, I'm 35 and felt like, "Okay, this is not the worst thing." I mean, I was totally freaked out but also kind of giddy. Jay has these amazing genes, physically, keep in mind.
Jay: I was very much in shock to hear the news because I thought she was on the Pill.
Erica: I was on the Pill but skipped a few days here and there. I don't know what happened. There were a lot of walk-of-shames … days I'd go straight from work to his place, and back to work the next day … without running home to my medicine cabinet. Plus, I was all "falling in love" and disorientated. I know my explanation sounds bad, or not kosher, or whatever, but I swear I did not purposely try to get pregnant. It was not ideal nor what I wanted at heart. I wanted to fall in love and get married to someone first. I'm Catholic!
Jay: I really, really thought she was on the Pill and couldn't wrap my head around it. Had she been lying? Was that really a thing? Do women do that? Could I trust this woman? Was she not who I thought she was? It all hit me like a ton of bricks. But listen, I was raised right. I wasn't going to be an asshole. I was going to respect whatever choice she wanted to make. I would have stuck around, definitely. And then some!
Erica: Only a few days after I told him about the positive pregnancy test, I started to bleed. So either it was a false positive (the pregnancy test) or it was one of those very, very early miscarriages. I had to go to Paris for a work thing right when this happened, so I never made it to the doctor to confirm a pregnancy or not. It would have been too early to tell anyway. So it's just kind of a dark, ugly mystery that haunts me a little bit — maybe him too.
Jay: So there was a lot of drama around then. She was really upset. And I wanted to be sensitive, but I was also like … okay, Sweetheart, let's not be so mournful when we don't even know it was a miscarriage. And also, let's just trust it wasn't meant to be and move forward.
Erica: I was bawling my eyes out the whole Paris trip. I blamed it on hormones. My period was crazy-heavy that week and I wasn't sure what the fuck had happened to my body, if anything. Looking back, I think I cried because Jay never seemed happy I was pregnant in the first place, and I knew in my heart this was the beginning of the end with us.
Jay: While she was in Paris — which was like ten days — I told my family everything. They didn't convince me to break up with her or anything like that, but they did seem … concerned. We were too new for so much drama. I definitely want kids. I was only interested in dating someone with the intention of starting a family (eventually) with them. But this was like, two or three months in, and not even a real pregnancy, and just so much cra— I'm not going to use the word "craziness." Just so much … emotion.
Erica: I convinced myself in Paris to pull it together. I was prepared to get us back on track. But he broke up with me the night I got home.
Jay: She's a great girl, a beautiful girl, but in my gut, I just wanted out. It wasn't right for me.
Erica: It devastated me for like two days, but I'm not that crazy girl. I realized we weren't married, we were only together a few months. I'd find someone else. My friends were great about reminding me how boring I thought he was. Like, they'd send me texts that just said, "Zzzzzzz."
Jay: We're actually friends now, at least on Facebook. We both met our future spouses within the year. We both have kids. She seems really happy.
Erica: I have twins with the most wonderful man, a man even better looking than Patrick Wilson (just kidding, sorry, honey, but who is better looking that Patrick Wilson?). We got pregnant through IVF. Turns out, I had like ten huge fibroids, which could have explained that weird period.
Jay: My wife knows about "pregnancygate." It's a non-issue. And my wife, who's an English teacher — she's now the vice-president of my burger club.