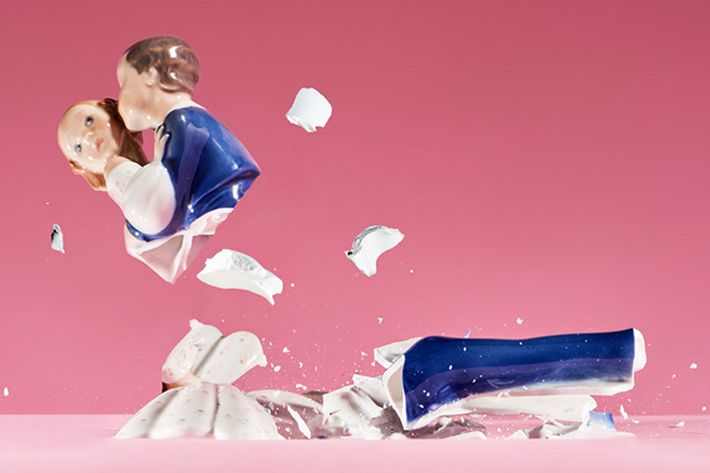 You probably know at least one friend or acquaintance who's suffered sensational deceit at the hands of a romantic partner. And if such second-hand drama prompts you to give thanks for your relationship being so unshakeable, the premise of Bravo's latest scripted series might give you pause. Imposters, starring Israeli-American actress Inbar Lavi as a con artist being vengefully pursued by victims she's systematically married and robbed, poses the question: Do we ever really know the ones we're with?
To see how much real life mirrors the show's themes of scandal and betrayal, the network recently conducted a survey* of 1,500 participants, probing them on everything from the dirty little secrets to major transgressions we experience in love. Read on for the unsettling results, and watch the Imposters trailer before the Bravo series premiere on Tuesday, February 7 at 10 p.m. (Tip: Stick around for the third episode to see Uma Thurman join the cast.)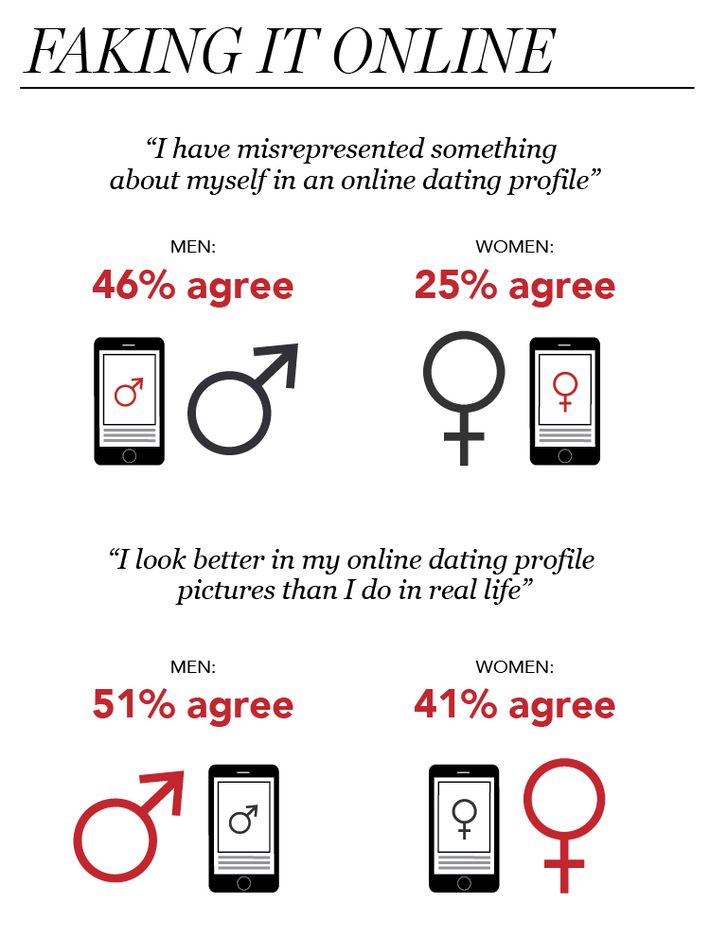 If you're already dating online with a generous level of skepticism, the participants' answers are only more disheartening. Forty-one percent of online daters say they've been catfished, with 40 percent admitting to having misrepresented themselves in a dating profile. Who's guiltiest? Forty-six percent of men versus 25 percent of women confessed to fibbing; as did 47 percent of self-identified Donald Trump supporters, versus 35 percent of Hillary Clinton supporters. The most commonly fudged topics: interests; level of success; education; hobbies; and financial situation.
Editor's note: The questionnaire defined being "catfished" as having been "lured into a relationship by means of a fake online persona."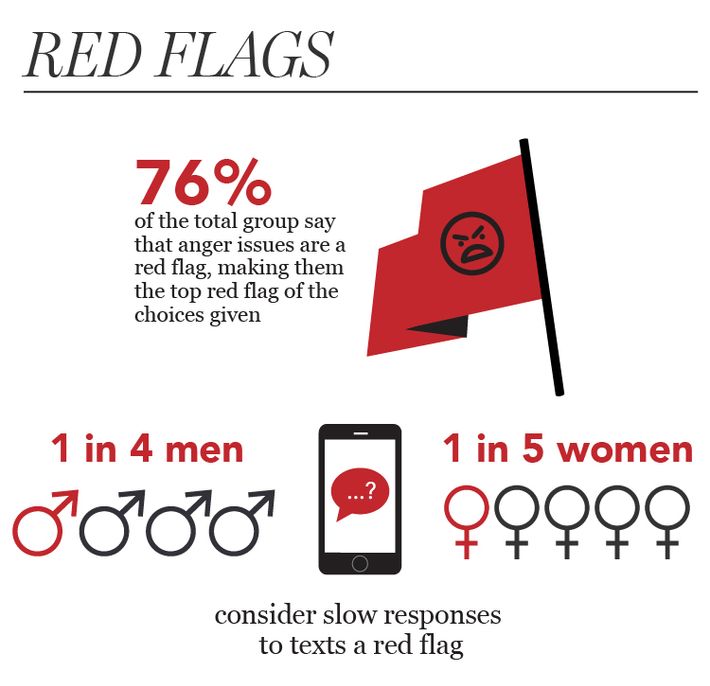 "In general," the report concludes, "men are less likely to identify something as a red flag, suggesting that they are less aware of and perhaps more susceptible to them." Women are particularly more concerned than men when their partner: doesn't want to make the relationship public; is private about his or her phone; and is unwilling to discuss past relationships. The only thing men are more wary about? Texting. (See above.) Overall, though, 70 percent of polltakers admit they've ignored red flags in the past, proving we're (almost) all dumb in love.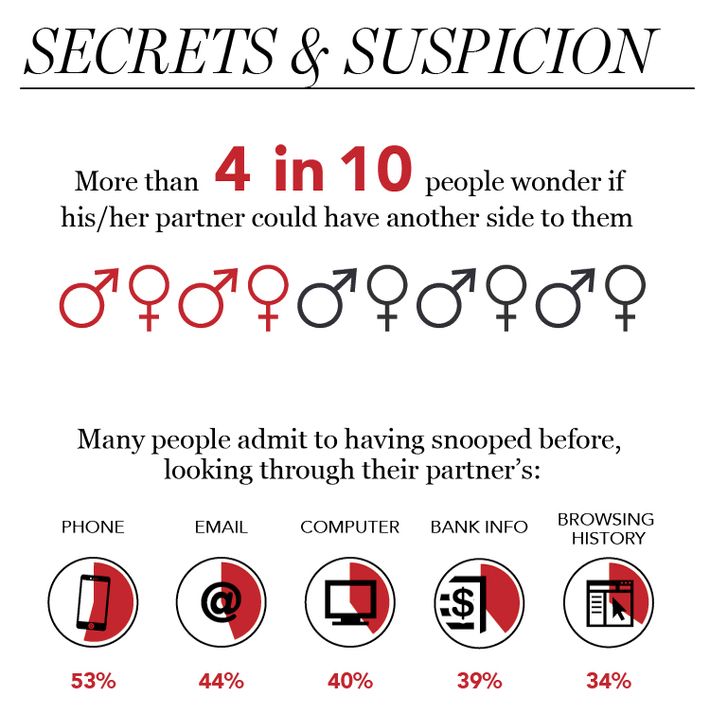 People who admitted to looking through a partner's personal property or accounts (phone, email, et al.) typically "found something" (meaning "to see/learn something that bothers or upsets them") an average of one in five times. The most common secrets people self-reported: a past event; a secret about someone else; feelings for another person; and infidelity. Nearly one in three people have had feelings for a friend or family member's significant other. And almost half have discovered a friend or acquaintance's partner was cheating or lying unbeknownst to the friend or acquaintance.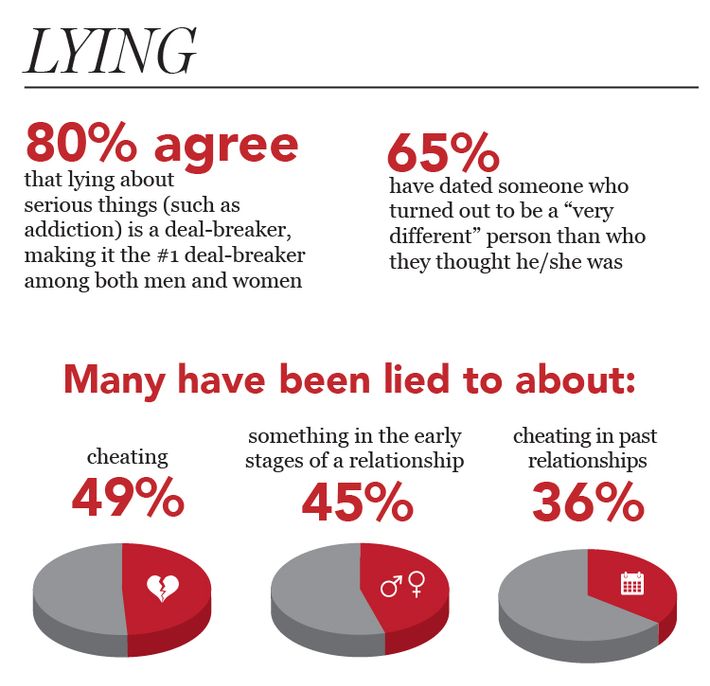 Scary stuff: The results indicate that more than one in three people often suspect his or her partner is being dishonest about something. And while more than three out of four people say getting caught lying is a red flag, 86 percent of women versus only 66 percent of men agree with that sentiment. Overall, nearly 50 percent of people have forgiven someone after a major lie; and nearly a quarter say they lie at least once a month. In addition to the topics above, common falsehoods include faking an orgasm, lies told to win someone over, and financial-situation mistruths.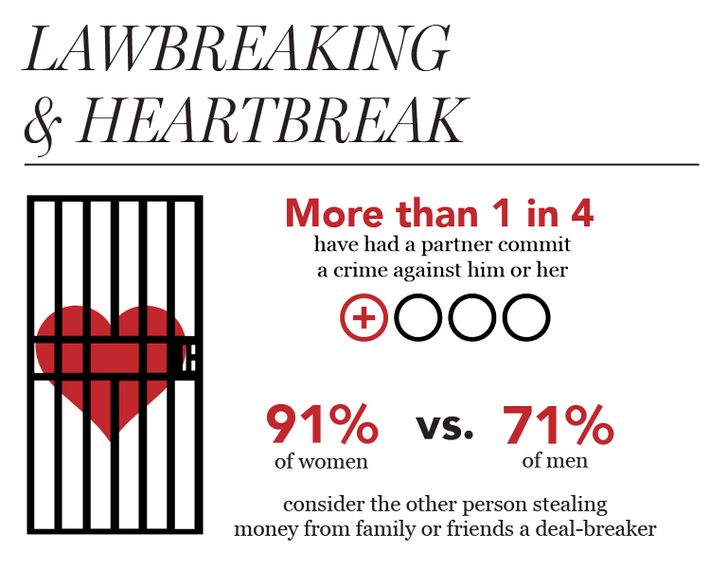 As you might expect, stealing money from family, friends, or work is a leading deal-breaker for most people. Some of the other biggest "don'ts": have poor hygiene; lie about your whereabouts; have a sexually transmitted infection; be controlling; date multiple people; drink excessively; or lie about your occupation. (Uh, yeah, pretty much.) Other interesting tidbits include that 43 percent of people do not view cheating in a past relationship as a deal-breaker, yet 42 percent say they sometimes think about what it would be like to escape his or her current relationship.
Imposters premieres Tuesday, February 7 at 10 p.m. on Bravo.
*Source: Research Now/Bravo. The Love Study. P18-54. N=1,500. Nationally representative sample. Poll conducted between December 9 and December 17, 2016.
This is paid content produced for an advertiser by New York Brand Studio. The editorial staff of The Cut did not play a role in its creation.