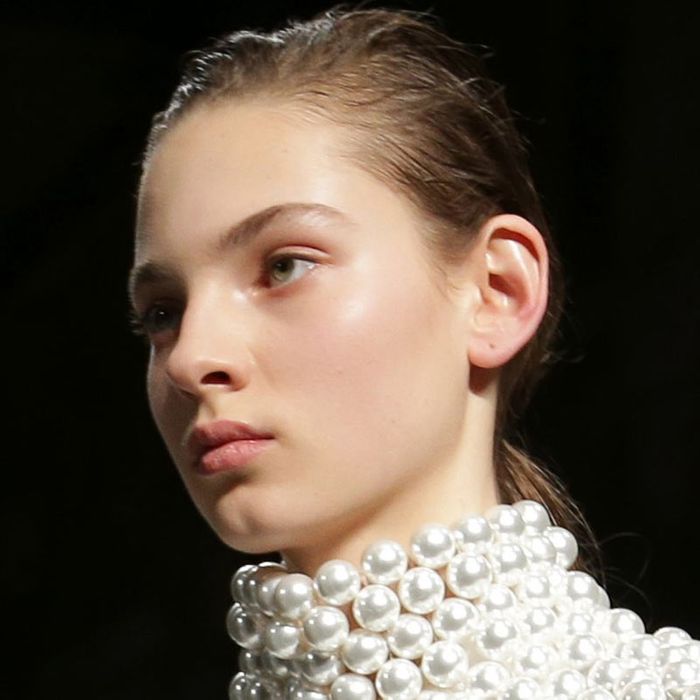 Photo: Daniel Leal-Olivas/AFP/Getty Images
When you hear the word contour, you don't instantly think of Burberry. But considering this season was inspired by sculptor Henry Moore, it was only fitting that the beauty look was informed by the same sculptural sensibility. Backstage before the show, Burberry makeup-artistic-consultant Wendy Rowe described the look as mimicking the natural planes of the face while playing with light and shadows. "Everyone can do this. It's not just for someone who just wants to do selfies," she explained. Clearly Instagram beauty this is not.
To achieve the look, she began with Burberry Fresh Glow Luminous Fluid Base. The sheer liquid has crushed pearls to create a luminous glow and works for every skin tone. Rowe then used a bit of foundation and concealer before adding the Face Contour on the cheek bones, forehead, and nose. After blending, there was a subtle sculpting effect that looked completely natural.
Also new this season, and available immediately (see-now-buy-now also applies to makeup!) was the lip-color contour. This latest lip product is a chubby pencil meant to create shadows to enhance and plump the mouth. To finish the makeup look, Rowe tapped in Burberry Full Kisses in Nude Beige No. 500 on medium-skin-toned models, while darker skin tones received Liquid Lip Velvet in Fawn No. 05.
As for hair, hairstylist Sam McKnight said this was the most structured style at Burberry yet. Using Kiehl's silk groom, Bumble and Bumble prep, and L'Oréal mousse, it was as if a girl decided to run their fingers through her damp hair before pulling it into a ponytail. McKnight described it as athletic architecture. Finally, to finish off each model's look, he debuted his own personal product Sam McKnight Modern hairspray, an endeavor years in the making. Unfortunately there's no drop date yet, but it will be sure to be a big hit.