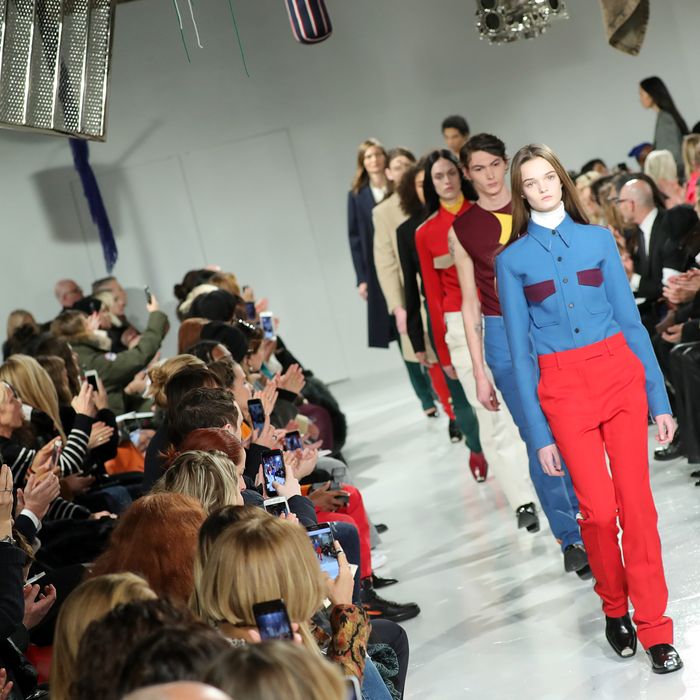 Photo: Antonio de Moraes Barros Filho/FilmMagic/Getty
Today's Calvin Klein show was the most anticipated show of New York Fashion Week, marking Raf Simons's debut as chief creative officer of the brand. The big question: Can Simons reinvent the all-American label? Here is everything to know about the show.
A-list celebrities and fashion's elite were there in droves (seriously: a very, very long list). We spotted Julianne Moore, Gwyneth Paltrow, Brooke Shields, Naomie Harris, Kate Bosworth, Millie Bobby Brown, Rachel Feinstein, Diane von Furstenberg, Cindy Sherman, Sofia Coppola, and A$AP Rocky. Also: the kids from Moonlight, Lauren Hutton, Peter Saville. Anna Wintour, in big sunglasses and a striped fur coat, sat between Sarah Jessica Parker and Grace Coddington. (Like we said: a long list!)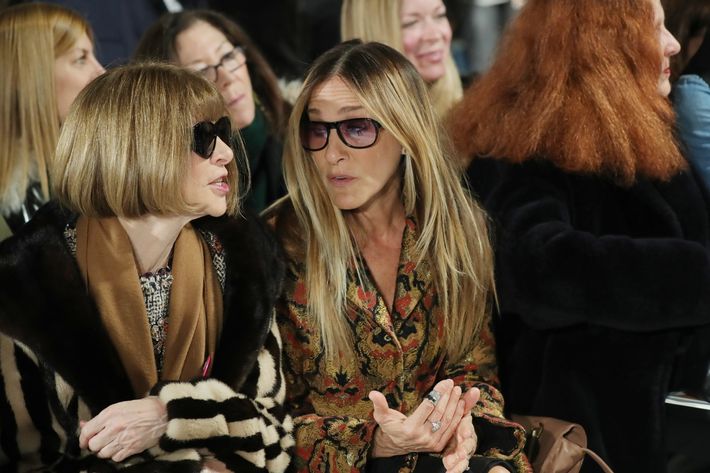 In a dimly lit white-walled room at Calvin Klein's midtown headquarters, artist Sterling Ruby's set invited guests to look up: fringed banners in red, yellow, green, and blue hung from the ceiling along with metal buckets, paint-splattered denim, and fabric printed with American flags — nods to both art and the brand's traditional all-American aesthetic.
David Bowie's "This Is Not America" opened the show with this mod look: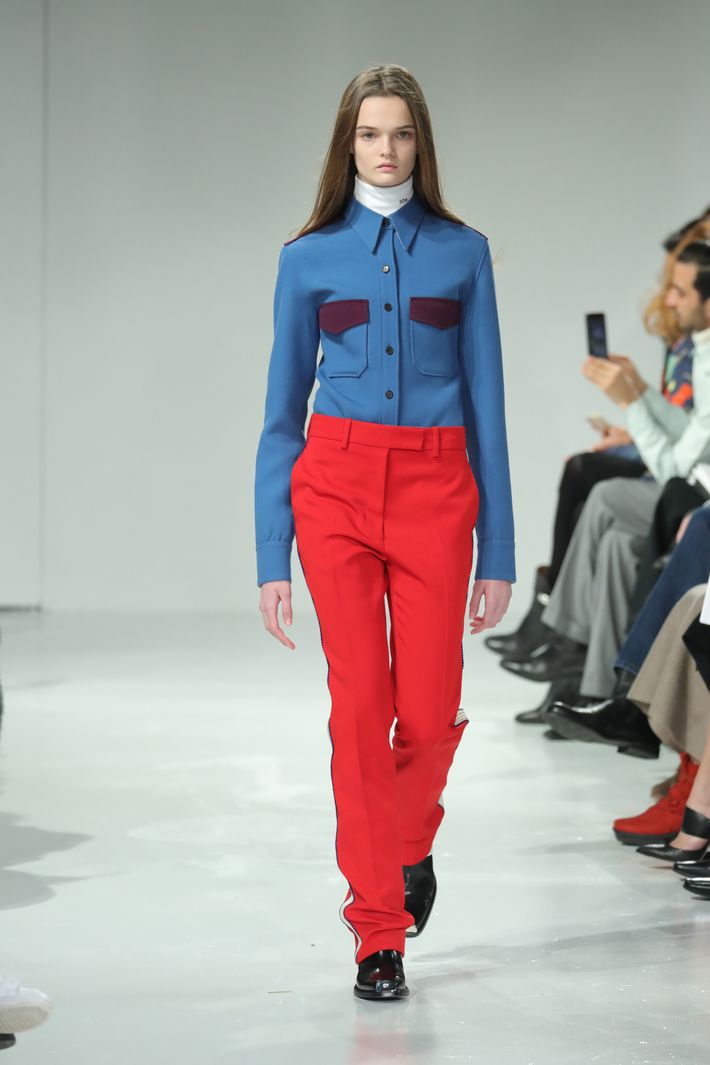 Both women's and men's collections were shown on the runway — unisex designs infused with both pale, muted colors and bolder tones. Liya Kebede and Natalie Westling walked. Plastic fabric covered many looks, making for shining textures under the white lights and some of the show's best highlights, like plastic coats worn over plaids, or plastic feathered white dresses sprinkled with blue, yellow, and red.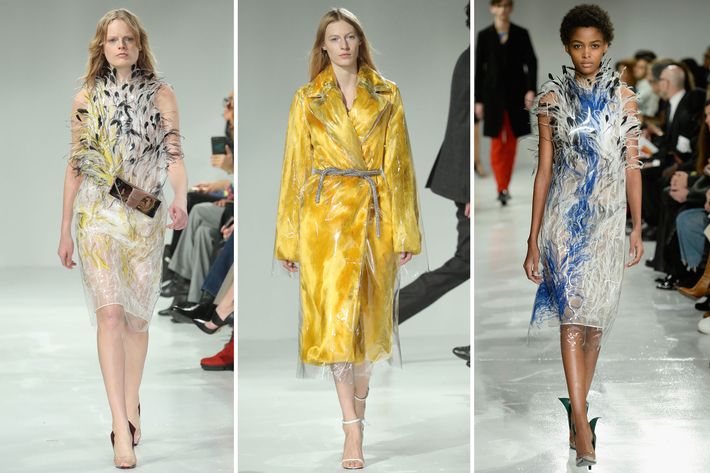 Multi-toned, near-nude sheer tops for men and women were like a second skin, accented with loose knitwear sleeves or worn under suits.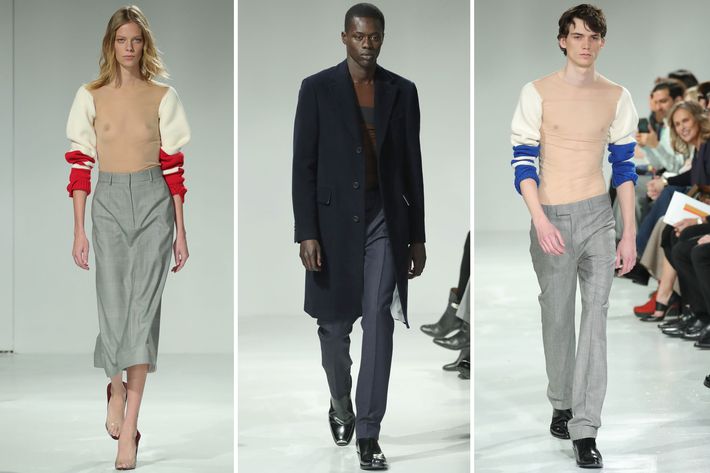 Another standout: cutout dresses and lots of underboob.
Other looks echoed varying iterations for men and women one after the other — like denim on denim, or a male model's pale-gray suit over a sheer top, followed by the same look for women.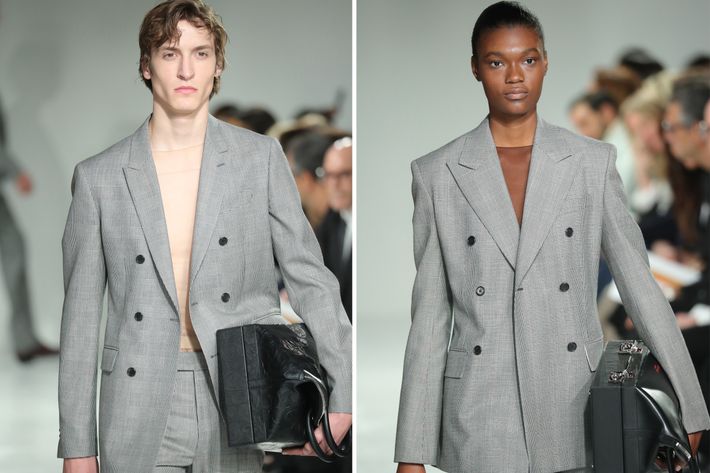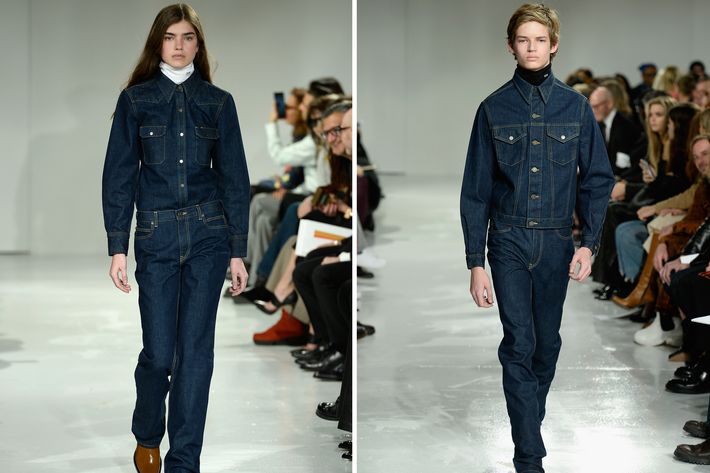 Outerwear was equally diverse and colorful: boxy leather jackets over suits, plastic overcoats, and jacket panels lined with orange checkerboard or American quilts.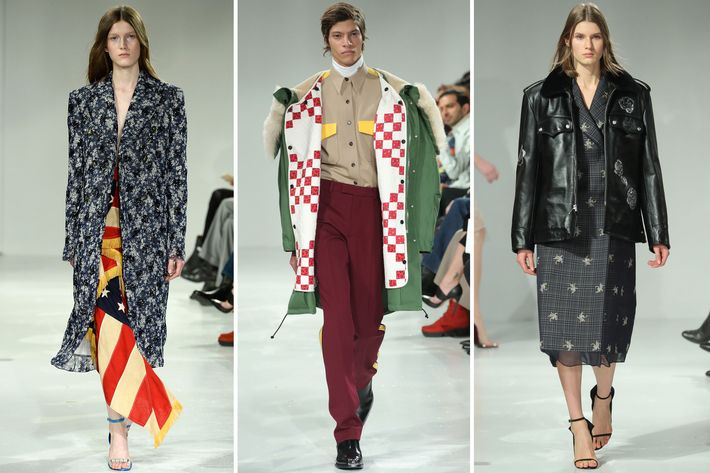 The shoes: massive red cowboylike boots and embellished heels.
Near the show's end, a voice-over read from The Virgin Suicides, followed by the love song "I Only Have Eyes for You." David Bowie's "This Is Not America" played again to close the show while models walked.
Raf Simons ran across the runway blowing kisses twice, and disappeared.