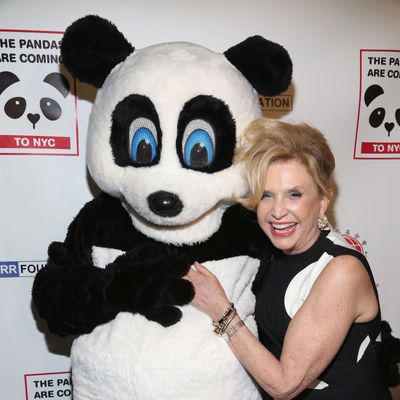 Congresswoman Carolyn Maloney and Panda.
Photo: Sylvain Gaboury/Patrick McMullan via Getty Image
Lately, the mood in America has been grim. Each day seems to bring with it a new set of political horrors and injustices that often feel like too much to bear. Last night we partied with several people who are working to fix a pressing matter in our ongoing national embarrassment: the lack of giant pandas in New York City.
Congresswoman Carolyn Maloney is leading this effort to bring two giant pandas to the Central Park Zoo, and on Wednesday night she (along with supermarket billionaire John Catsimatidis, former AIG chairman Maurice Greenberg, and TV personality Yue-Sai Kan) hosted a gala at the Waldorf Astoria to benefit the newly formed nonprofit group "The Pandas Are Coming to NYC." Attendees paid up to $50,000 for premier tables at the gala, and all the funds are going to fix the most dire problem affecting our city today: no pandas.
Stephen Baldwin was there, and so were we.
DRESS CODE
Allie: The Black & White Panda Ball was not strictly a Fashion Week party, but it did have a specific dress code: black and white "gala attire," to honor the giant pandas Congresswoman Maloney hopes to get from China by the year 2020. Attendees took this wardrobe suggestion literally, illustrating both a deep commitment to the cause and a general lack of thought about anything but pandas, pandas, pandas.
At the cocktail hour before dinner, we saw one older blonde woman who had fastened a 6" x 6" laminated photo of a panda head to her snappy black pantsuit. Another uptown lady had savagely turned a teddy-bear panda into a stole (by apparently removing its insides and pinning the deflated fur to her shoulders). If you had stumbled onto the Waldorf terrace last night and did not know the purpose of the event, you might have walked away assuming "panda" is the hot new trend sweeping the Upper East Side.
Kelly: Almost no one had a long gown on, but the number of people who incorporated actual panda-related images into their outfits was inspiring — perhaps the pandas would come here of their own accord, if only they knew how much they were wanted.
CELEBRITY SIGHTINGS
Kelly: What is a "celebrity," really? Is it someone you recognize because they are famous? Or, perhaps, is a "celebrity" an everyday donor to a nonprofit that aims to bring two giant pandas to New York City by the year 2020 if only it can raise $5 million, an effort Governor Cuomo and Mayor de Blasio told CBS2 they support as long as the funds remain privately raised? It's something to think about.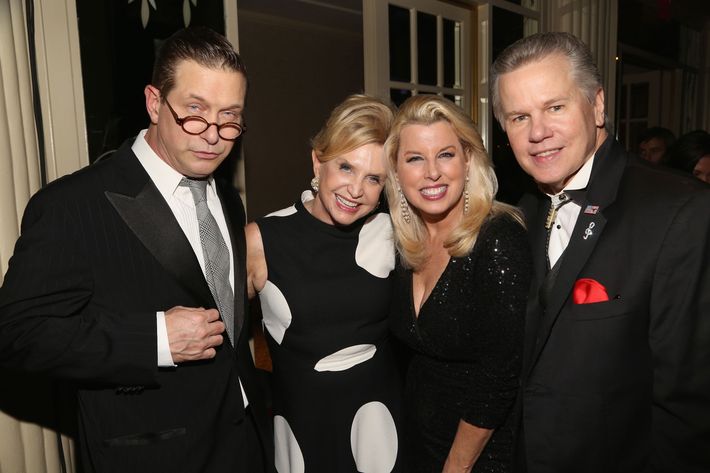 We did spot one celebrity though, while we were sitting on the dirty floor behind Congresswoman Carolyn Maloney. You may know him as "Nero" from 2016's The Apostle Peter: Redemption, or as "Stephen Baldwin" from 2007's Fred Claus — of course it is: Stephen Baldwin.
Allie: I also saw John Catsimatidis's daughter, Andrea, wearing a white dress.
ENLIGHTENING CONVERSATIONS
Allie: Our top priority at the Black & White Panda Ball was to ask Congresswoman Maloney about her top priority, which is bringing two giant pandas to New York City. In the middle of dinner, a publicist said we could approach her table for a short interview.
Kelly: Our question for Congresswoman Maloney was: How likely do you think it is that NYC's gonna ever get these pandas? She thinks it is very likely. "I think it's very likely," she said. Then she gave us her pitch:
"There's something about pandas that makes everybody be happy. We have everything in New York: the center of commerce, of financial services, of media. We even have Broadway! The only thing we're lacking are pandas and a little bit of luck. They're symbols of luck so it's about time we had some luck. We had 9/11, we had Sandy, we had the financial crisis, it's about time to get a little bit of luck."
Heh. The only things we're lacking are pandas, a little bit of luck, affordable housing, strong social safety net, pandas, etc.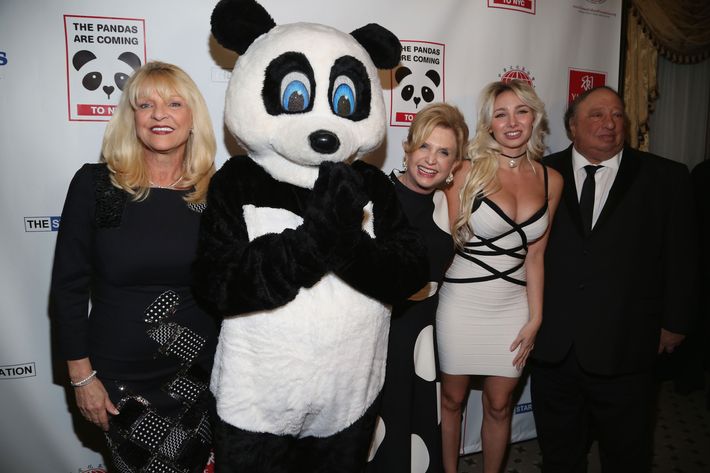 ATTRACTIVE MEN
Kelly: Unfortunately we're not at a point in history where it is possible for a white man in a tuxedo to be attractive. Our hands are tied.
WAS THERE A KID FROM STRANGER THINGS?
Allie: It would have been great to finally see a Stranger Things kid in tiny formalwear, but that did not happen at this party. We did, however, enjoy the live musical stylings of the Joyous Strings Ensemble. Have you heard of these children? Oh my god. Here they are playing "Smooth Criminal":
The littlest one said he would name one of the pandas "Joy," which almost convinced me that we should spend untold millions bringing pandas to New York City.
GIFT BAG
Allie: We did receive gift bags, which contained silver panda pendant necklaces. New York may not have real pandas yet, but we certainly have panda style. And Broadway, of course.
Kelly: Also the gift bags had Hello Panda cookies in them! I'm eating them now!
The Black & White Panda Ball Party Review: Panda Party