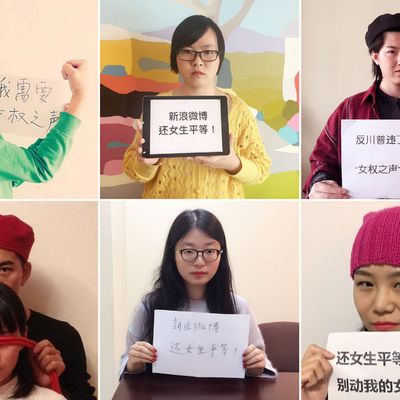 Social-media posts in support of Feminist Voices.
Photo: Feminist Voices
Shortly after a major feminist organization in China shared an article on social media about the upcoming Women's Strike in the U.S., it received a notice that its account was being banned for 30 days. The New York Times reports the suspension has sparked fears of further repression and censorship of Chinese feminists.
The organization, Feminist Voices, believes that a link to an article it shared on Weibo — a China-based microblogging platform similar to Twitter — about the March 8 strike is the reason behind the ban, since it was the only one of the group's Weibo posts to be censored recently, the Times reports. The group has operated a Weibo account since 2010, but received a notice on Monday from Sina.com, the platform's host, that it was being shut down.
Per the Times:
"Hello, because content you recently posted violates national laws and regulations, your account will be banned for 30 days," the notice said, according to a message Feminist Voice circulated on another social media account.
A spokesperson for Sina.com, Chen Jinguo, told the Times when reached by telephone that he didn't know any details about the suspension. One of the founders of Feminist Voices, Lu Pin, who lives in New York, told the Times, "This is about attacking civil society. They want to take away our voice." Lu added that she believes this censorship is "just the beginning." In the meantime, supporters of the group have taken to their own social-media accounts to express their anger over the suspension.
There have been no similar women's strikes planned for China on March 8, the Times reports, but the government takes the term "strike" quite seriously, and actively discourages (or represses) mass activities beyond state control. Furthermore, a social-media post that's been making its way around the internet claims an unnamed Sina.com staffer told women's-rights advocates that the suspension was ordered by the Cyberspace Administration of the State Information Office.
The Times notes that the suspension may also have come as China prepares for its annual parliament meetings, which are set to start on March 5. During that time, the government "traditionally cracks own on the already limited political debate in the country's censored media."