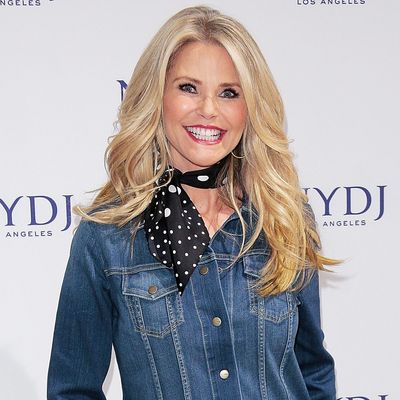 Christie Brinkley.
Photo: Randy Brooke/Getty Images
Christie Brinkley is not one to shy away from donning a bikini — much less when it's for the Sports Illustrated Swimsuit issue. Brinkley, after all, has decades of experience posing in sexy swimwear for magazines. Still, in case anyone ever doubted Brinkley's capability to stun — at the age of 63 — while posing in a swimsuit against a clear, blue ocean and nondescript tropical background, feast your eyes on the latest Swimsuit issue. It is there that her magical powers are on full display. Note how she gently levitates above the water while striking a pose next to her two daughters, who, like most other humans, must wade through the ocean instead of resting on its surface.

Brinkley was joined on the photo shoot by "two very special guests" (a.k.a. daughters Alexa Ray Joel, 31, and Sailor Brinkley Cook, 18). For Cook, who is a model with IGM, the photo shoot was an emotional experience that left her reflecting on her own body insecurities growing up. "But recently I have been liberated," she wrote on Instagram. "I am healthy, I treat myself well, and for that I'm happy."
Brinkley first landed the cover of the SI Swimsuit issue in 1979, a feat she managed for a record-setting two more consecutive years. Countless other photo shoots followed, but the supermodel and fitness guru retired her swimsuit days in 2004, according to People.

Judging from the family photo shoot, Brinkley still has the Midas touch.