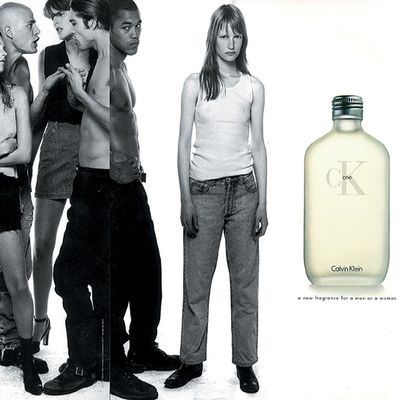 The '90s were punctuated with a lot of weird aesthetics. There was a lumberjack-man-meets-pajama look. Grunge. It was cool to look pale and sickly. Heroin chic. Pants were unironically massive and equipped with 30 pockets. Cargo pants. And everyone smelled like CK One, the Calvin Klein scent of the decade.
Let me tell you about CK One. It was everywhere — if your everywhere was a world outlined by under-30 wannabe cool kids. When the fragrance launched, in 1994, it was defined by what it was not. It wasn't heady, pretentious, or French. CK One was American, baby (though the perfumers behind the scent, Alberto Morillas and Harry Fremont, were Spanish and French, respectively). It didn't so much have a capturing scent as it conveyed a sense of feeling. That feeling was carefree, that feeling was uncomplicated, that feeling was a membership card to a club of belonging after you've felt like a weirdo most of your life.
Not only was CK One everywhere, but it was for everyone. It was the first scent billed as unisex, though it was much more popular with women anyway. Maybe that had to do with the scent, which was bright, clean, and casual. At first spritz your nose would crinkle under the top notes of orange, lemon, and pineapple. It was a little soapy, sure, but on the drydown the fragrance always picked up steam, melting into a floral and then a sandalwood, oakmoss, and cedar base that made you think of sex even though you were too young to really know what that meant.
CK One was playful in ways that felt simultaneously wacky and creepy. At a time when being a misfit with mismatched clothes and a cheap dye-job was the look du jour, CK One's minimalist, balanced entrance approached farce. How revolutionary, it was then, to be boring. And who, by the way, did Calvin Klein want wearing this scent? That's when it got a little creepy. Calvin Klein has always lurched on uncomfortable territory. Who could forget the crotch-grabbing Mark Wahlberg? The jean ad where the tiniest sliver of denim obscured a full-frontal view? A 1995 Steven Meisel commercial drew comparisons to child pornography and the fragrance ads, though less overt, careened down a similar channel. CK One, the fragrance, conveyed innocence, as did its ads, which plucked doe-eyed teens into scenes of youthful pursuits. There was the one where a positively bored Kate Moss is surrounded by half-naked contemporaries, which felt very much like the lustful gaze of teenage life. The commercial component grazed on more of the same, and concludes with a septuagenarian asking: "What does it all mean?" Good question.
As the '90s waned, so did the allure of CK One. Flowery, sweeter scents swept into its place. In 2012 CK One came back in the form of a cosmetics line. The line was massive, launching with 130 pieces. Encased in simple black-and-white vials were blushes, eye shadows, and a ridiculous assortment of lipsticks. And yet, something didn't quite stick. The energy that swept a generation in the '90s had fizzled, and just a few years later Calvin Klein discontinued the color line. You see, CK One now feels trapped within its time. The name trucks you into a different era that's unable to scale the steep walls of nostalgia. Calvin Klein certainly tries though. This month the brand is introducing a new unisex scent — CK All.