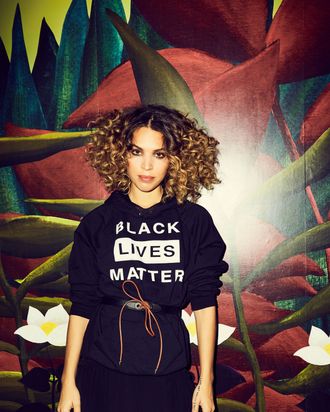 Cleo Wade.
Photo: Meredith Jenks
Stepping into Cleo Wade's East Village apartment, you're already at a "good vibe" party. The dim lighting — "I'm a vibe person," she explains — velvet couch, red wine, and Ella Fitzgerald on the stereo, all suit an intimate night in — except that Wade is padding around in loose-fitting Levi's and slippers, for a night out celebrating the international launch of Dior's new Poison Girl fragrance.
After a weekend spent protesting in four different cities, the poet, activist, and Instagram star was ready for a night off, although politics were still on her mind. Wade couldn't help talking about everything from Trump's pick for the Supreme Court to Planned Parenthood, while hairstylist Danielle Priano sprayed her newly cut bob with R+Co Foil Frizz + Static Control Spray.
"Making sure you're implementing your self-care routines is important so you can run this marathon and not treat it like a sprint," Wade explains as she sits back and chats about writing the upcoming self-help book she's been working on all day. The look for tonight is pretty standard for Wade: a neutral lip, clean face, and dramatic eye topped off with her signature curls. "I think our go-to is just trying to contour the Chinese food I ate the night before," laughs Wade.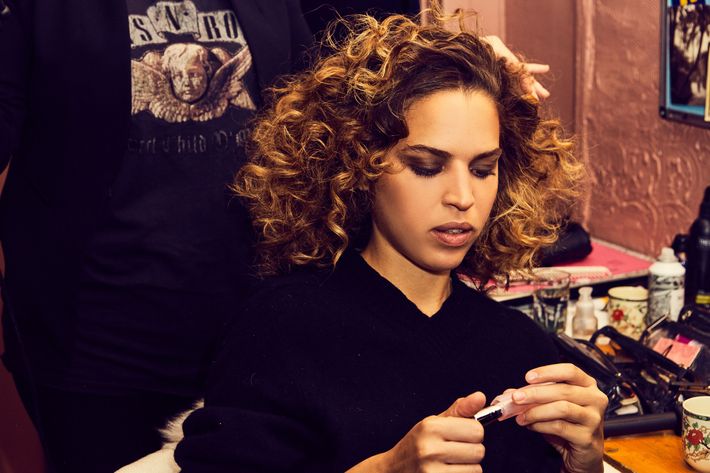 As Priano refines Wade's natural curls, makeup artist Marco Castro brushes her face with Diorskin Forever foundation and the brand's Flash Luminizer. A light touch is used (perhaps due to her vegan diet and minimal daily makeup routine). Although she's known for embracing a glittery or bright-blue lid, Wade went for a more neutral — though not less bold — maroon eye. Castro blends the shades from Dior's Colour Gradation palette in Coral Gradation and loads on the Diorshow Black Out mascara.
With Wade just about ready to head out, she pulls on a Black Lives Matter sweatshirt over her black Dior dress — an act of "everyday activism" she claims is a requirement. But before she left for the night, the Cut sat down with her to talk probiotic beauty products, simple hair-care routines, and Former President Obama's closet.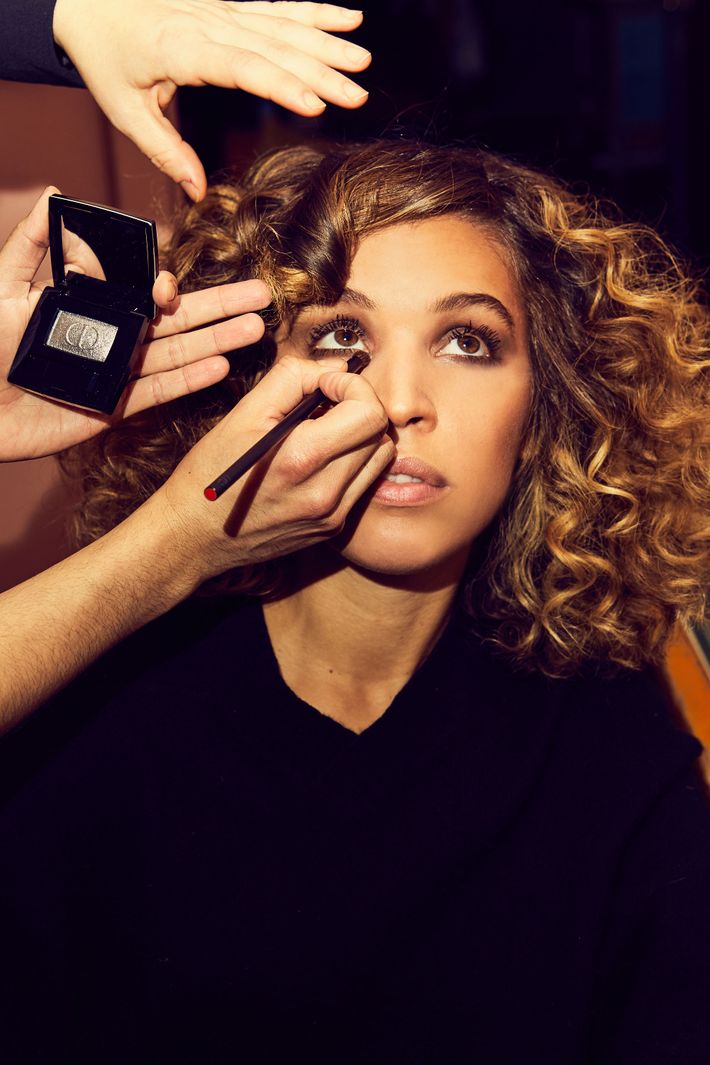 What's your day-to-day skin-care routine like?
Day to day, it's pretty simple. I'm a big fan of vitamin E oil. I use it on my skin every day and pretty much all over my body. Recently, I became really obsessed with this product called Mother Dirt. It's incredible. It's basically a spray that is all bacteria. It's a probiotic spray. So you know how you drink a probiotic to put the bacteria back in your stomach? This is a spray for your skin, so if you have any breakouts or eczema or whatever, it really works wonders.
And what about makeup?
I'm home writing most days, so I don't wear a ton of makeup. The most important products are a light foundation and mascara. With my audience, we're such pals that I don't like to be too crazy day-to-day. I try not to live a life that isn't as authentic as possible to my real life. So if I am home most of the day writing in old jeans, I don't try to act like I'm writing with a full face of makeup on.
Your curls are amazing. What do you do to keep them looking so good?
I have a really minimal hair routine. I just leave conditioner in it and call it a day. I worship the ground my hair colorist walks on; she gave me this amazing conditioner whose name I can't remember off the top of my head, and I just leave it in. I don't put any products in my hair. Danielle will put products in my hair, but that's when I get to be fancy.
Best beauty advice you have ever gotten?
Smile. It lights your face up.
Facial or massage?
Neither, really. I don't love being poked at.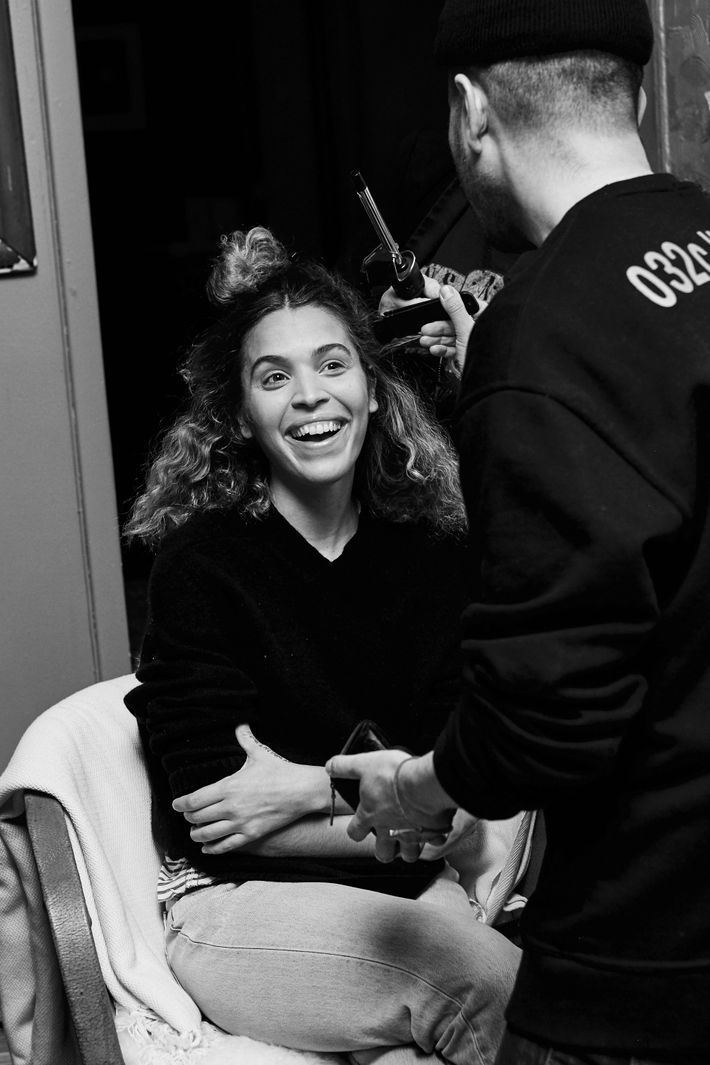 Desert-island beauty product?
Mother Dirt. But here's the thing: If you've been in the sun you're already looking good and your hair is doing the right thing because you've got the salty seawater. And then I think I'm around the dirt, I don't even need Mother Dirt.
Biggest pet peeve?
When people confuse constant complaining with having an opinion. Just because you're complaining doesn't mean you have a helpful opinion. Nothing brings the vibe down more than when someone complains.
Instagram stories or Snapchat?
Instagram stories. I don't have Snapchat.
What's your favorite photo on your phone?
Probably one of my parents. My dad is so stylish, it's amazing. Or like, my friend posted this thing on Instagram today and it made me laugh so hard so it might be my favorite thing because it's new.
Biggest beauty mishap?
Everything you do with beauty is a timeline of where you are in your life. When I was traveling to places like Turkey and Morocco, every time I walked through the house, I was literally jingling because I was so obsessed with everything. I had the thick eyes, jewelry, and I was wearing fake nose rings and all these things because I was so inspired by the places I was visiting in the world. Now, I don't think I would do that because I don't have the time to hook things on my body, but it's all part of the timeline. In 50 years, there's definitely a couple of photos where I'll be like, "That was totally see-through." But in 50 years, 60 years you're going to be so happy to see all of it. It's not worth it to be like, I can't believe I did that.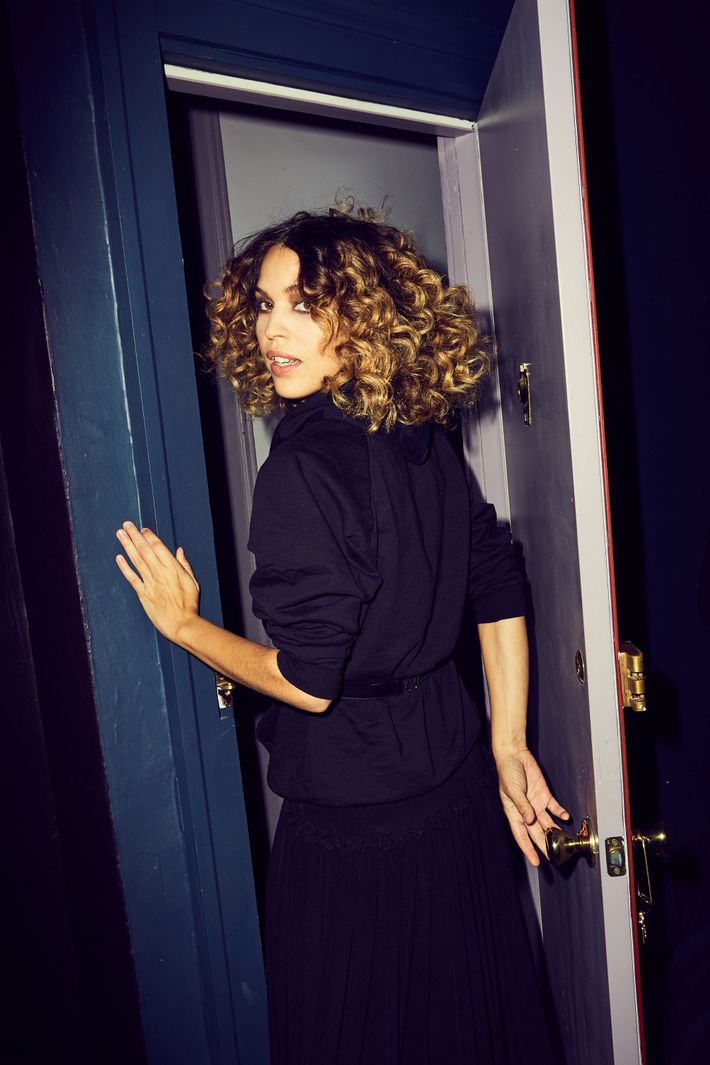 Favorite Instagram filter?
Just black-and-white, because I use it on all my drawings.
One person you wish you could switch closets with?
Obama. I read once that he only has three different suits, a black, a gray, and a blue. There's research behind uniform dressing that says our brain doesn't have the ability to make as many decisions we give it, to really be present in other things, and give other things as much attention as they deserve or require. It would be cool to take all the options out for a year.
This interview has been edited and condensed.