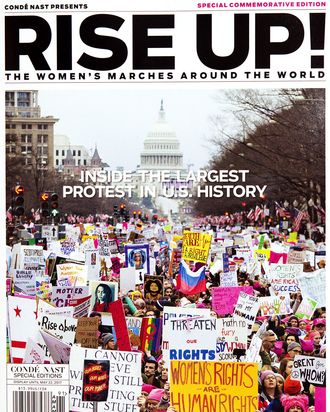 Condé Nast released a special edition magazine focused on the post-inauguration Women's Marches on February 21. It's titled "Rise Up! The Women's Marches Around the World," and retails for $13.99.
Here's what the official description of the issue reads:
On January 21, 2017, women made history. More than 500,000 gathered in Washington, D.C., to march in solidarity to protect women's rights and other causes and protest the policies of President Donald Trump, who was inaugurated one day earlier. It was the largest day of protest America has ever seen, with more than 650 sister marches worldwide drawing crowds totaling almost 4.9 million. This Condé Nast special edition commemorates the monumental event, with eyewitness accounts from The New Yorker, Vogue, Glamour, and others, as well as excerpts from the day's speeches and compelling, inspiring photos from D.C., New York City, Los Angeles, and other marches around the globe.

Per a Condé Nast spokesperson, it also includes a forward from Glamour editor-in-chief Cindi Leive. They distributed 150,000 copies nationwide.
It will pair nicely on your coffee table with Condé-owned Golf Digest's special issue on Trump, "Golfer in Chief."