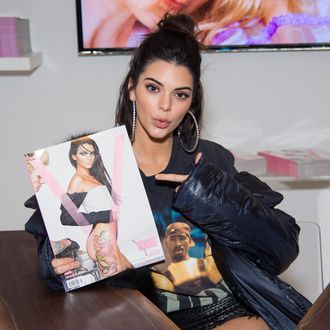 Kendall Jenner at the signing.
Photo: Michael Stewart for V Magazine
Outside the spare, hip V Magazine offices on Mercer Street Friday evening, hundreds of bundled-up, screaming tweens lined the ice-cold sidewalk for a chance to meet Kendall Jenner. Inside, the 21-year-old Kardashian-half-sister-turned-supermodel was sitting at a small, white table in the lobby signing copies of the January issue of V, the cover of which shows her pants-less, temporarily tattooed, and tugging at her lacy, black thong. Midway through the one-hour signing, I watched a 12-year-old boy scoop up his copy from Jenner, turn around, and swoon dramatically for the camera crew, which was, of course, getting this all on film.
Kendall Jenner is one of the most famous people in the world now. She has 74 million followers on Instagram; she is on the cover of Vogue this month, too; she "debuted" a shorter haircut at the La Perla fashion show on Thursday and no less than 36 websites posted breathless items about it. The guests at the exclusive after-party at V's offices did not dare swoon when she entered, however. Though they had all come specifically to spend one hour in an enclosed space with Kendall Jenner, no one asked her for a selfie. I felt bold craning my neck to make out the face printed on her perfectly distressed T-shirt (Tupac's).
Everyone milling around the office, which was dressed up with a disco ball and a Perrier-Jouët-branded bar, looked like they had plenty of Instagram followers themselves. The rapper Cardi B, wearing pink sequins and a faux-fur stole, chatted with YouTube star Lilly Singh at one of the long, white desks. Disney star Dove Cameron posed for photos in the lounge, while Derek Blasberg held court by the windows. Rich kid Andrew Warren, who once called me fat on Instagram, looked at me and left. Several teenage models dressed in puffy coats and combat boots rounded out the crowd.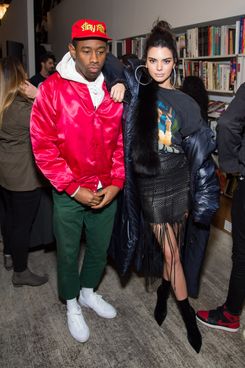 Jenner, meanwhile, conversed animatedly with publicist Simon Huck for a small camera crew. At one point, the DJ cut the music for a few minutes, presumably to get something important on tape. The guests were too cool to admit it, but this party was all about the Keeping Up With the Kardashians star. Even the entertainment was handpicked by Jenner: V hired her favorite singer-songwriter LP to perform three songs at the party. Before the last one, LP announced, "This one goes out to Kendall!" which was funny, because of course. The only thing missing from the party was food, but perhaps that was intentional, too: Jenner recently boasted on her eponymous app that she painted her living room an "appetite-suppressing" pink.
After one hour, Jenner's contract was up, but she hung around for a few more minutes by the bar before leaving with Tyler, The Creator. (This summer, the rapper denied the two were dating by proclaiming on Twitter, "WE'RE BOTH GAY.") A few minutes after the pair's departure, the cool kids started filing out, tacitly admitting there was no longer reason to stick around.