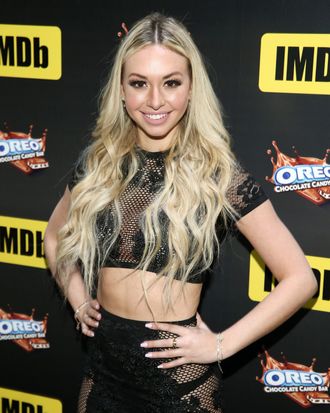 Corinne.
Photo: 2017 Getty Images
Last night on The Bachelor, former software salesman Nick Viall said good-bye to the best he was ever going to get: 24-year-old Miami business owner Corinne Olympios. Though producers gave her a villain's edit throughout the season, Corinne lasted much longer than previous iterations of Bachelor bitches, revealing herself along the way to be the kind of smart, multidimensional woman we rarely see on the show.
The other women underestimated her, but Corinne telegraphed her rise from the beginning. "I'm a corn husk; you gotta pull all the layers back," she explained in an early, on-camera interview, while brushing back sunny blonde hair extensions. "In the middle is this luxury, yellow corn, with all these pellets of information, and it's juicy and buttery. You want to get to that corn."
Corinne, who also compared herself to Michael Jordan and Abraham Lincoln, is the best Bachelor contestant of all time.
From the beginning, she refused to play by the show's impenetrable, weirdly Victorian rules. She kissed Nick whenever she felt like it; she napped during a rose ceremony because she was tired; and she chomped hors d'oeuvre on-camera, while the rest of the waifish contestants looked on in horror. Corinne's insistence on doing it her way offended the other women who respected the process. Corinne did not care. When Taylor, a 23-year-old mental-health counselor, accused Corrine of lacking "emotional intelligence," Corinne rolled her eyes. Then Nick gave her a rose and sent Taylor home. "Who's stupid now?" Corinne cackled during her on-camera interview, waving her rose around.
Contrary to Taylor's professional assessment, Corinne succeeded on the show because she was observant and intuitive. She made it all the way to the "final four" after quickly and correctly determining what might appeal to Nick, a 36-year-old former software salesman who has appeared on four different Bachelor reality programs. While other contestants brought Nick scrapbooks created by their special-education students or availed him of their tortured childhoods in foreign countries, Corinne kept it simple. She kissed him on the first night. She took her top off during a pool date. Before one rose ceremony, she approached him wearing only a trench coat and sprayed Reddi Whip on her cleavage; before another, she ambushed him in his hotel room for alone time. "My heart is gold, but my vagine is platinum," Corinne memorably explained during an on-camera interview. She was not wrong. Corinne figured out on the first night that Nick was an uncomplicated man, and from then on she appealed to his interests: boobs. Each time Corinne revealed hers to Nick, he grinned so hard you could see his molars.
Corinne's strategy, so effortlessly employed, worked perfectly until her "hometown date" in Miami. There, Nick got a fuller picture of Corinne's financial situation: She bought him a $3,600 designer sweatsuit at her beloved local mall, and when her dad remarked that Nick had not sold any software in a long time, she replied that she would gladly be the breadwinner in the relationship. (Corinne is reportedly a partner in her father's garage-flooring business.) Perhaps Nick let her go because he realized she did not need him much for anything.
And like Elle Woods risen from the ashes, Corinne realized in the end that wooing a basic, overgrown fraternity brother was boring. "I am done trying to impress these men," she sighed, on her mandated sad limo ride away from the mansion. "I'm going to be me. And whatever happens, happens, but I will never kiss up to a man ever again in my life."
Corinne, who has now rallied thousands of fans under the hashtag #TeamCorn, remains determined. In a post-show interview with Glamour on Monday night, she decried the haters who underestimated her and laid out her plans for the future. Unsurprisingly, her goals are more ambitious than the interviewer was expecting. When Glamour asked if she might join the cast of the Bachelor spinoff Bachelor in Paradise, Corinne replied, "I just feel like I need my own show. Sorry, just putting it out there."