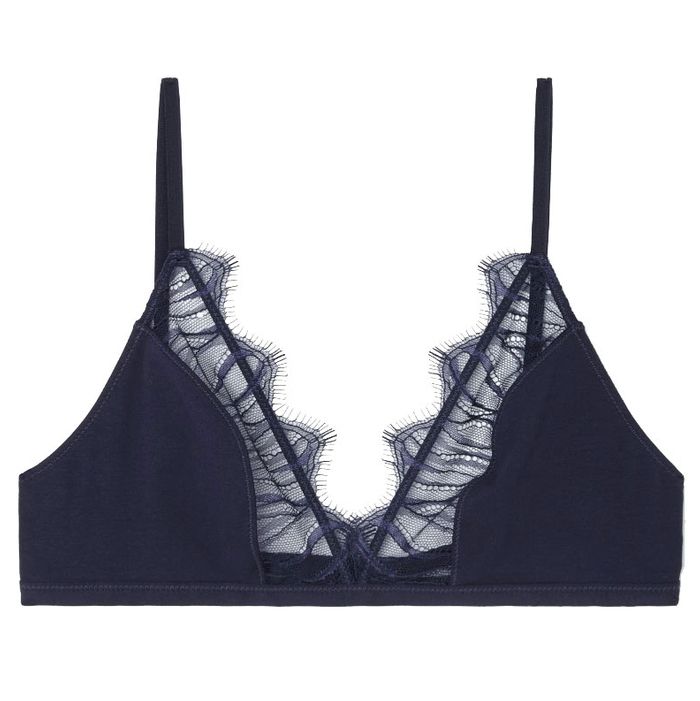 I always associated womanhood with lingerie drawers, brimming with soft and silky things to lovingly stroke, without ever considering the dismal fact that a few inches of sumptuous fabric can quickly exceed one month's rent in New York City. Not to mention that the perfectly shaped, lacy triangle bra is hard to find. They're either too high and triangular — making it seem like you're wearing the Pyramids of Giza on your chest — or are sewed too close together, so you feel like a 5-year-old wearing her first bikini. What luxury brands have perfected is the slinky, triangle-shaped bra at an absurd cost.
Thankfully, there's COS.
Unsurprisingly, COS — the European retailer known for hawking perfect, minimal clothing — makes the most perfect bras. The fabric isn't as luxurious, but the fit is divine. The solid material just barely conceals your nipples before the lace trim begins, so it's sexy, yet practical. Also, these bras are supremely flattering. Beneath a shirt, they produce only the most natural, unpadded curve. The stitch detail bra ($35) and silk and lace bra (only $45) earn bonus points for their subtle but genius designs.
Ideal under sheer T-shirts, or peeking out from plunging necklines or massively unbuttoned dress shirts, COS bras ultimately help me feel like the adult woman I imagined: one who wears sexy underthings and still pays her rent on time.