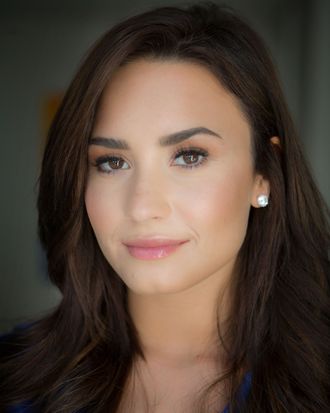 Demi Lovato.
Photo: Getty Images for Be Vocal: Speak Up for Mental Health
Demi Lovato is one of the most successful former Disney kids turned pop stars out there, and for the past couple of years, she's been using her fame for good. By speaking out about her own struggles with bipolar and eating disorders, Lovato has become an outspoken mental-health advocate and is trying to help remove the stigma of mental-health problems. Now, she's the executive producer of a new documentary, Be Vocal: Speak Up for Mental Health (which can be viewed for free online here). The Cut caught up with Lovato to chat about the film and the importance of mental health, and to hear how she keeps up with her physical wellness, too.
How I start my mornings: I normally wake up around 8 a.m. I have a cup of coffee, and then I go to the gym. I like to do two workouts. The first one will be boxing for an hour or maybe kickboxing or jiu jitsu, and then I'll strengthen and condition by lifting weights for an hour. I just started boxing like a year ago, and I feel stronger and a bit leaner. Because I work out first thing in the morning, I'll have a post-workout meal, and that is a bowl of berries, some nuts, bananas, and kefir.
My skin-care routine: I make sure that I take off my makeup every single night. I wash my face, and then I moisturize before I go to bed. I also wash it before I start my day, after my workout in the morning. I love to use anything by Renée Rouleau — all her products are amazing.
On speaking out about mental health: I decided to become an advocate for mental health because there was nobody talking about it at the time. I went through kind of a breakdown about six years ago and I found out I was bipolar, and I thought, There's nobody talking about this. There must be a reason why I'm going through this, and maybe the reason is so that I could help others.
How I keep up with wellness on tour: I implement health and wellness on tour by making sure that I work out daily, that I talk to the people around me, and make sure that I stay in therapy and do the things that I need to make sure that I live a happy and healthy life.
My biggest wellness hack: Drinking a lot of water makes me feel healthy and cleaned out.
How I maintain a healthy relationship with food: I've been very vocal about my struggles with food, and I think that the main thing for me is trying to make sure that I stay on top of eating healthy and exercising — doing things that make me feel good. That's the most important thing about my recovery: Making sure I take care of myself, and talking to people that know me best, whether it's a therapist or my closest friends. Just sharing my experience, strength, and hope with people. That's what's helped me maintain a healthy relationship with food. I've gotten closer to my family and friends; I've let them in more, and they've been able to help me more.
Wellness, to me, is: Living in freedom — and that's freedom from negativity.
On the Be Vocal documentary: I wanted to get involved in this documentary because I thought it would be a great way to spread the awareness of mental health and share these three incredible people, who are extremely brave to let cameras into their lives and film their stories. What I hope people can learn from the documentary is that you don't have to struggle and you don't have to suffer. You can live well with mental-health conditions, as long as you take care of yourself and be vocal about it.
Mental health is something that people don't talk about. I think there is a lot of stigma around it because of the unknown. People don't know about it, so they are afraid to talk about it. Something that I'm hoping to change by making this documentary is creating conversation and hopefully spreading the awareness of mental health, and that it is just as important as physical health. Being active has definitely helped me — scientifically it balances out the hormones and the chemicals in your brain when you exercise.
On speaking up: That's what happens when you're open and vocal about your struggles — you are able to reach out to many people and they sometimes share their experiences with you. It really helps me, because it's held me accountable, making sure I stay on top of my recovery. But at the same time, it's inspired me to know that I've made a difference or impact in somebody's life.
My best mental-health advice: The advice I'd give to somebody that's silently struggling is, you don't have to live that way. You don't have to struggle in silence. You can be un-silent. You can live well with a mental-health condition, as long as you open up to somebody about it, because it's really important you share your experience with people so that you can get the help that you need.
The first tip I'd give anybody is to go to BeVocalSpeakUp.com and check out some of the information on the website, whether you or somebody you know is struggling with a mental-health condition. You'll be able to find the signs and get more information on it. You can also just raise your voice. Be vocal. You have to be able to talk to people about it in order for things to happen.
This interview has been edited and condensed.