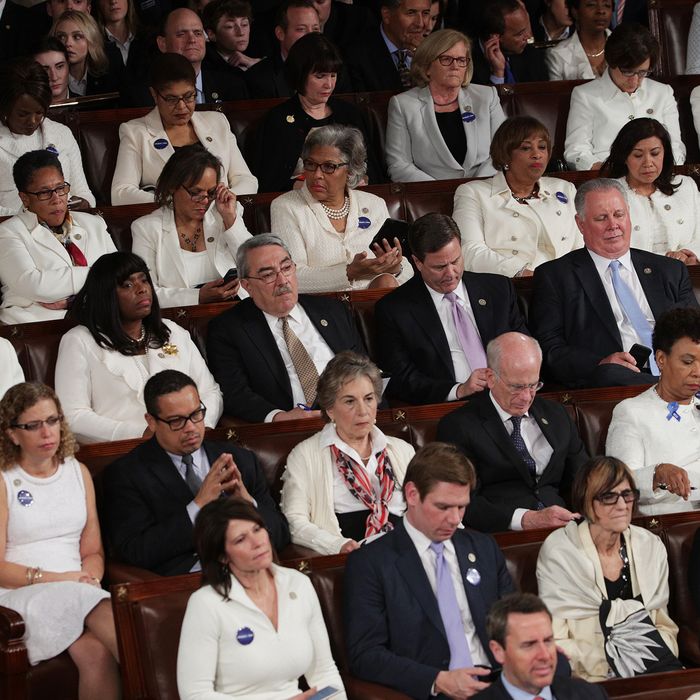 Many Democratic women in Congress dressed in white for the president's first joint session.
Photo: Alex Wong/Getty Images
On Tuesday evening, President Donald Trump looked out on to the audience of lawmakers before him as he gave his first address to a joint session of Congress. While the vast majority of those gazing back at the president were men dressed in their usual darkly colored suits, the Democratic women lawmakers in the room sat dressed in stark contrast. Dozens of them, wearing all white, peppered the chamber. It was a nod to the women's suffrage movement and a new symbol of unity and championing of women's rights, the group announced earlier in the day.

"We wear white to unite against any attempts by the Trump administration to roll back the incredible progress women have made in the last century, and we will continue to support the advancement of all women," Representative Lois Frankel, a Democrat from Florida who organized the the lawmakers, said in a statement. "We will not go back." According to Frankel's statement, the group intends to continue fighting for women's rights and the right to live "lives free from fear and violence." The group also pledges to support the right to reproductive health services like those of Planned Parenthood.

Frankel chairs the House Democratic Women's Working Group, which includes all 66 Democratic women lawmakers. Judging from photos tweeted out by House members earlier in the day, roughly 40 or so lawmakers dressed in white for the president's address. Take a look: