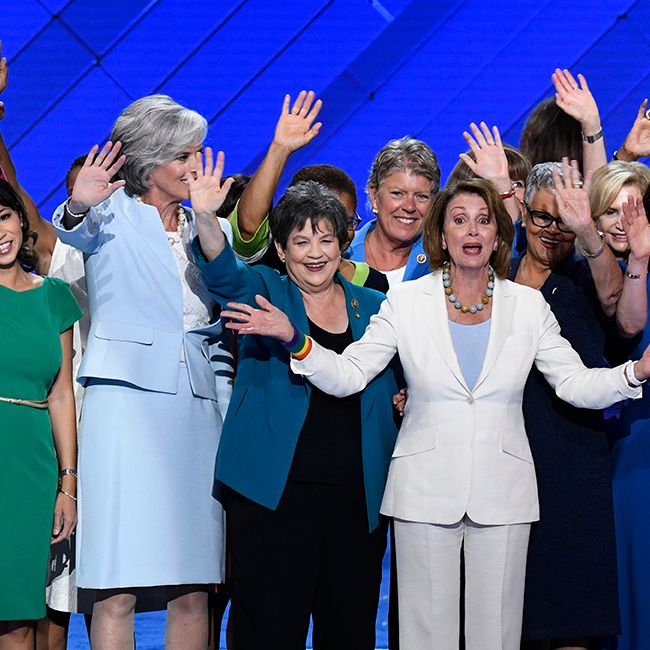 House Minority Leader Nancy Pelosi flanked by House Democratic women.
Photo: Bill Clark/Getty Images
Back in November, supporters of Hillary Clinton followed her example and wore white (and plenty of pantsuits) to the polls to honor the suffragist movement. "It's a wonderful tribute to a historic campaign and what will hopefully be a wonderful presidency," one told the Boston Globe at the time.
That didn't exactly pan out, but Democratic women in the House of Representatives will carry on the gesture during President Trump's first address to Congress on Tuesday night. The Associated Press obtained a letter from the heads of the Democratic Women's Working Group encouraging their colleagues to wear white to the speech in order to "stand in solidarity with the women of our nation." Of the 435 members of the House of Representatives, just 66 are Democratic women.
Theirs isn't the only symbolic gesture planned for Trump's speech — four Democratic lawmakers plan to bring undocumented immigrants who were given permission to remain in the U.S. under President Obama's Deferred Action for Childhood Arrivals program, and Senator Elizabeth Warren will attend with an Iraqi refugee. "If he looks up during the speech, I want Trump to see the face of a woman, the face of a Muslim, and the face of someone whose family has enriched and contributed to this country despite starting out as refugees," said Representative Luis Gutiérrez, who will host a Chicago immigration attorney born in Gaza.
Of course, Trump might be too busy "renewing the American spirit" to catch the symbolism.