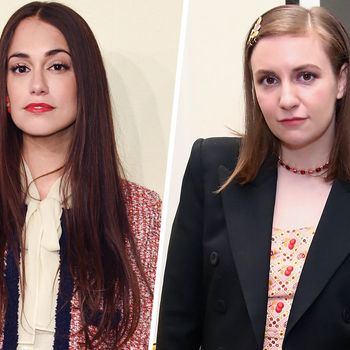 Audrey Gelman and Lena Dunham.
Photo: Getty Images
On this week's episode of Girls, Shoshanna, Jessa, and Elijah attend a meeting of a women's-only networking club called WEMUN ("Women Entrepreneurs Meet Up Now"), which keen-eyed Dunhamologists may notice sounds an awful lot like the Wing, the women's-only networking club founded by Lena Dunham's longtime friend (and inspiration for Marnie) Audrey Gelman.
In the show, WEMUN is founded by two annoying college friends of Shoshanna's, Rachel and Zeva, who want to create a space for women to "synergize" and discuss important issues.
"Honestly, we just wanted to give back to the community of New York female entrepreneurs, and give you amazing businesswomen a chance to connect and talk about how to synergize and mobilize," says Rachel, sporting a choker and a perfectly coiffed side ponytail. "Whether it's how to rock a romper at a work event or who you should be voting for, a WEMUN woman is the person to ask."
It's hard not to detect a note of derision in the depiction of the club's clueless founders. Their speech concludes with Rachel cheerfully noting, "For those of you asking on our Facebook if the group is open to trans women, the answer is … we don't know, okay?"
The screener originally provided to critics also included a reference to WEMUN's price point, which appears to have been cut from the final version. (The Wing costs between $1,500 and $1,950 per year.) "Some of you have asked why our membership is so expensive and all we can say is that it's really hard to find a chic space for cheap, so we're sorry, but also, please chill," says Zeva in the original segment, martini glass dangling from her hand. When Elijah and Jessa express horror, Shoshanna demurs: "It's like 2K a year, which is basically nothing if you actually think about it." Elijah's response: "Mm, no, I just thought about it and that's insane."
We've reached out to the Wing for a comment and will update once we hear back.
Update, February 20, 10 a.m:
Dunham claims that these scenes were not written with the Wing in mind. "My episode of Girls was written almost a year before the Wing opened and I was mocking a very specific tech party I had attended," she tells us. "Audrey, on the other hand, has busted open everything that was wrong with corporate feminism and made a truly remarkable safe space for women to find respite, especially now, in the world. I'm endlessly impressed and I know so many women benefiting from it — it's not the shitty hotel-lobby mixer I portrayed. I removed those lines so no one would come to the conclusion you did."